Hlas: Iowa had all the stars, and they aligned against Ohio State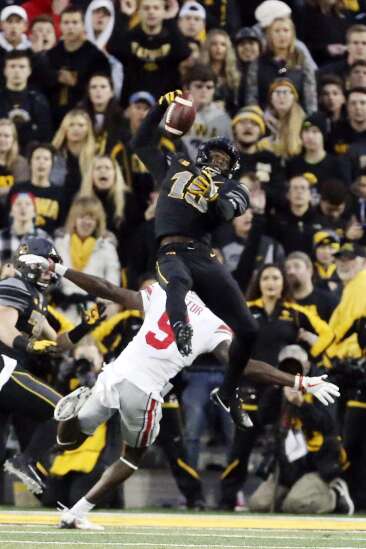 IOWA CITY — Eight seconds to make quite an opening remark.
Sixty minutes to make a full and conclusive statement.
The rest of their lives to savor what they did here.
This was different than Iowa's recent-vintage November football shockers of high-ranked, elite Big Ten teams here, Penn State in 2008 and Michigan a November ago. This wasn't a white-knuckler reliant on a field goal kicker doing his job on the game's last play.
This was the Hawkeyes winning 55-24. This was every bit of what 55-24 looks like. This opened with sophomore safety Amani Hooker returning an interception for a touchdown eight seconds into the game. It closed with thousands of fans joining their team on the field for group euphoria.
This against Ohio State, a superpower wondering where in Kinnick Stadium it misplaced its pedigree. Buckeyes Coach Urban Meyer tried to sound an alarm this week.
'They're just tough,' Meyer said. 'They're like their coach. Their coach is a tough guy. They're like the state of Iowa. They're tough people. I love Iowa.'
He was right about all that, but there's no way he can truly love Iowa now after the way it crushed his club's spirit.
Meyer said he didn't smell any smoke this week at practice. 'I tried to watch like I normally do and I didn't see any signs,' he said.
But then they played the game, and his team was caught in a five-alarm fire. The Hawkeyes did anything they wanted, everything they needed, and much more in brutalizing Brutus Buckeye's guys.
The Hawkeyes, originally dismissed as props in this performance by the football and wagering worlds, instead had all the directors and stars.
Quarterback Nate Stanley. Cornerback Josh Jackson. You'll hear their names again Monday when they're named the Big Ten's Offensive and Defensive Players of the Week. Stanley had five touchdown passes and was brilliant. Jackson picked off three J.T. Barrett passes after the senior star had thrown just one in 246 attempts over OSU's first eight games.
In the middle of an otherwise soft-spoken and humble postgame interview session, Jackson let this slip: 'Yeah, we played a hell of a game.' They did. And a big 'we' it was.
Tight ends Noah Fant and T.J. Hockenson. Running back Akrum Wadley. The defensive front seven. Punter-turned-passer Colten Rastetter. Long snapper-turned-receiver Tyler Kluver. A cast of dozens that seemed like thousands to the Buckeyes.
But let's give special billing to two vets from Ohio, Nos. 78 and 79, center James Daniels and guard Sean Welsh. Iowa's maligned offensive line was aligned this day. The Hawkeyes rushed for — everyone who saw this coming, stand on your head and sing 'Carmen Ohio' — 243 yards. It also gave Stanley protection galore.
'I think we blocked better,' Welsh said. 'I think we blocked a lot better.'
Daniels took it on himself to address the team Friday night at its Cedar Rapids hotel.
'I said my college choices were pretty much here and Ohio State,' said Daniels, whose father was an Ohio State offensive lineman. 'I came to Iowa because of how the offensive line plays and how we do things here.'
Daniels told his teammates they had to keep their foot on the gas against the Buckeyes. Which means he believed they would get that foot on the gas. Which he told people back in his Warren hometown that they would, and told them repeatedly.
'I've been talking trash to everybody back home like literally all year,' Daniels said. 'When we play Ohio State, 'we're gonna beat em, we're gonna beat 'em.' Nobody believed me.
'It's great. Especially to do that
to Ohio State, too. Like, THE Ohio State.'
In games in which he played, Welsh will forever be 1-0 against the Buckeyes. Unless the Hawkeyes play Ohio State in the 2018 Big Ten title game, so will Daniels. What a 1-0 it is.
'Absolutely,' Welsh said. 'An incredible evening. I'm not going to forget it.'
Eight seconds, 60 minutes. The rest of their lives to savor it.