Hlas: Hawkeyes should be 11-0 on Thanksgiving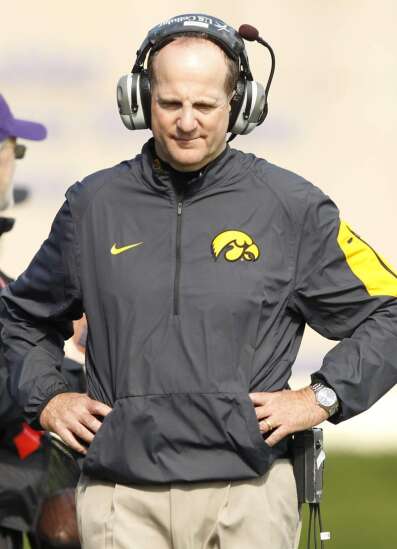 Unlike surgeons, air traffic controllers, or football coaches, my job allows the luxury of looking beyond what's in front of me.
That said, in no way am I going to suggest 7-0 Iowa should finish its regular-season at 12-0. Things have a way of biting almost every team in the country at least once during a 12-game slate. The Hawkeyes were 9-0 and a 16-point favorite when they hosted Northwestern in 2009. The Wildcats won, 17-10.
But Iowa's path the rest of the this season doesn't look laden with many potholes. Until you get to the end of the road, that is.
If Iowa isn't 11-0 when it rolls into Nebraska on Black Friday, it will be a magnificent opportunity lost. Because the next four games on Iowa's schedule are highly winnable if quarterback C.J. Beathard remains upright and semi-mobile.
Here's a look at what's ahead after the Hawkeyes' return from this week's hiatus:
Oct. 31: Maryland (2-4 overall, 0-2 in the Big Ten)
The Terrapins, losers by three touchdowns or more on four occasions, play Penn State in Baltimore Saturday, then fly to Iowa the following week.
The Terps have allowed 34.7 points and 457.7 yards per game. Iowa, by contrast, has allowed 15.3 points and 294.3 yards.
Nov. 7: At Indiana (4-3, 0-3)
This easily is the trickiest game of the next four for Iowa. Indiana's offense brings it almost every game, especially at home.
But the Hoosiers could be headed back to the abyss after blowing a 52-28 third-quarter lead and losing 55-52 at home to Rutgers Saturday.
Indiana has been a weird and sometimes brutal place for the Hawkeyes. But they'll be facing a Hoosier defense that bends, then breaks, then crumbles. The Hoosiers have allowed 504.1 yards and 41 points per game.
Nov. 14: Minnesota (4-3, 1-2)
The Gophers scoff when they hear of Iowa's health problems. Two weeks ago, Minnesota had 20 players withheld from a practice because of injuries.
'I've never seen anything like it in my 32 years of coaching," Gophers Coach Jerry Kill said.
Saturday at home against Nebraska, the Minnesota defense that had looked so sturdy earlier in the season came undone in a 48-25 loss.
It will be a night game in Kinnick Stadium with an Iowa team and fan base lusting for Floyd of Rosedale to be transported from Minnesota's side of the field to Iowa's. If the Hawkeyes are 9-0 entering that game, the atmosphere will be a combination of rock concert and revival meeting.
Nov. 21: Purdue (1-6, 0-3)
The Boilermakers are the Big Ten's worst team. It will be Iowa's home finale.
That adds up to Kinnick being a very bad place for Purdue to pass through that day.
Nov. 27: At Nebraska (3-4, 1-2)
The Cornhuskers have four losses, yes, but the deciding score in each game came on the opponent's final offensive snap.
Nebraska enjoyed a strong all-around game at Minnesota Saturday, a potential rejuvenation. If the Huskers win their next four games - including a home date with Michigan State - they'll be flying high when they host the Hawkeyes.
Should Iowa arrive at Memorial Stadium with an 11-0 mark, you know Nebraska would revel in the chance to puncture that perfect record. All the pressure would be on Iowa.
It would be a great problem for the Hawkeyes to have, actually.
Comments: (319) 368-8840; mike.hlas@thegazette.com