Hlas column: Zach Johnson and Jason Dufner are rested and ready for more Ryder Cup fun on Saturday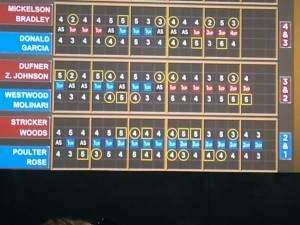 MEDINAH, Ill. - No perceived slights, no umbrage taken, no hard feelings.
No reason for them.
Zach Johnson and Jason Dufner could have been a tad miffed Friday afternoon had they looked at things more selfishly. They posted a convincing 3-and-2 Ryder Cup foursomes morning victory for the U.S. over Europe's Franceso Molinari and Lee Westwood, and played better as that match progressed.
But U.S. team captain Davis Love III held the duo out of Friday afternoon's four-ball matches, They were two of the four American players who served as cheerleaders for the eight Americans who did play in the day's second session at Medinah Country Club.
If any hindsight could be applied to Love's choice of an afternoon lineup, it was putting Tiger Woods and Steve Stricker back on the course after they got bounced 2-and-1 by England's Ian Poulter and Justin Rose in their foursomes match.
Woods and Stricker then lost to Nicolas Colsaerts and Westwood in the four-ball, 1-up. But that was mainly due to Colsaerts playing like a Belgian Tiger.
Woods had an impressive seven birdies. But Colsaerts had eight, and an eagle. His putter was like a magic wand.
So Johnson and Dufner will be well-rested should either be called on for double-duty Saturday. They'll play for sure at 7:50 a.m. against Colsaerts and Sergio Garcia.
At one point, the Euros led all four of Friday's foursomes (alternate-shot) matches. But Phil Mickelson and Keegan Bradley caught and zoomed past Luke Donald and Sergio Garcia, then Dufner and Johnson did likewise against Westwood and Molinari.
So the morning play ended with a 2-2 tie. The Americans then went 3-1 in the afternoon for the 5-3 lead they'll take into Saturday morning's foursomes.
After he and Dufner clinched their win at the 16th hole, Cedar Rapids' Johnson was asked if was disappointed about not being part of Love's afternoon squad.
"Not in the least," he insisted. "Not with our team, no. The depth and the talent we have on our team ...
"They (Love and his assistant captains) know what we have is depth, and if that's what he sees fit, I'm not second-guessing. Frankly, I can rest.
"I'm going to come out here and be loud. I'm gonna lose my voice."
Johnson and his fellow American fans had much to shout about in the afternoon. But while the focus on the morning matches were more on the ones involving Woods, Mickelson and Europe's Rory McIlroy, Dufner and Johnson made things pop in their final eight holes.
They were 1-down after eight holes in a see-saw skirmish with Molinari and Westwood. The latter came in with a glittery 7-2-4 career mark in Ryder Cup foursomes.
On No. 9, Dufner's 15-foot birdie putt seemed to stop a half-rotation short of the hole. Johnson lurched forward in clear chagrin. But a moment later, Johnson's mouth dropped open wide in astonishment, while his partner sported a big grin. The ball had fallen into the cup for a birdie to win the hole and even the match.
"I almost felt like the roar of the crowd and the anticipation of the putt missing actually willed that ball into the hole," Dufner claimed, and he sounded serious.
"So that was a pretty good moment there."
As was the moment on the next hole, when Dufner again made a 15-footer for birdie on the par-5 after Johnson left him a decent opportunity after hitting a nice shot out of a frontside bunker.
"Hopefully, I can make some putts tomorrow," Johnson said.
No poor-boying it was necessary. Johnson's game was as good as his partner's and better than those of the two Euros. And, he said, he hit a "fortuitous leaf" to boot.
Dufner's second shot on the par-4 No. 12 was errant and short, but Johnson's pitch from the not-so-deep rough almost found its way into the hole for a birdie. It hit a leaf on a tree's lowest branch. The ball striking the leaf sounded treacherous, but it was merely an opening note for the roars the shot induced from the crowd when it settled a couple of feet from the pin.
The Americans halved that hole, and stayed 1-up until they won the 15th and 16th to finish off the match. Johnson's final shot of the day was from a greenside bunker. It wound up in tap-in range for par, and was conceded by the Euros, who then bogeyed to end things.
Johnson improved his Ryder Cup career mark to 4-3-1. It was Dufner's first Cup match, and he was terrific.
"We're not flashy players," said Johnson. "We want to put it in play, we want to keep it below the hole, we want to play the percentages. And we're both good putters."
That's why they're here. And it's why they'll be back out here Saturday morning, paired up again.