Hlas column: Tyler Sash, a tragedy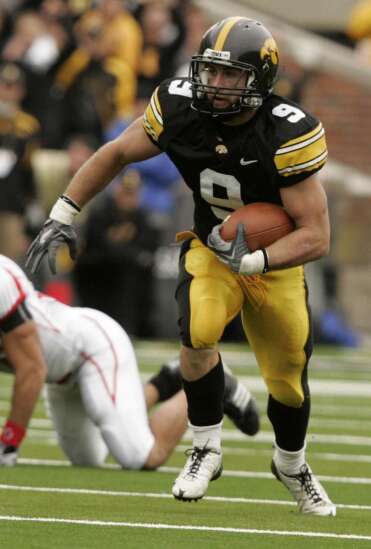 There's no point in speculating what caused Iowa football player Tyler Sash's death at age 27. Whatever it was, it wasn't good and nothing can undo it now.
But it had become easy to view Sash as a bit of a tragic figure before Tuesday's jarring news. He went from Iowa campus hero and a member of a Super Bowl-championship team to being out of football in the space of just a few years. There was no shame in that, but the times he was in the news after that New York Giants victory in Indianapolis in February 2011 weren't for good things.
There was the 4-game suspension he got from the NFL before the start of the 2012 season for using Adderall, a banned substance by the league. Sash said he used it 'under a doctor's care for an anxiety condition.' But banned meant banned.
There was his 2014 arrest in Oskaloosa when he was drunk and trying to elude police for almost a half-hour, first on a motor scooter and then by foot. He was shot by a Taser by officers. He was charged with public intoxication and interference with official acts.
He pleaded guilty and was fined $65 to the intoxication charge, and the interference charge was dropped. But concern about where he was headed after that was understandable.
From what I've heard, Sash basically became a persona non grata in the Iowa program after he decided to leave the Hawkeyes following his junior season to turn pro. He was good enough to get drafted by the Giants in the sixth round.
He was 23 a month after the 2011 draft, so he felt time wasn't on his side when it came to making a living as a player. Plus, the pro sports world with money and trappings probably had a lot of allure for him.
A few of his former Iowa teammates criticized and insulted Sash on social media after his unhappy incidents. They didn't seem to regard him as representing what they felt being a Hawkeye was about.
On the other hand, many of his former teammates publicly expressed their sorrow about Sash's death. It's extremely easy to find people who liked him a great deal, people who had complimentary stories to tell about their exchanges with him. He was always polite, friendly and cooperative in interview settings.
Just Saturday morning, Sash tweeted this to the world: 'it's about that time! Let's go Hawks!' And 'Touchdown Iowa 'Gary Dolphin Voice.' ' And 'Is the Iowa State game on Direct TV? If so what channel?'
From a football standpoint, the two-time first-team All-Big Ten safety was as responsible for Iowa reaching the Orange Bowl in the 2009 season as perhaps anyone on his team. The irony of him dying this week is inescapable. He had three of his 13 career interceptions against Iowa State at Ames in Iowa's 2009 win there.
But what I'll remember about Sash more than anything may be concussions. Most of who we are is probably determined when we're very young, and Sash was probably most of who he was the day he signed to play at Iowa. But the concussions he suffered at Iowa and in the NFL ... scary stuff.
The 219-pound Sash got a concussion from a vicious shot he received from a 281-pound San Francisco 49er on a special teams play in the Giants' NFC Championship Game win in 2012. Sash was flipped in the air. He missed one practice, then went back to work.
'It doesn't really scare me,' he told me at a Super Bowl Week media event 10 days later. 'I've seen my brother get concussions playing football when I was younger. I've seen my teammates get concussions. Some of my best friends in high school got concussions.
'It's just part of the game. I know they're trying to do everything that they can with the rules to protect players, but at the end of the day it's a bunch of grown men playing a game where it's legal to go hit people.
'I feel I've dished out a lot more than I've received.'
But Sash endured another concussion in the Giants' last preseason game of 2013. He was cut two days later, and was soon back home in Oskaloosa. What was going on in his mind from then until Tuesday, we'll never know.
After hearing the news about Sash while I was in the Iowa football facility, I couldn't stand listening to talk radio on the drive back to Cedar Rapids so I put on a satellite radio music station. As I crossed the Cedar River, R.E.M.'s great 'Everybody Hurts' started playing and the words hit home.
When your day is night alone (Hold on, hold on)
If you feel like letting go (Hold on)
If you think you've had too much
Of this life, well hang on
If only everyone always could.
l Comments: (319) 368-8840; mike.hlas@thegazette.com