Hesse's rise from 2-star to Big Ten freshman of the week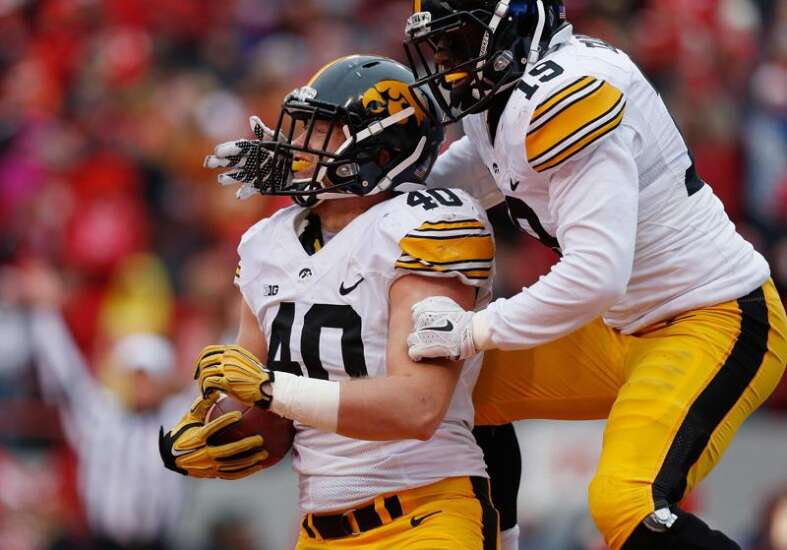 LINCOLN, Neb. - Here's part of the reason why Iowa recruited Parker Hesse: He finished his senior season at Waukon High School with 59 tackles, 10 tackles for loss and two interceptions. On offense, Hesse quarterbacked Waukon to a runner-up finish in Class 2A for 1,439 yards and 16 touchdowns and rushed for 1,273 yards with 23 rushing TDs.
Hesse is good at sports and can make things happen. OK, North Dakota, South Dakota State and Northern Iowa were Hesse's (a 2-star recruit rated by Rivals) only other offers, all FCS schools. Iowa head coach Kirk Ferentz has said a million times that Iowa sticks to its evaluations. When Iowa's staff finds and offers a player it believes will help them win a Big Ten championship, it sticks even when no other FBS school sees it.
Last Friday against Nebraska, Hesse was really good at football and made a big thing happen.
With the game tied 7-7 with 6:38 in the second quarter, Iowa called a blitz into a screen pass headed toward the left flat. Strong safety Miles Taylor forced Nebraska quarterback Tommy Armstrong to release the ball a little early. Hesse handled a cut block attempt from an offensive tackle, read screen and dropped a few steps.
He leaped, tipped the ball into the air with three fingers and let it float into his arms for an interception and a 4-yard return for a touchdown.
'The ball was just right there, really," Hesse said. 'Anytime you get a turnover on defense and turn it straight into points, it's a big momentum swing. That's why we put so much importance on it."
The interception was the first of his career. He also matched a career high with six tackles against the Huskers.
On Monday, Hesse (6-3, 240) was named Big Ten freshman of the week. The last Hawkeye to receive that award was running back Akrum Wadley on Nov. 3, 2014.
Yes, Hesse is only a freshman. It just seems as if he's been around longer than that. With senior defensive end Drew Ott suffering a major elbow injury and then a season-ending ACL tear on Oct, 10, Hesse had his career clock speed up. He only made the move from linebacker to defensive end late last season.
'It's been a learning experience the whole way through," Hesse said. '(Head coach Kirk) Coach Ferentz talks about getting better every week, not focus on the opponent so much, but every week take another step forward. As a defensive line, that's what we've done, I feel like."
Hesse was a four-sport star at Waukon (football, basketball, track and baseball). He didn't plan on running the summer camp circuit to get noticed by colleges, but he put himself on the map with an excellent camp performance.
'I was one of those stories where I went to camp," said Hesse, who'll play outside linebacker. 'I didn't even really want to go to camp. My dad signed me up. Iowa wasn't really interested in me before then. I went to camp, had a good camp and from there it really escalated. We both kind of fell in love with each other."
What happens at Iowa's summer camp? What does a player have to show to earn a spot on the scholarship radar?
'Being as big as I am and being able to run a live 40," Hesse said before 2014 signing day. 'There were also some live games, that are almost like ultimate football. There's a point where they talked about competitiveness when we were playing that. I had a couple of good drills. I signed up for two days in a row. I played well the first day and then I came back the next day, and so they got to see me two days in a row and were that much more familiar with me and recognized me. I think that helped a lot."
Hesse is the sixth Hawkeye to earn weekly honors from the Big Ten in 2015.
QB C.J. Beathard earned the offensive award following Iowa's win at Iowa State. Kicker Marshall Koehn was the special teams winner after Iowa's last-second victory over Pittsburgh. Cornerback Desmond King earned co-defensive honors for his play in Iowa's win at Wisconsin. Running back Jordan Canzeri won the offensive honor for his play in a win over Illinois. Running back Akrum Wadley collected the offensive honor for his play in a win at Northwestern.
Iowa shares the Big Ten lead and ranks fourth nationally with Michigan State with a plus-14 turnover margin. Iowa has scored 83 points off turnovers and leads the Big Ten with 17 interceptions. The Hawkeyes have returned four interceptions for touchdowns.
l Comments: (319) 398-8256; marc.morehouse@thegazette.com