Hawkeyes' 2016 map went from Fargo to Lincoln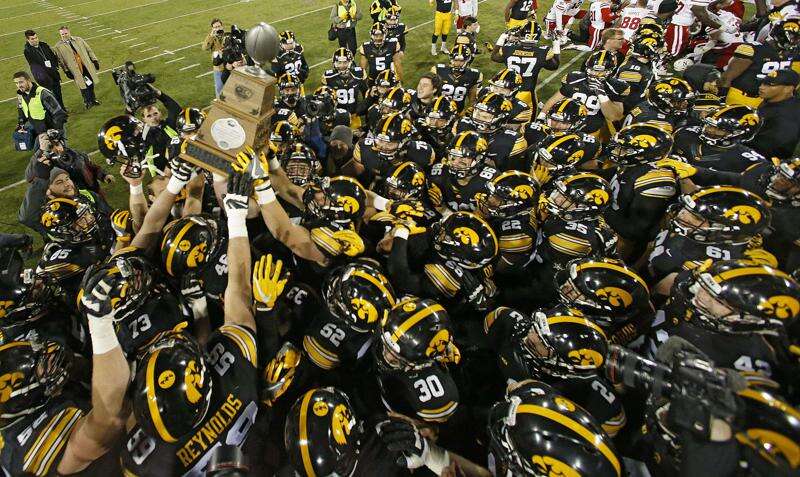 IOWA CITY — It's 473 miles from Fargo, N.D., to Lincoln, Neb. When you translate that into 2016 Iowa football miles, it feels more like 4,730.
It actually feels more like a trip to the moon and back. The Hawkeyes' loss to North Dakota State, which is in the FCS semifinals and very much in contention for its sixth straight FCS national championship, would be the dark side of the moon.
Then, November happened for the Hawkeyes. It began in a deep, deep crater on that dark side of the moon with a 41-14 loss at Penn State, but Iowa rebounded with a victory over then-No. 3 Michigan on ABC in front of 10 million viewers at the end of the game and a 40-10 romp over then-No. 16 Nebraska.
Somewhere in there is the essence of the 2016 Hawkeyes.
'The Nebraska game, for sure,' quarterback C.J. Beathard said when asked which game he would use to define the season. 'The North Dakota State game feels like it was a year ago. I don't want to think about that game at all. Obviously, you wish you would've won it, but if you use that game to define your season, then you're going to have a bad season.
'You've got to take the games later in the year to define the season. We finished the season off strong. Hopefully, we can keep it going in this bowl game.'
Where you ultimately file 2016 probably depends on your point of view.
On one hand, Iowa lost to an FCS team at Kinnick Stadium. A defense that is now 24th nationally in total defense allowed an FCS program to rush for 239 yards on 49 carries in a 23-21 loss.
On the other hand, the Hawkeyes held their final three opponents to less than 100 rushing yards.
'There were things we didn't do well as a defense, but as the year went on, we picked ourselves up,' defensive tackle Jaleel Johnson said. 'We fell off against Penn State, but after that, we really got it going. That's going to be the main thing going into the bowl, just keep playing together.'
The bowl is another thing. The Hawkeyes (8-4) are prepping for the Outback Bowl against Florida (8-4). It's Iowa's fifth Outback Bowl under head coach Kirk Ferentz. It's the Hawkeyes' third Outback Bowl against the Gators under Ferentz. This isn't new ground. Last year's Rose Bowl, Iowa's first in 25 years, was new ground. Another factor to consider before we go 'been there, done that' on Outback 2017 is that it was the best possible bowl scenario for the Hawkeyes.
Raise your hand if you had Iowa in the Outback Bowl after it allowed 599 yards against Penn State on Nov. 5.
'Well that's football, right?' Ferentz said with a laugh. This is a reference to the 'That's football' he uttered after the Hawkeyes coughed up a 17-point lead and fell to the Huskers in overtime at the end of a 7-5 2014 season. It didn't go over well. In fact, an Iowa City bookstore put it on a T-shirt.
'Well, that's football at Iowa, let me be more specific,' Ferentz said. 'It's football at Iowa.'
And, yeah, it really is.
'One thing I've learned, and I don't know much about anything anymore, but 27 years being here, you just watch our teams, if we're going to have a good team, we've got to be better in November,' Ferentz said. 'This year we had to overcome some circumstances to get there, corner (senior Greg Mabin) going down, tackle (senior Cole Croston) going down. But it's all about us improving and growing. You look at, at least over the last 18 years, any of our better teams, they've been a lot better in November than they were in September.
'The other thing I factor in — I'm not saying it's acceptable to lose, that's not our goal, we're trying to win every game — but that team we lost to that day, that's an outstanding football team. North Dakota State is really well-coached. They've got good players, and I'm not going to say they could beat anybody. They can beat a lot of good teams. They're a good football team.'
The NDSU game kicked off a strange four-game stretch for Iowa, one that probably made the November result seem even more improbable. After falling to the Bison, Iowa won at Rutgers, which ended up being the B1G free space on the game board, 14-7. It then allowed Northwestern to score 38 points and lost 38-31. The next week was at Minnesota. Iowa again scored 14 points and made it stand.
'You just have to be really careful,' Ferentz said. 'It's week to week, and sometimes you just think this is going to happen, but it doesn't happen. There's a lot that goes into it, and especially for us. Every game is basically the Super Bowl for us when we line up.'
Iowa athletics director Gary Barta, who signed Ferentz to a new contract (through the 2025 season, around $4.5 million a year) in September, compared 2016 Iowa to reality TV. It's unscripted, you don't know what's going to happen and, hey, you're already on a tropical island in the middle of nowhere ('Survivor' reference), you might as well see it through to the end.
'Reality TV has been around for a long time, it's called sports,' Barta said. 'It played itself out this year. It plays itself out every year. At the end of every year, we have these situations where we talk about how bad you felt after that loss and how great you felt after this win and you should've won this one, you should've won that one.
'It's reality TV at its finest.'
Fargo to Lincoln isn't a trip for everyone. It takes a certain kind of fortitude, kind of like this whole Iowa football thing.
'We showed that we were a very resilient team,' senior cornerback Desmond King said. 'We got knocked down, but we got right back up. We got knocked down, but we didn't let that affect us. We got back up and got stronger and stronger as the season progressed.'
l Comments: (319) 398-8256; marc.morehouse@thegazette.com