Home / Sports / Iowa Prep Sports / Prep Football
Future Hawkeyes Cooper DeJean, Max White lead North to Shrine Bowl win
Shrine Bowl returns after missing 2020 due to the pandemic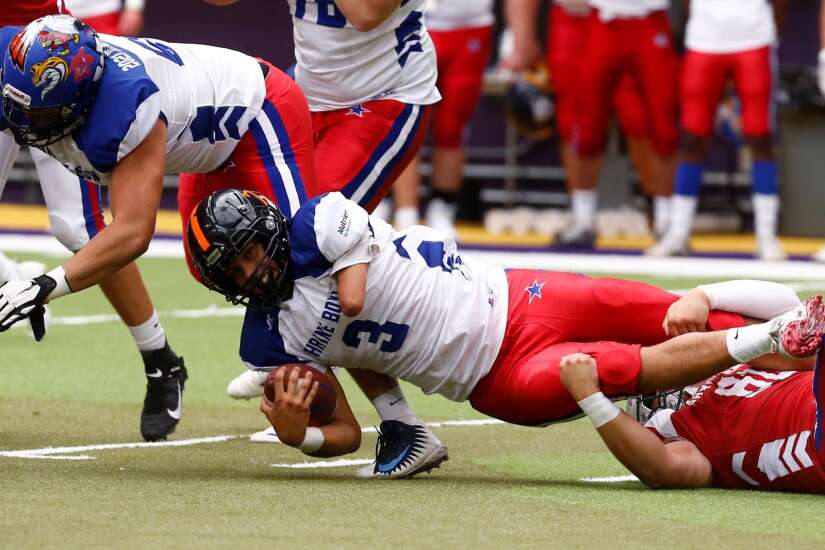 CEDAR FALLS — After canceling last year's game due to the pandemic, the Shrine Bowl returned to the UNI-Dome on Saturday afternoon.
The all-star game features Iowa's best senior high school football players to benefit The Shriners Hospital for Children
A 52-24 win by the North was led by two future Iowa Hawkeyes — Ida Grove OABGIC's Cooper DeJean and Cedar Rapids Kennedy's Max Whlte.
DeJean — named most valuable player for the North's offense — opened the game's scoring with a completion to White in the flat. White then juked two defenders, reversed field and went 51 yards for a touchdown.
"I knew Cooper was going to be able to make a play so I just had to be ready for it. We have a lot of great athletes blocking on the outside and I knew they had a lot of athletes chasing me so I just had to get out of there and get to open space," White said. "I think the biggest thing was I've been living at home playing baseball all summer, so being able to live in a dorm and not have the same recovery as I usually have ... it was a great experience for me, I think I'll be ready for camp."
The South answered the North's early score as Washington, Iowa, quarterback Trashaun Willis — named offensive MVP for the South — orchestrated a scoring drive capped with a 1-yard rushing TD of his own to even the score midway through the first quarter.
DeJean and the North continued to outmatch the South's defense, though. A 60-yard completion from DeJean to Tay Norman of Waterloo West set up the second of White's three touchdowns for a 14-7 lead.
"It was a lot of fun. We had a bunch of great athletes out on the edge," DeJean said. "(The UNI-Dome) has been a lot of fun. I'm 5-0 here so it's like a second home."
After exchanging field goals, White's third touchdown came on a 5-yard run with 1:37 remaining in the first half on a drive led by himself and Dubuque Hempstead quarterback Aidan Dunne.
Willis — who's headed to Grand View this fall — brought the South into the red zone before the end of the half, but his throw into the end zone was intercepted by Monticello's Tyler Leunsman, keeping the North in front at halftime, 24-10.
"We come out here for this All-Star game to play for these kids," Willis said. "Just coming out here and no matter how competitive we get, offense or defense, we know what we're playing for."
DeJean, Dunne and a stingy North defense put the finishing touches on the South in what became a lopsided second half.
Dunne threw a second-half touchdown pass of 16 yards to Norman while DeJean threw TDs of 52 and 40 yards, respectively, to Edgewood-Colesburg's Parker Rochford and Norman.
Dunne punctuated the North's win, scrambling 2 yards for the game's final touchdown.