Fran McCaffery bullish on Iowa hoops' future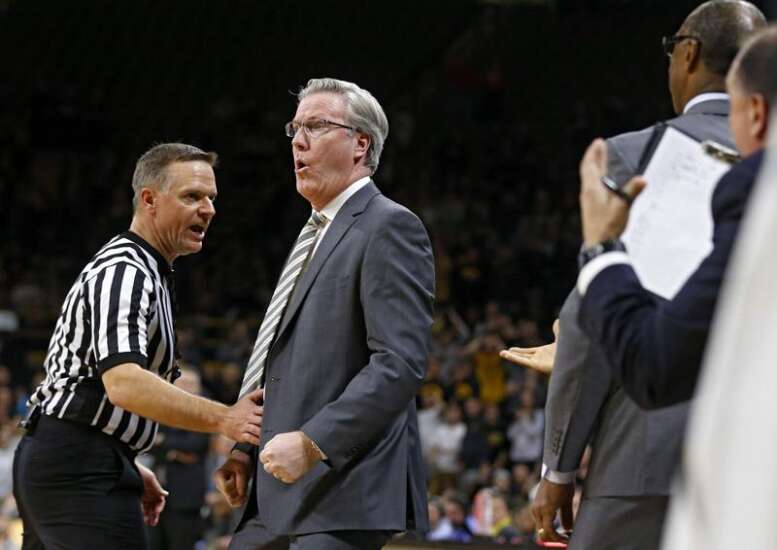 IOWA CITY — The 2016-17 season was one of transition for Coach Fran McCaffery's Iowa men's basketball team.
A changing of the guard of sorts, a highly-touted freshman group was led by Tyler Cook, Jordan Bohannon and Cordell Pemsl on a team that finished 19-15 overall and 10-8 in Big Ten play while losing to TCU in the second round of the NIT. Senior Peter Jok was the Big Ten scoring champion and is now very likely headed for the NBA.
The seeds for a sustained run of success under McCaffery appear to be sown in its young roster, but also in the incoming recruiting class that features Luka Garza, Jack Nunge and Connor McCaffery — all ranked in the top 150 overall recruits for the 2017 class — and the 2018 class highlighted by Muscatine's Joe Wieskamp.
With just one senior again next year and only graduate transfer Dale Jones leaving the program, there appears to be a glut of talent for a significant amount of time set to take the floor at Carver-Hawkeye Arena. How McCaffery and his staff manage that ultimately will determine the ceiling for their success.
In an interview Tuesday, McCaffery joined The Gazette's On Iowa Podcast to talk about this season, his thoughts on the next step in recruiting, learning from this season in terms of his rotation and how that will apply in the future, Connor's baseball vs. basketball decision and what he's looking forward to about leading this group into the future.
Below is the Q&A from that interview, condensed and edited for clarity:
Q: How's the offseason gone for you so far? What've you been up to?
Fran McCaffery: It's been a little bit different because the world we live in today — with the incredible amounts of transfers, that will impact this time of year if you have mass exodus. It used to be you saw guys who didn't play transferring. Now you're seeing starters transfer and an incredible number of grad transfers. We didn't have that kind of roster turnover, so we weren't scrambling to sign seniors or grad transfers this spring, so it's a little quieter than it might be somewhere else.
These next two weekends are recruiting weekends, so primarily we'll be looking at underclassmen at those events in anticipation of those guys graduating who are now upperclassmen for us.
Q: Are there a few places you know you're wanting to go to, or have been wanting to go to for a while in this period?
FM: They pretty much streamline it for us. So you have your shoe company circuits — Nike, adidas, Under Armour — so we will staff all those events. There are other events — NY2LA — there are a number of different people who do a really good job of getting the best players into one location, and even some of the other events being placed in those locations so you can send maybe two assistant coaches to a particular city and cover as many events as possible. You try to see as many teams; as many kids and it helps in your evaluation, obviously. This time of year, you'll see players you've been recruiting maybe play against each other, and that gives you an even better chance to perhaps evaluate what they'll do down the road. We try to be as thorough as we can in the evaluation process.
The more you put your eyes on somebody, the more capable you are of saying, 'OK this is a no-brainer; this kid can definitely be a Big Ten player,' or, 'This kid is possibly a Big Ten player.'
Q: So in the age of analytics, do you rely more on the eye test or numbers? Has that shifted over time?
FM: We rely on numbers greatly, to answer your question, but as it relates to the evaluation process of high school athletes, not as much because you might have a player from a highly populated state or not as much of a populated state or a 1A player vs a 5A player. Who are they playing against? Who are they putting up these big numbers on? Are they in a private school league or are they in the best league in the state? So you've got to be careful crunching those numbers.
At the same time, if you're looking at a shooter, what were his 3-point numbers? What was his free throw percentage? That line is the same distance. If they can shoot, they can shoot. Maybe they can't get it off, but we'll evaluate that with our two eyes.
Over the years, if you look at our staff, we have a lot of experience. We've been doing this a while, so we'll go to these events. The other valuable piece to the particular events this time of year, the talent level across the board is so good. You can see a guy you think is really good, and he doesn't play well. That will give you pause. If he really plays well against other really good players, then, 'OK, we were right on.' But you have to be careful not to get too excited with a particular great performance or a particular poor performance because that might not be a true indicator.
Q: You mentioned roster turnover. You have Dale Jones moving on, but otherwise your roster is staying intact. Especially in this era of transfers, what do you think that says about your guys that even the guys who didn't get to play a lot are staying?
FM: I think it says a lot about who they are and about who we recruit. Because what they're capable of doing is looking at the big picture. They're saying to themselves, 'Here I am; I'm at a terrific institution academically and doing well. I'm on time to graduate.' All of our guys are going to graduate on time with their class. They're good kids and they really enjoy each other. They enjoy the competition side, the preparation side; the traveling and the challenges before us.
We've had a lot of players really contribute to this team, and yeah, they're all back. And you figure, 'Well, somebody is going to be the odd man out; maybe that's the guy who will leave.' But if he looks at the overall picture and really thinks it through, sometimes they say, 'Yeah I could go somewhere else, but there's no guarantee it's going to be any better. I have it pretty good here. I love my teammates, I love my team. We have a good team. My coaches coach us up. We have good relationships coach/player. It's not a stressful situation.' I'm not a screamer/yeller who's constantly on their case. We monitor their academic progress, we work with them on skill development, we work with them on strength and conditioning. We do a really intensive job in terms of game prep. They appreciate that professionalism and that approach, so I think they, overall, look at this as a wonderful experience.
They've evaluated and said, 'You know what, I might get a few more minutes at another place, but it doesn't necessarily mean it's going to be better.' And of course a number of them are playing a lot.
Q: You've got all those guys back and a recruiting class coming in that includes Luka Garza, Jack Nunge and your son, Connor. What did you learn this year or take away most this year that you're going to be able to apply in a similar situation next year?
FM: The best thing and the most consistent thing is we're going to continue to play fast. And what that does is it requires you to sub. If we play at a certain pace, you can't play 38 minutes at that pace. Nobody can. The other thing is, I think, our defense was good at times; it wasn't what it needed to be at times. That has to improve, and a lot of times one of the ways to make that improve is with fresh legs in the game. We have two 6-foot-11 guys coming in, so we've got a couple rim protectors there. That will help. It also will free up Tyler Cook to play less at the 5 spot; Cordell (Pemsl) at the 5 spot. Both did a really good job there and both are willing to play there.
You live in a world now where, 'I'm not a 5; I'm not a 3. I should be a 3; you're playing me at the 4,' and all that craziness — our guys are like, 'Coach, I want to play. I'll play the 1, 2, 3, 4, 5. Wherever you ask me to play, I'll play.' That's really the intelligent way to look at it because ultimately all these guys want to play in the NBA. So the more versatility you show and the more understanding of that — and I always talk about that it's great to be a multiple-position player, but you've got to remember multiple positions. That's a lot harder than people think. Fortunately we have really intelligent guys that accept that challenge and do a great job there.
Q: So we're going to see Cordell Pemsl at the 1, is what you're saying?
FM: Well he would prefer to play there. He loves to dribble the ball and pass the ball. Probably not though.
Q: Looking ahead, as you get guys on campus and you get guys on campus, you have Prime Time League this summer. How do you view that? What do you want to see guys get out of Prime Time League?
FM: It's real simple. I just want them to play in games, go against other competition (with) fans in the building. The press covers it. It's so much different than just playing pickup, open gym against the same six or seven guys every day. See some different faces, have some success and interact with the fans. To me, it really is one of the great marketing tools our university has as it relates to our basketball program. It's a time of year where there's not much going on and people want to see our young guys. They want to see our younger guys who are here and how they're developing. But they can also walk up to them and talk to them and get an autograph or take a photo. When you meet Tyler Cook, Jordan Bohannon and Cordell Pemsl, Ryan Kriener, Nicholas Baer — any of these guys that you've watched — now you can actually walk up and talk to them and see how genuine they are. That's what I love about the Prime Time League.
I think it's important UNI got back involved because they were, then they weren't, then they were again. I think (UNI head coach Ben Jacobson) kind of looks at it the same way I do. The fact we go up a little closer to them so they don't have to drive all the time, I think that was a good move for everybody, including the people up in Waterloo who get to go see those kids play. It's one of those things I will always support and always make work somehow.
It's going to be a busy summer because you've got practice, Prime Time League and then we get 10 additional days of practice because we're going overseas.
Q: After seven years, going into your eighth year, where do you think this program is and where is it headed?
FM: It is a challenge every day in this league because of the quality of programs, the quality of coaches and the emphasis each institution puts on their men's basketball program. Everybody wants to win the championship. I've coached in other leagues and there's a handful that expect to win it; there's a handful that aren't going to spend the money. They're just not.
Here it's, 'What do we have to do? What do we have to do to get better?' We're in the NIT; we want to be in the NCAAs. It's that simple. The challenge is not only getting the program to that point but can you consistently knock on the door? Can you consistently win against quality opponents? Can you develop a culture where you can go on the road and win? Because if you're going to be in the tournament and you're going to be in the top half of the league, you better be able to win some games on the road because you're going to be playing some really good teams at home.
I think that's the fun of it; that's the challenge of it. I think we're at a really good place. I really like where we are. We've had stability on our staff. We've been able to keep Iowa kids home. We've been able to go outside the state and get quality people to come in. I think most importantly what we've been able to do is bring in character because that's the first thing we look for. You look at our team and there haven't been a lot of issues off the floor. We're not cutting corners to win an extra game or two because I would argue that it will mean you lose an extra game or two. You better have character in that locker room and not have an off-court issues if you want to consistently challenge for a championship at this level.
Q: Has Connor made a decision yet? Does he know what he wants to do for next year?
FM: He has not. It's close. I think the hardest thing for him is the baseball/basketball piece. He wants to play for Coach Heller; he wants to play for me. That's hard. We presently don't have a scholarship, but that's not as big of an issue. I could pay his way for the first year. He was thinking about prep school, and that might be an option.
Ultimately he's just going to have to pull the trigger and don't look back. I just have been encouraging him to, 'Do what it is you want to do. Don't worry about my program and do we need you. What do you think is best? Do you want to pursue baseball?' If he comes here, he'll play baseball exclusively right away. And he'll take his time with basketball. That's one of the things we've talked about. So we'll see.
Q: Coaching these guys in the future — how much are you looking forward to watching these guys develop and being part of that and coaching them up?
FM: I'm really excited about it for a lot of reasons I've talked about already. When you get up and you get to go coach Tyler Cook, Jordan Bohannon, Nicholas Baer, Ahmad Wagner — I mean, these guys are incredible people. They want to please the coaches, they want to be great teammates; they want to support each other.
That's the thing that I love. If you look at our bench, and we've had games this year where different lineups were really the difference in a particular game and the guys on the bench are going crazy. Then the next game, they're on the court and these guys are going crazy. That's what you want. There's no selfishness in that locker room. They love each other legitimately. We throw that word around a lot as coaches, but it's a fact with our program. I love my guys and they love each other. They love playing here, they love being here; they love wearing the black and gold. When you have that type of environment and you have talent — we have talent, we have depth; we have more shooters than we've ever had since I've been here — that gives us an opportunity to have some fun, and that's what I'm looking forward to.
l Comments: (319) 368-8884; jeremiah.davis@thegazette.com