Former Wash prep Puk emerging as standout pitcher for Florida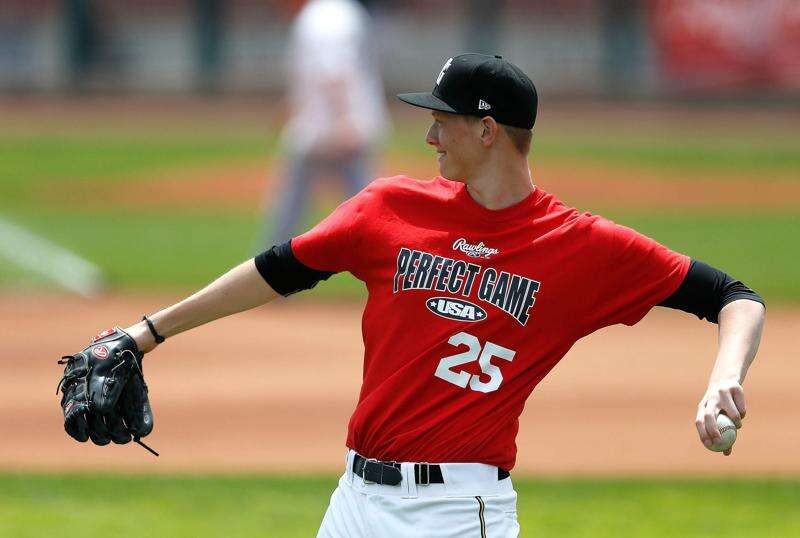 CEDAR RAPIDS – It was a little surprising two summers ago when A.J. Puk was taken in the 35th round of the Major League Baseball Draft by the Detroit Tigers.
Not in the way you think. The 6-foot-7 left-hander from Cedar Rapids Washington was a draft lock, with talent and upside that many believed would get him picked in the first five to 10 rounds.
There was a reason for the slide, however, and not a nefarious one. Puk told every scout he saw, every team he talked to that he was dead set on playing at the University of Florida before entertaining the possibility of a pro career.
'I wanted to get better in college and be able to experience college," Puk said in a phone interview last week. 'It has been a pretty awesome experience so far."
One that has taken him to the holy grail of college baseball: Omaha, Neb. The sophomore is scheduled to be the starting pitcher Monday night for the Gators in their College World Series winner's bracket game against Virginia.
The game begins at 7 p.m. and will be televised by ESPN2.
'Florida always seemed like they were in the College World Series, and that's what I always wanted to play in. Here I am," Puk said. 'It's awesome. It's the best conference in the country, every team in the SEC has a chance to beat you in any given game. The stadiums are always packed, the fans are always crazy. It's been a super place to play."
Puk said he attended a couple of World Series growing up, so he's used to the atmosphere. Yet he knows being there and playing there are two different things.
Florida lambasted Miami in its opening CWS game Saturday, 15-3.
'We're playing really well as of late," Puk said. 'Things have come together. I think just playing like we have been, and we've got a pretty good shot."
Puk emerged as Florida's number two starter down the stretch, compiling a 9-3 record and 3.96 earned run average. He has allowed only 55 hits in 72.2 innings and struck out 99 with an arsenal that includes an improving fastball.
The surge came after Puk was suspended from the team briefly after being arrested in April with a teammate for entering a construction zone on campus and climbing a crane. The original charge against the two was felony criminal trespass, though it was later reduced to a misdemeanor.
'It was a dumb mistake," he said. 'I've learned from it and moved on."
And moved up with his production. He struck out 11 in seven innings in a brilliant Southeastern Conference Tournament start against Arkansas and beat South Florida in a regional game.
Things have come together.
'I think he's just a little bit more focused," Florida Coach Kevin O'Sullivan told Baseball America. 'I think he's always been talented. I think the big thing with him, though, he's usually been 90-94 (miles per hous), and then, all of a sudden, his fastball just takes a jump. Instead of 90-94, he's been in the 94-98 range … Everything's just a little crisper, everything's a little sharper, and the command's a little better."
'I just want to go out there each time and do what I can do," Puk said. 'Everything is just starting to click out there. Things are going the way I want them to go. I have been able to execute my pitches, been able to throw offspeed in fastball counts, been able to mix well."
It appears his choice to go to college was the correct one. If he can continue to develop, he's looking at being a very high MLB draft pick next year.
When Florida's season is over, he'll pitch in the prestigious Cape Cod League out East, where he'll have even more of an opportunity to impress professional scouts.
'I know I have a chance to go reasonably high next year, and that's what I came to college for," he said. 'The beginning of the season was up and down for me, then about halfway through, things started clicking. Things have gone pretty smooth, and I've done really well. Getting a chance to go to Omaha is a dream come true. I've always gone and played tournaments (there) when I was younger, gone to a few games growing up. Now having a chance to play there is what every college player wants to do."
l Comments: (319) 398-8259; jeff.johnson@thegazette.com