Former Jefferson all-stater Pingeton piloting a breakthrough at Mizzou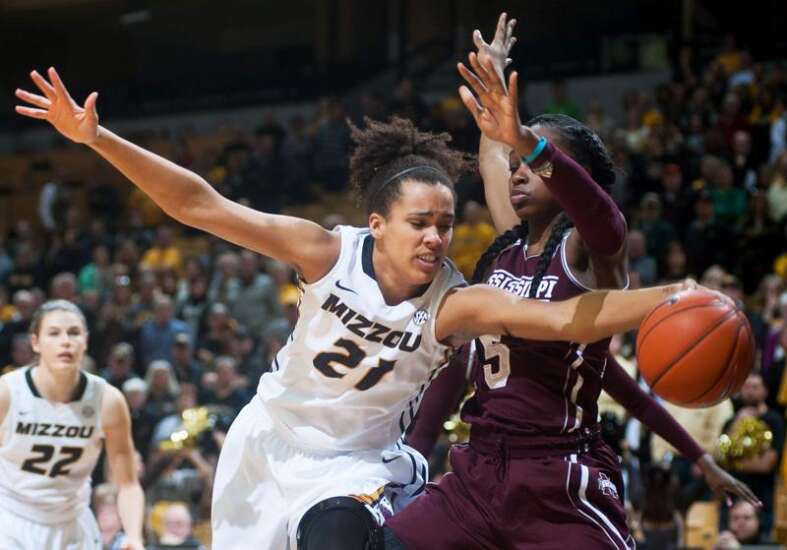 Robin Pingeton didn't lose often during her playing days at St. Ambrose University. But when she did ...
'She struggled with it,' recalled Lisa Bluder, her college coach. 'When we lost, there were tears after the game.'
As a basketball player, Pingeton (then known as Robin Becker) was a model of intensity. As a basketball coach, she has justifiably developed the reputation of a program builder.
She did it at Illinois State, winning three Missouri Valley Conference regular-season titles and two MVC tournament titles in seven years. And she is doing it at the University of Missouri.
The Tigers (17-4 overall, 4-4 SEC) have wrapped up their fourth consecutive winning season. It's the first time Mizzou has notched four straight plus-.500 seasons since the late 1980s.
'Building a program is really, really hard,' said Pingeton, an Atkins native who earned all-state status in basketball and softball at Cedar Rapids Jefferson. 'It takes a lot of hard work, perseverance and persistance.
'I thought last year would be our breakthrough year, but we had a lot of injuries, and that made it really hard.'
Missouri is ranked 22nd in the nation and is on track for its first NCAA appearance since 2006.
'It's not like we have a long, storied tradition,' Pingeton said. 'That has made it challenging. We're a long way from where we used to be, but not yet where we want to be.
'We want to compete for championships, in the SEC and at the national level. But the most important thing, we want to impact people's lives.'
At Jefferson, Pingeton was 'one of the most intense players I've ever had,' according to former J-Hawks coach Larry Niemeyer. 'She hurt a knee up at Dubuque. She wanted to go back in. I wouldn't let her, and she just kept hounding me about it.
'She was such a great competitor. Hated to lose.'
She was a 'tweener' — not quick enough to be a Division-I guard, not big enough to play the post. So she went to St. Ambrose, where she played under Bluder and became an NAIA all-American.
'She was an undersized post, but she was very talented,' said Bluder, now the coach at the University of Iowa.
Bluder left St. Ambrose for Drake University in 1990, the same year Pingeton graduated. Bluder hired her as an assistant at Drake immediately.
After two years in Des Moines, Pingeton returned to coach her alma mater. St. Ambrose went 192-76 in eight seasons under Pingeton, reaching the NAIA national tournament five times, advancing to the Elite 8 twice.
She served as an assistant to Bill Fennelly two years at Iowa State, got her first D-I job at Illinois State in 2003, then started at Missouri in 2010.
After back-to-back 13-18 seasons, the Tigers went 17-15, 17-14 and 19-14, earning WNIT berths each of the last three years.
And now, the breakthrough.
'We want selfless, work-ethic kids here,' Pingeton said. 'When we were first getting started, I told recruits they could go somewhere else and be just another great player, or they could come here and change the trajectory of the program and become an icon.'
Two of Pingeton's current 'icons' are her nieces, Cierra Porter (6-foot-4 freshman, 10.3 points and 4.8 rebounds per game) and Bri Porter (6-3 sophomore, 3.2 ppg, 2.3 rpg). The Porter sisters are daughters of Robin's sister, Lisa (Becker) Porter, who earned Gazette Female Athlete of the Year honors in 1983 and played women's basketball at Iowa.
The Porters led Columbia (Mo.) Rock Bridge High School to four straight state championships. Their father, Michael Porter, is Robin's brother-in-law and one of her assistants.
'Yeah, I started recruiting the girls at a pretty young age,' Pingeton said. 'I knew they were destined for greatness when they were young. They're high-character, high-integrity kids.'
It runs in the family, Niemeyer said.
'The thing about Robin, I knew she would be a great recruiter,' he said. 'She presents herself so well.
'She's the kind of person that would come into your home, and you'd just know she would take care of your daughter. I'm so very, very proud of her.'
l Comments: (319) 368-8857; jeff.linder@thegazette.com