Don Denkinger was almost always right, but when he was wrong he didn't hide
The longtime MLB umpire from Waterloo was best-known for a blown call, but should be known for a long and distinguished career, and for not crumbling in the face of national criticism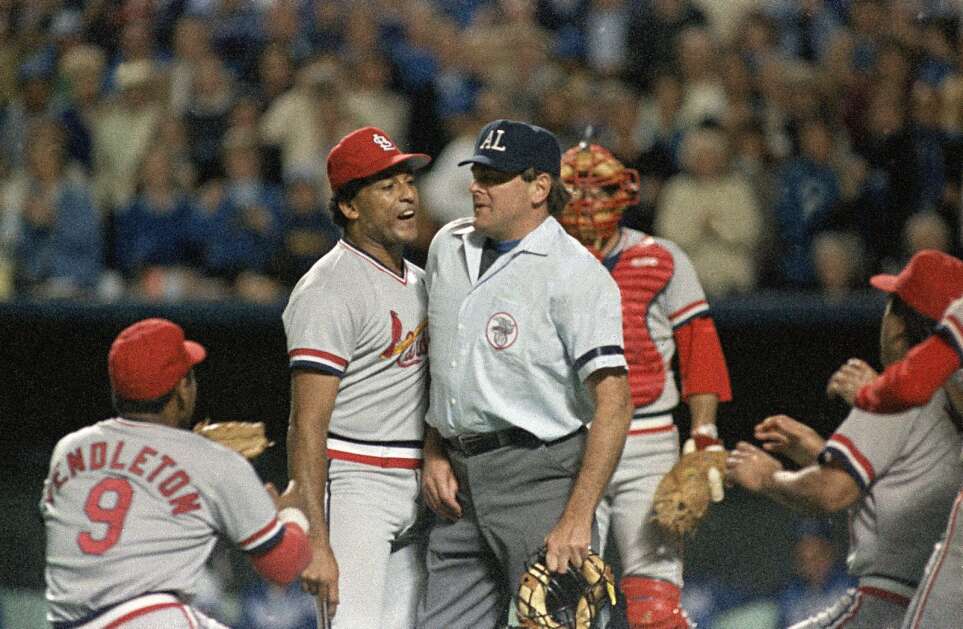 Don Denkinger was a stand-up umpire, and a very good one.
He died Friday in Waterloo at age 86. He was born in Cedar Falls and always called the Cedar Valley his home. His death got me thinking about a Monday night in 1985 when I called him and he answered all questions, one day after his name became a dirty word in St. Louis.
It was the 1985 World Series, Game 6. The St. Louis Cardinals were three outs from a championship, and led the Kansas City Royals 1-0 going into the bottom of the ninth inning.
Royals pinch-hitter Jorge Orta led off with a slow bouncer to the right side. First baseman Jack Clark ranged to field the ball and flipped a sidearm toss to reliever Todd Worrell covering the bag.
Denkinger signaled safe but replays showed Worrell caught the throw on the base ahead of the runner. It was 29 years before Major League Baseball began using video review for questioned calls.
After a single, a bunt, a passed ball and an intentional walk, pinch-hitter Dane Iorg looped a two-run single into right field for a 2-1 walk-off win that forced Game 7. The Royals won 11-0 the following night for the championship.
You can umpire in the majors for three decades, as the Waterloo native did from 1969 to 1998, but when you have a World Series-changing call you live with that. That Game 6 in 1985 still is called the Denkinger Game.
In Game 7, Cardinals relief pitcher Joaquin Andujar and manager Whitey Herzog were ejected by home-plate umpire Denkinger. Andujar bumped Denkinger.
Herzog was steaming those final two games, but to his eternal credit, he said this after the game: "The umpires didn`t beat us. The Kansas City Royals beat us."
Denkinger spoke at the Whitey Herzog Foundation dinner 20 years later.
Denkinger worked three other World Series. He was the home plate ump for Game 7 in 1991, the Jack Morris 10-inning shutout win for the Minnesota Twins against St. Louis. He was behind the plate for the 1978 New York Yankees-Boston Red Sox tiebreaking game for the American League pennant.
That experience and the blowback from it would have crushed many people. Denkinger not only persevered, he stood up to the criticism, especially in the winter that followed.
Back to that phone call: I was a very young sports reporter at The Gazette, and was instructed by my editor to give Denkinger a call. His number was listed, as many crank-callers were probably shocked and delighted to learn. Hours after he had gotten home from Kansas City, he took my call.
"Everyone else said (Orta) should have been out," Denkinger said. "I was using my best judgment at that point, and I called it from the heart."
About the Game 7 ejections, he said "I know I had those ball/strike calls right on Andujar. I was vindicated by the St. Louis papers and television stations. They all said I called them right. But the man goes goofy like that.
"I'm sure the Cardinals were frustrated. Any team that hits .188 for a seven-game series should be. I don't think they should take it out on the officials."
But on that day until his death, Denkinger owned up to making the wrong call.
"Nobody wants to have the call that I did in the World Series," he said in 2014. "But I did. And now it's part of history."
My story got picked up by Associated Press, and I don't think I've ever had anything I've written read by more people. I covered a football game in Ohio that week and the story was in the Columbus Dispatch.
That was because an umpire who no one would have blamed for immediately getting his phone number changed not only took a call from a newspaper guy, but answered all of his questions.
Comments: (319) 398-8440; mike.hlas@thegazette.com