Defending British Open champ Oosthuizen makes long detour to Quad Cities to visit a John Deere factory ... and, oh yeah, to play the Deere tourney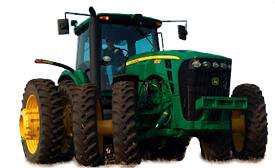 SILVIS, Ill. - The defending British Open champion has gone out of his way - way out of his way - to play in the John Deere Classic the week before trying to retain his Open title.
Why would Louis Oosthuizen fly from his South Africa home to Middle America for a tournament that isn't going to do much to help him get ready for links golf at Royal St. George's in England next week?
Because he loves John Deere tractors. Seriously.
"This morning is what I was hoping for, to do for a while, coming to the factory and just seeing how everything is made," Oosthuizen said Tuesday, "It was amazing just to walk through it and have that experience."
Oosthuizen toured the John Deere Harvester Works plant in East Moline, loving every minute of it.
"I took one of the combines for a quick spin," he said. "I didn't know if I was allowed to, but they said you can hop on one, so I said OK."
He was still beaming about it later in the day when he spoke to reporters covering the JDC.
"I'm a farm boy," Oosthuizen explained. "I grew up on a farm. I've got a little farm back in South Africa at the moment, and whenever I have a chance to go back to South Africa, we go there. I believe if you've got a tractor, it's got to be green.
"Since I was a little boy, my dad loved John Deere, and I always imagined myself driving one. You know, that dream came true last year. After the Open, I decided to buy one."
After at his post-tourney press conference at the British last year, Oosthuizen was asked what he would do with his newfound wealth.
"Buy myself a nice John Deere 6000 Series tractor," he replied, which surely bewildered much of the assembled international golf press.
Buy it, he did. "I've been working with it, not just driving it," the 28-year-old said. "It's been great fun, and I've got a little work to do when I'm back there. It's good, proper time away from golf.
"I make hay quite a bit because we breed cattle on our farm. It's not a very big farm, just big enough to keep me busy."
Because of flight delays, it took Oosthuizen 36 hours to get from his homeland to the Quad Cities. So he didn't get to practice here at the TPC at Deere Run Monday, and his Tuesday was consumed with his factory tour.
"I think this morning threw me a bit off my gameface, really," he said, "but from tomorrow I'll be fine. I'll have the gameface on for the tournament and be ready for the week."
Besides $810,000, the JDC winner gets a Deere lawn-and-garden tractor. So Oosthuizen may be as motivated to win here as he will be to try to retain the Claret Jug next week.