D.C. linebacker is No. 7 for the Hawkeyes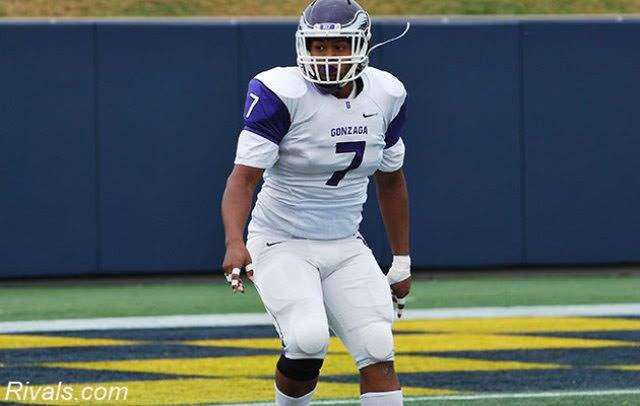 In college football recruiting, you work whatever connection you have. So, it probably didn't hurt that Kyle Taylor's brother, Miles, will be a sophomore strong safety for the Iowa Hawkeyes this fall.
But even beyond that, the Iowa staff offered Kyle Taylor, a 6-2, 220-pound linebacker, a scholarship in March 2014, more than 15 months ago. The family connection is fantastic, but Iowa still knew it wanted Kyle Taylor and was the first to offer the Washington D.C. prep a scholarship.
It paid off Tuesday night, when Taylor announced via his Twitter that he picked the Hawkeyes. Taylor had six offers, including Wisconsin, Maryland, Virginia Tech and Boston College.
'Too hyped and blessed to say that I am committed to the University of Iowa #GoHawks," Taylor tweeted.
When Iowa offered Taylor, the interest already was there.
'I talked to my coach and when he told me, I was just really excited," Taylor told HawkeyeReport.com. 'It means a lot. I was just like ecstatic all day."
Miles Taylor, who's in a battle with freshman Brandon Snyder for starting strong safety this fall, switched his commitment from Georgia Tech to Iowa late in the process. Kyle Taylor was taking notes on Iowa during his brother's recruitment.
'I'm very familiar with them. I think Iowa is a great school," Taylor said. 'The coaches seem like really good people from what I've seen during my brother's recruitment. They're very upfront and they believe in good values and all of that."
As a junior last season at Gonzaga College High School Taylor had 36 tackles and finished third on the team with eight tackles for loss and three sacks (these totals are for 10 games, Gonazaga finished 10-3 and won the District of Columbia State Athletic Association's Class AA championship). During his sophomore season, Taylor had 72 tackles, 14 tackles for loss and five sacks.
'I would say I have a high motor," Taylor said. 'I always run to the ball and I tackle pretty well. I didn't miss many tackles this year."
Here are a couple of Rivals.com scouting notes on Taylor from last fall: 'Taylor is a strong, aggressive linebacker that does a good job of shooting the crease to blow up running plays. He did a lot of that against DeMatha on Sunday. Taylor also showed that he has the ability to quickly drop into coverage in the middle of the field. If Taylor could have shed some blockers faster, he could have made more stops."
And: 'Taylor played a major part in Gonzaga's come-from-behind win. He did a very good job of sniffing out running plays up the middle and making the tackle in the hole or for a loss. Taylor proved to be a hard hitter and just an aggressive football player overall."
Taylor, rated a three-star by Rivals, is Iowa's seventh commitment for the 2016 class and the third commit this week.
l Comments: (319) 398-8256; marc.morehouse@thegazette.com