Cornell's Mike Duroe determined to take down cancer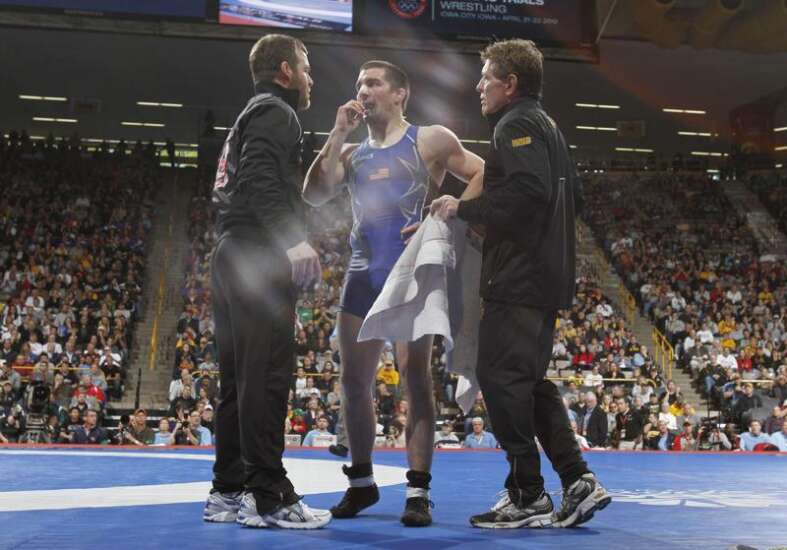 MOUNT VERNON - Wrestling has been a big part of Mike Duroe's life.
The Charles City native grew up in a hotbed of the sport. He was a two-time team captain while earning four letters at Drake, where he studied education. Duroe gravitated to coaching after graduating in 1978, even though his mother encouraged him to go to Drake to be a lawyer.
Duroe made an impact everywhere he landed, including a high school in New Trier (Ill.), at Northern Michigan and University of Pennsylvania and internationally for the Hawkeye Wrestling Club and USA Wrestling.
On this day, he points out pictures on the wall of Cornell College's Meredith Wrestling Complex. One was of Hall of Famer Dale Thomas, who wrestled at Cornell and coached at Oregon State, another was of Thomas and his 1947 teammates who won a national team title without divisions.
Duroe said another national title remains on his 'bucket list."
As much as wrestling and its competitors at all levels has needed him over the years, Duroe needs the sport more than ever. He relies on the exercise, including bike workouts and hot sauna sessions, and the interaction with athletes and coaches.
'I need that to keep me going," Duroe said as sits on a green chair from the 2016 NCAA tournament in front of media in the middle of the spacious wrestling room built during the infancy of his 13-year tenure with the Rams. 'That's just good medicine for me.
'Hey, who knows? I could be around for a long time. You never know. I'm hopeful. That's the plan."
Duroe's faith, active lifestyle and competitiveness served him well in wrestling and they are paramount in his most recent battle. He was diagnosed with a brain tumor in September.
'My initial reaction was pretty emotional," Duroe said. 'As most people that are involved in this sport, and I think coaches in general, have this illusion that they are invincible and they can handle anything (but) this in fact is an illusion.
'It hit me hard."
At first, the symptoms seemed nothing more than showing his 62 years. Duroe's vision struggled to focus. He scheduled an examination, expecting a new prescription for his glasses. Instead, he received the first hint of sobering news.
'I had some trouble seeing, so I went to the eye doctor and she said she wasn't sure it was just a vision problem," Duroe said. 'I didn't think that much of that."
The situation took a drastic turn during a staff meeting. Duroe felt faint and was debilitated by a headache so severe it forced him to take a knee, causing other staff members to fear he was suffering a stroke.
He arrived at St. Luke's hospital and an MRI discovered a brain tumor. Lisa Ikola, who Duroe has described as his significant other and soul mate, insisted on taking him to the UIHC. Within hours in Iowa City, Duroe underwent another MRI that confirmed the diagnosis and a procedure to gather pieces of the Glioblastoma.
'They worked very quickly and started some treatments right away," Duroe said. 'It was really a whirlwind. It happened quickly. I was very fortunate to be in the care of the people and cancer specialists of the University of Iowa."
Emotions flooded Duroe's mind first and the fiery and animated coach turned to a matter-of-fact approach to overcoming the disease.
'My thought was 'well, I'm going to be in a textbook' because I'm going to beat it," Duroe said. 'That was my mind-set from the moment I found out because I have a lot of things I want to still accomplish in life, so I need a little bit more time guys."
The news circulated and shocked many of those in Duroe's life. Iowa Coach Tom Brands was stunned when he heard the diagnosis. Duroe was a regular in Brands' corner for his freestyle career, including a World Championship and 1996 Olympic gold medal in Atlanta.
Brands said Duroe was the perfect coach to complement legendary coach and Duroe friend, Dan Gable.
'You're shocked and it hits you hard," Brands said. 'This is new to me where you have a mentor and basically a friend that you're close to, especially in the sport of wrestling.
'It's different from a family member. You choose your coaches, mentors and friends in the sport. The relationship with Duroe is strong."
Nick Nothern is one of Duroe's 19 All-Americans and five NCAA Division III finalists at Cornell. Nothern was a three-time NCAA medalist and national runner-up in 2009, and served as a Cornell assistant before becoming the head coach at Neosho County Community College.
He said he juggled various feelings when Duroe called to update him.
'You never know what to expect when someone is diagnosed with cancer, but Duroe is a tough dude," said Nothern, calling Duroe a second father. 'I wouldn't expect anything less than for him to attack this fight with guns blazing. He is one of the most stubborn people I know, and if anyone can beat this thing, it's him."
Iowa associate head coach Terry Brands, who was a two-time World champion and an Olympic bronze medalist, has worked and forged a friendship with Duroe, like his twin brother, Tom. The Brands brothers actually arranged for a recent pheasant hunting trip with Duroe, who is an avid outdoorsman.
Terry Brands said Duroe has maintained his strong faith and a sense of humor.
'You're talking about an ultra-competitor," Terry Brands said. 'You're talking about a guy who is a great coach who coaches his team to get better and to win at a high level, but to win in the right way.
'That's how he's approaching the battle. It's motivating to see that."
Duroe spends as much time as possible with the Rams when it doesn't conflict with regular treatment sessions or doctor's appointment. Pupil turned colleague Brent Hamm has assumed the day-to-day operations, working daily with Duroe whether it's a call on Sunday or an office meeting on Wednesday.
'We work and we talk on the phone, even if he can't be here," Hamm said. 'We're shooting texts back and forth to make sure all odds and ends are covered. I've been around for seven years so the transition wasn't super hard for me."
Hamm said the wrestlers may not have grasped the severity of the situation immediately. He said the Rams were shocked when the situation became clear.
'We've kept them focused on what they're trying to do here," Hamm said. 'They have to live their life, get good grades (and) come to practice every day. They've done a heck of a job so far."
Duroe remains a regular at the Rams' duals. He was matside when Cornell traveled to Rock Island, Ill., to face Augustana College. Duroe tested his limits as the Rams sent his heart racing with a dramatic finish. They trailed by two with two matches left. Chris Lyons (197) recorded a pin and heavyweight Tyler Ortmann closed the meet with a major decision for a 23-15 victory.
'I was high-fiving Tyler Ortmann," Duroe said. 'He just slammed the door in those guys' faces. I was fired up.
'It was exciting. That kind of stuff energizes me, gets me fired up and keeps me coming back."
National power and second-ranked Wartburg handed the Rams (3-3) their lone home loss. The result was lopsided, but the score was secondary. The Knights donned shirts that read 'No one fights alone." The gesture hit a chord with Duroe.
'It was a very special thing they did," Duroe said. 'To have the shirts made up it was a pretty amazing thing. First class move on their part."
The effort has been indicative of the wrestling community, which has rallied around one of their own. A benefit was held last Saturday to honor Duroe. About 350 people filed into the Double Tree in downtown Cedar Rapids, including USA Wrestling's Executive Director Rich Bender, Gable, the Brands brothers, other Olympic and NCAA champions and various wrestling supporters.
Former Cornell assistant athletics director Dick Simmons, who helped organize the event, said at least one member from each of his Cornell teams attended, including Alex Coolidge, who won the 2014 197-pound title at the U.S. Cellular Center.
Duroe was touched to see former wrestlers, their families and acquaintances that night. He has cherished the loyalty and relationships the sport has brought him over the years.
'To see them, their gratitude and love, because you develop these life long bonds and friendships, not just with the athletes but with the families," Duroe said. 'It meant the world to me."
They raised nearly $3,000.
'The turnout was unbelievable," Simmons said. 'It was a neat night for everybody.
'Cancer picked on the wrong guy to fight with and he's fighting back."
Duroe wasn't interested in receiving any donations for himself. He prefer it go to others. During his intense treatments in Iowa City, Duroe witnessed many children battling cancer as they walked the halls of the oncology and radiation clinics, Duroe has the passion to do something for a greater cause.
'I don't want to slow down because I have this new passion, this new plan of something I want to accomplish," Duroe said. 'I think the wrestling community in Iowa, the United States (and) worldwide is big enough and strong enough to have an impact to gather resources to help wipe out and make a difference with pediatric cancer.
'I think with some good leadership from the wrestling community we can make a difference."
l Comments: (319) 368-8679; kj.pilcher@thegazette.com