Cornell's Engle, Luther's Kreiter earn runner-up finish; Wartburg claims team title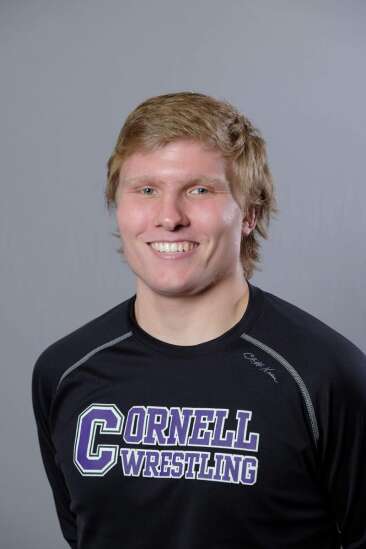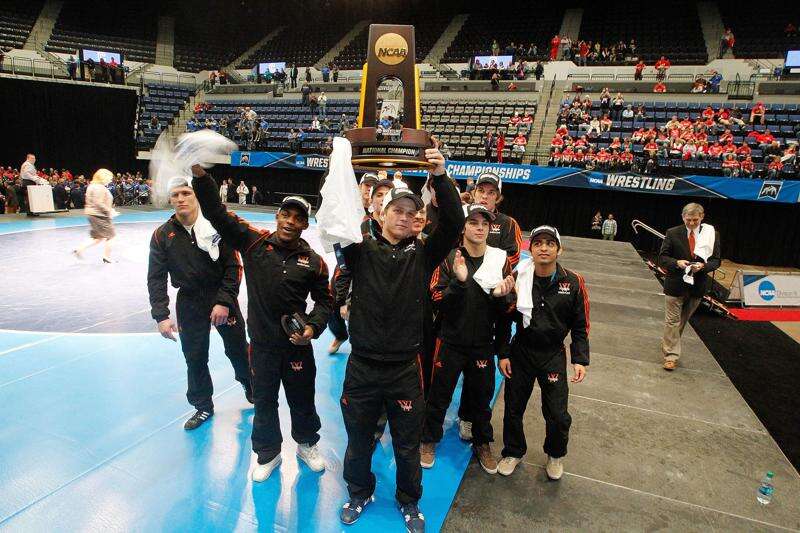 LA CROSSE, Wis. — Cornell's Aaron Engle is the mirror image of his twin brother, Trevor Engle.
The only thing as identical as their appearance is how they closed their wrestling careers.
A year after his brother did the exact same thing, Aaron Engle went from unseeded to silver medalist at 149 pounds at the NCAA Division III Wrestling Championships on Saturday at The La Crosse Center. Engle and Luther's Justin Kreiter earned runner-up honors, while Wartburg claimed an unprecedented 13th D-III wrestling team title.
The similarity between the brothers' final tournaments was uncanny.
'I was joking around with him after the match and I said if I won we wouldn't be identical twins,' Engle said. 'It's just the type of relationship we have with each other. Obviously, both of us wanted to win our matches.'
Engle (21-10) faced Southern Maine's fourth-seeded Dan Del Gallo in the final. Del Gallo advanced with a semifinal victory over Wartburg's two-time NCAA champion Kenny Martin, who beat Trevor Engle in the 2016 final.
Engle gave up a second-period escape, a quick two-point nearfall in the third and a point for riding time in a 4-1 loss to Del Gallo.
'He just never really got any offense going tonight,' Cornell Coach Mike Duroe said. 'He got to the legs a couple times in the first period but that's not like him.
'When he has success, he is wrestling wide open and he was a little conservative. Probably some nerves. I don't think he gave himself enough opportunities to come out on top.'
The Rams senior earned the final berth, dropping the sixth, third and second seeds in succession. Just like his brother, he defeated Lycoming's Seth Lansberry in the semifinals. Engle scored the opening takedown and added a couple escapes to tie it, 4-4, after the third. Engle took Lansberry down to his back and finished it for the 7:37 fall.
He focused on the task at hand and not any slight by rankings.
'I knew what I was here to do,' said Engle, a two-time national qualifier. 'They can seed me (or) don't seed me. I'm just going to go out and wrestle one match at a time. Whatever happens. All I can control is how hard I wrestle and how many attempts I make during a match and what I do during the seven minutes.'
Aaron Engle transferred to Cornell a season after his brother started there. He credited him for showing him the ropes and what it took to reach the finals. The final result doesn't overshadow the overall achievement that began when he missed the podium by one win at 157 last year.
'Obviously, I wanted to win,' Engle said. 'This is my senior year I don't think there is anything to hold my head down about.'
Duroe praised Engle for the example he set, growing over the last two years. Duroe noted that Engle will be successful as a future coach.
'He's been a good catalyst for our team,' Duroe said. 'He's got good leadership skills. He's been a guy that people can look up to and follow.
'He's a great wrestler.'
Justin Kreiter closed his career with a second straight All-American finish, improving last year's fourth-place performance. Kreiter reached the 184 final, but had to settle for runner-up honors, losing by fall in 4:03 to Wisconsin-Whitewater's Justin Newman.
Wartburg had three in the finals, including former Union prep Logan Thomsen. The Knights were down to their final chance for individual gold when Eric DeVos took the mat.
DeVos (19-0) beat Messiah's Ben Swarr, 10-1, for the 174 title.
'I did it for them,' DeVos said. 'I couldn't let us not get a national champion after what we did this weekend, so it's all for them. I wouldn't be where I am without them. They gave me a shot when I was down and out.'
In a rematch of last year's championship, DeVos reversed a 3-1 loss. He opened up early, taking control early for a six-point lead in the first period and rolling to the major decision.
'That was a year in the making right there, man,' DeVos said. 'I thought about that match last year every day. I never imagined it being this good, man.'
Thomsen (33-3) and Cross Cannone placed second for the Knights. Thomsen dropped an 8-7 decision to SUNY-Cortland's Robert Dierna in the 157 final. Wartburg scored 129 1/2 points, more than 50 points ahead of runner-up Augsburg.
The title is the sixth in seven years for the Knights.
'They're all special,' Wartburg Coach Eric Keller said. 'There are so many different stories and challenges that have gone in to each one.
'This is special. These guys have worked their butts off from the time last year ended. I'm proud of this group (and) how they've performed all year long. They won everything all year long.'
The Knights boasted nine All-Americans, including seven that reached the semifinals. In addition to three finalists, two-time NCAA champion Martin (149) was third, Bryan Levsen (184) and Kyle Fank (197) were fifth and heavyweight Lance Evans placed fourth. Arnulfo Olea (125) and 165-pounder Andrew Steiert were sixth and seventh, respectively.
The celebratory mood was held in check after the third session. Unlike Friday, Saturday morning was filled with more setbacks, leaving Keller with a bittersweet feeling since some fell short of their goals.
'It's not like we've had a bad national tournament,' Keller said. 'It's been a real good national tournament, but we're greedy. We want to wrestle at the highest possible level.'
Former Cedar Rapids Xavier state finalist Clint Lembeck capitalized on his first national tournament experience. The Loras freshman earned All-American honors, getting fifth at 141.
'It's been a long season, I'll tell you that,' Lembeck said. 'This feeling is worth all the sacrifices and everything put into it. I couldn't be happier.'
Lembeck (25-11) entered the tournament seeded seventh. He scored 18 points in his opening match and then recorded three pins in consolation bouts, ending the tournament with a 5:51 fall of Johnson & Wales' Joseph Ferinde.
'At this point, you're already on the stand and an All-American so no one can take that away from you,' Lembeck said. 'At this point, there's nothing to lose. You're just cutting loose and having fun. Enjoy the experience and all the people cheering for you. It's something special.'
Lembeck was one of three Loras All-Americans. The Duhawks finished sixth overall and head coach T.J. Miller was named Rookie Coach of the Year. Miller is the son of former Wartburg Coach Jim Miller.
Coe placed its lone qualifier on the awards stand. Cole Erickson (14-9) claimed the starting spot late in the regular season and parlayed it into an All-American season. Erickson went 4-3, recording two pins and a technical fall, and placed sixth at 149.
Wabash's Riley Lefever won the 197-pound title and became the second four-time NCAA D-III champion, joining Augsburg's Marcus LeVesseur (2003-07). Lefever was named the tournament's Outstanding Wrestler.
l Comments: (319) 368-8679; kj.pilcher@thegazette.com