COMMUNITY: Finding your direction
JR Ogden
Apr. 27, 2013 6:00 am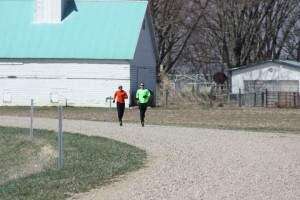 Editor's note: Daren Schumaker and Dennis Lee are crossing Iowa's 99 counties, raising money for the American Heart Association. The two have completed 43 counties.
By Daren Schumaker, community contributor
Direction is important. It gets you where you're going. It helps you reach your goals. It gets you to your destination.
The importance of direction is often understated and under looked. If direction is so important, how are we to gain a better appreciation for the direction present in each of our lives? The answer is quite simple - get lost.
On April 13, we pushed off of the banks of the Missouri River and started to run eastward across Monona County and the Loess Hills.
We knew our run would be difficult - any run that is 37 miles is going to be difficult. We ran toward the looming Loess Hills for 16 miles before we began to climb upward into the hills.
Everything was going well. We never thought to question our direction or where our route was taking us. We haphazardly took a left turn on Oak Avenue and ran on a hilly gravel road for a good hour before we encountered civilization and realized that we were lost. We had lost our direction.
When it was all said and done, we had run more than eight miles south when we should have been running east. We had run 30 miles and were still several miles away from the eastern edge of Monona County and our goal.
We had definitely lost our direction.
Instead of continuing on the wrong path, we assessed the situation and turned ourselves in the right direction. We had no idea how far we were going to have to go, but we did know that it was going to be difficult. I'd love to tell you that things got easier once we were back on track, but that would be anything but the truth. It was far from smiles and high-fives. We ran for 6:32:02 before we crossed into Crawford County, running a total of 45 miles.
Moral of the story? Direction is important, but more important is the ability to realize that you are lost and to take the difficult steps to get back on the right path.
Whether you literally took a wrong turn or have let your personal health goals head south as you head north, you can always start back in the right direction.
Inspiration through perspiration. Become active or make a donation to the American Heart Association to help fight heart disease.