St. Thomas posts 5th straight comeback to reach NCAA D-III baseball championship series
Tommies score 3 in the top of the 9th to beat top-ranked Washington University for shot at 3rd national title and 1st since 2009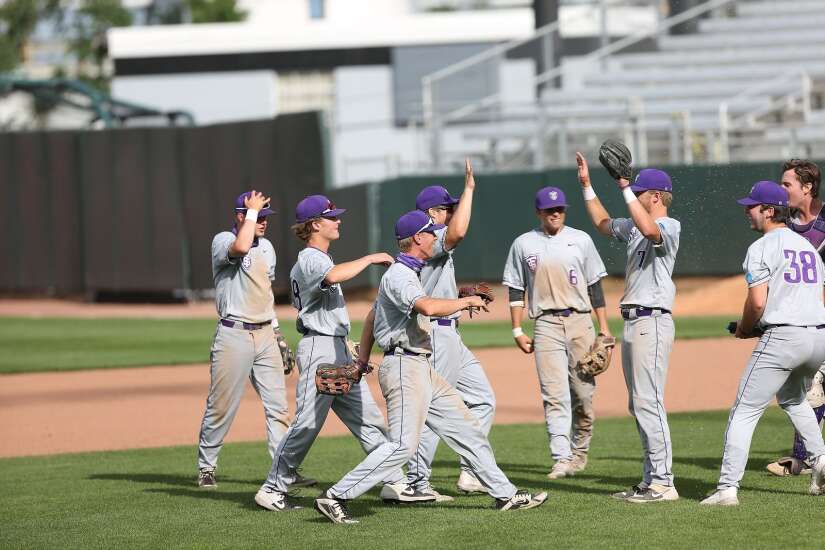 CEDAR RAPIDS – University of St. Thomas Coach Chris Olean and his assistants Tanner and Trey Vavra have stories of playing baseball in Cedar Rapids.
Olean appeared here in 2000, pitching at the previous cement and green-girder version of Memorial Stadium for the Beloit Snappers. The Vavras were Kernels in the current venue – Tanner a middle infielder for 81 games in 2014 and Trey a 2015 Midwest League All-Star at first base, hitting .346 with six home runs in 42 games.
"We've heard some stories," St. Thomas catcher Charlie Bartholomew said with a smile. "They've done their best to pass on all their wisdom they have about this park. Some fun baseball stories they had for us and that's always a pleasure."
The 19th-ranked Tommies have made their own memories and plan to make a few more after a 6-4 come-from-behind victory over No. 1 Washington (Mo.) University to win Pool A Sunday afternoon in the NCAA Division III Baseball Championships. They advance to the best-of-three national title series against Salisbury.
St. Thomas beat Washington in extra innings in the pool semifinal Saturday. This time, Bartholomew and Kyle Halverson delivered RBI singles in a three-run ninth to eliminate the Bears (34-6).
"Another great ballgame," Olean said. "Washington is good. They're every bit a No. 1 team as I thought they would be.
"We're playing clean baseball. We find a way to manufacture runs against a very challenging opponent."
The Tommies (37-8) were at-large postseason qualifiers and are two wins from their third national title and first since 2009. The journey has been spotted with comeback thrillers, including each of the last five postseason contests.
"For me, it's just belief," Olean said. "They have great team chemistry. They pull for each other. We've talked about a lot that it's never just one guy. I think it allows it to be more cohesive."
So, the Tommies weren't fazed when Washington took a 4-3 lead in the bottom of the seventh on Clayton Miller's two-run single to score Tim Van Kirk and Magnus Dunn and blanked them in the eighth.
"I think we've shown the last couple games we're never out of a game," Bartholomew said. "We always stay level-headed, whether that be when we're up or down. We're always going to have the same approach at the plate. It is 90 feet, get on for the next guy, causing traffic on the bases and see where we can take it from there."
St. Thomas capitalized on a couple miscues to rally in its final at-bat. Matthew Enck was hit by a pitch to lead off and reached third on an errant throw to second after a Max Moris sacrifice attempt. Avery Lehman's safety squeeze scored Enck. Jake Porter walked, setting up Bartholomew.
Bartholomew recalled a coach had told him to expect a hittable pitch immediately after the opposing coach visits the pitcher in the middle of an at-bat. It proved true and he smacked a base hit to left center to bring in Sam Kulesa, who also scored on an error in the seventh.
"I took that approach," Bartholomew said. "I thought middle-out ball. Just needed a single to get the guy in and saw my pitch."
Freshman starter Kolby Gartner stifled the Bears offense, which entered the tournament with a .299 team batting average and .380 on-base percentage. He limited them to just two runs on six hits through six innings, striking out seven.
"I just go with the mindset that they are going to make plays and they will have my back," said Gartner, who pitched 9 1/3 innings in the regular season but has thrown 15 in the postseason. "I just try to attack the zone and let them make plays."
Gartner held them scoreless through five, owning a 2-0 lead on Porter's RBI single in the third and Josh Thorp's run-scoring triple in the sixth. He didn't allow a runner to reach third until Bo Anderson's solo home run that preceded Hunter Goldberg's RBI single to tie it, 2-2.
T.J. Constertina pitched 2 2/3 innings of scoreless relief, retiring all seven batters he faced to close the victory.
"A great start out of Kolby, who just executed pitches all day," Olean said. "The whole find a way thing took over late. We found a way to get it done.
"I'm real happy for the guys. They're playing well right now. We're excited to get to the championship."