Coe uses air attack to top Buena Vista on Senior Day
Leading rusher out, the Kohawks pass for 361 yards in a 31-28 win over the Beavers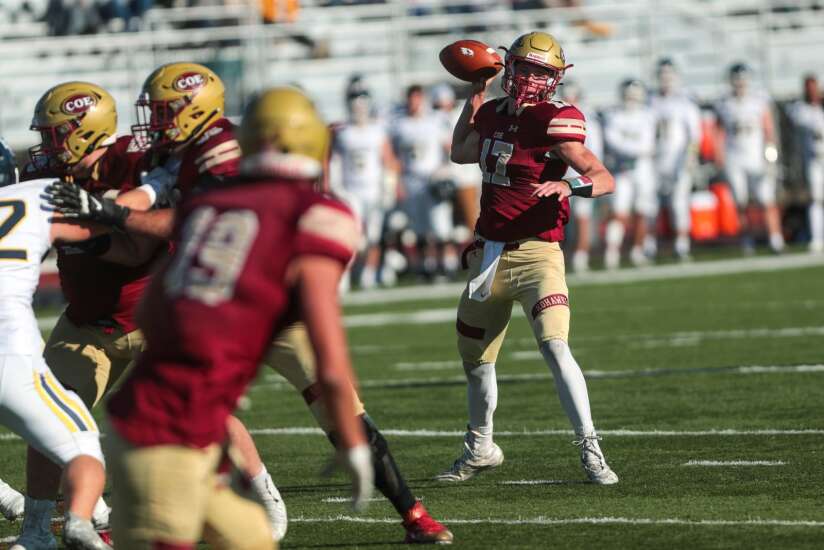 CEDAR RAPIDS — It may not have been the way Coe originally had it drawn up, but it got the job done.
Twenty-one Coe seniors walked off Clark Field for the final time as players with a win as the Kohawks defeated Buena Vista, 31-28, on Saturday.
"This is a great win with it being Senior Day," Coe Coach Tyler Staker said. "We have 21 seniors we were honoring here today and their time here at Coe. It's just great to send those guys out with a victory at Clark Field."
While the end result worked out for the Kohawks (7-2, 5-2 American Rivers Conference), it wasn't the way they originally had the game scripted.
Coe was without its top running back, Alphonso Soko, who entered Saturday's contest leading the conference in rushing yards (978) and rushing TDs (14).
"Our game plan kind of changed a little bit because Alphonso Soko wasn't able to go," Staker said. "We thought he'd be able to go, but he's a little banged up. I felt like we did a good job of pivoting on offense with our game plan."
The Kohawks typically have a balanced offensive approach — averaging 212.3 passing yards and 195.4 rushing yards per game. But Soko being out caused them to shift to more of an aerial attack.
"We threw it a lot more than we have in the past," Staker said. "I thought Nick Casey played a really good game, a gutsy game. I thought our receivers came up really big in some big moments. It's a confidence boost to our offense that even though we've kind of really been riding that run game, we proved today that we can put it up in the air and make big plays."
Casey completed 27 of 42 passes for 354 yards, four touchdowns and two interceptions.
As a team, Coe had 361 passing yards and 113 rushing yards.
"They play a lot of man," Casey said. "So we tried pushing it a little bit."
The Kohawks trailed early as Buena Vista sophomore quarterback Brandon Kyles scored two first-quarter touchdowns giving the Beavers (5-4, 4-3) an early 14-0 lead with 5:38 to go in the first.
"You could tell early on their heads were down a little bit," Staker sid. "The resiliency they showed and continuing to battle to put ourselves in a position to win this ballgame at the end was tremendous."
Evan Ellis put Coe on the scoreboard as he hit a 25-yard field goal with 7:45 to go in the second.
There was a lot of action in the last 4:12 of the first half. Casey found Joshua Bishop for a 55-yard TD. Two minutes later, Kyles found Eric Pacheco, the conference's leading receiver, for a 28-yard score.
Coe answered right before intermission as Casey found Logan Winn open in the back of the end zone with 14 seconds left to make it 21-17 at half.
Casey had two third-quarter touchdown passes, to Cooper Zeck and Amel Saric, to give the Kohawks a 31-21 lead entering the fourth quarter.
Kyles found Pacheco again with 12:37 to go to narrow the gap, but Coe's defense held strong from there, forcing two turnovers on downs and an interception down the stretch.
Coe's defense held Kyles to 18 rushing yards and held the Beavers to just 71 rushing yards.
"Defensively, we knew we were going to have to keep that quarterback under wraps and not let him get out and get a ton of rushing yards," Staker said. "We did a really good job of collaring him."
With the win, Coe extends its win streak to four games. Coe travels to Nebraska Wesleyan (4-5, 2-4) in its regular-season finale with a chance to make the Division III playoffs as an at-large team.
"I'm just really proud of our guys," Staker said. "They continue to battle."