Bright future for Wahlert tennis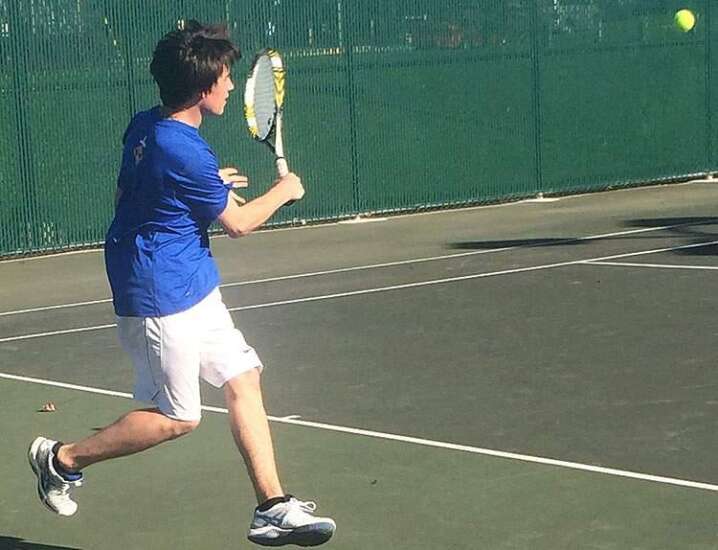 DUBUQUE - Rebuild or reload? This is a common question asked at the beginning or end of a sports season, and the answer usually is what sets the tone for either success or mediocrity.
Thankfully for the Dubuque Wahlert boys' tennis team, it will be reloading after graduating six of its top eight varsity players after this season.
This year's team returns its top eight players, six seniors and two juniors. The team has had a year of experience playing together.
But with five of the top eight players leaving after this season, most team would face a couple years of rebuilding. But with a very talented group of freshmen coming in, the transition might not result in the loss of success for Wahlert.
Historically, Wahlert has had very successful boys' and girls' tennis teams. Boys' coach Christopher Gustas looks to continue this trend.
'When I interviewed for this job, I knew it was a great opportunity because Wahlert has been good at tennis for a long time," he said. 'I recently looked up the tennis state titles in Iowa and Wahlert has the second most (8) behind only Camanche (9). And I'm the coach of this team? Crazy."
With the talent of the underclassmen, Wahlert tennis has the potential for contending for state titles in the next few years.
'The freshmen are the only difference between last year's team and this year's team because we also didn't graduate anyone, not even a JV player," Gustas said. 'The team is larger, so we have split the practice into a varsity and JV situation, with three to five freshmen playing with the varsity depending on the day, and they do not look at all out of place."
The veterans on the team are helping prepare the younger members for 2016.
'These experienced players are doing me a great favor by showing their work ethic and positive behavior to the freshman class," Gustas said. 'Great upperclassmen are how you keep a program strong because they leave it in the right shape."
To continue the success Wahlert has had in the past, Gustas has a three step plan:
'The first step is running a great tennis camp in the summer that gets kids to start playing recreationally or at a tennis club with instruction while they're young," he said. 'Next is to develop underclassmen by giving them exposure to varsity players on a regular basis, while also keeping tennis fun and helping them to find success. These players should be improving and enjoying their time.
'Off-season work is another way you win in tennis. The season is so short that much of the work happens in the summer, so getting players to enjoy the sport and be motivated is key to having them take the time in the summer to play more tennis."
Once these players gain experience, they can be very successful.
'A lot of these freshmen are, in fact, very talented," Gustas said. 'They have a head start on most freshmen in the state. However, they're not ready to be successful varsity players. They have that head start, but that's all it is. They have work to do and if they're not working, everyone else will catch up. These freshmen are talented enough that I feel they can choose to win a title, but they have to make that choice by working at practice and in the off-season."
Even though they all won't be playing in the top six for varsity this season, Gustas knows these ninth-graders can still positively impact the team.
'As far as this season, this freshman class has been a plus for two reasons," he said. 'They make great additions to practice and help make our team compete to get better; secondly, Jack Lucy is a talented varsity-ready player right now. He will have some adjusting to do playing juniors and seniors, but after a successful season last year and bringing everyone back, Jack feels like a shiny new toy that we didn't need, but we are happy to have."
Along with Lucy, these six freshmen are who Gustas believes will be the future of Wahlert's varsity squad.
Will Hutchinson is a player who hits hard, but also is strategic and wins with his head.
'Will has a big serve and tends to draw people to the net only to rip a ball by and win points," Gustas said. 'He's given a couple of our varsity players a scare in challenge matches this year. I expect he will play a big role on next year's team."
Carson Kunkel is a very patient player who doesn't beat himself often.
'He's a hard hitter with some net skills," Gustas said. 'Carson loves tennis, and it shows when plays all practice with enthusiasm and often a smile. I get the feeling he will be a good doubles player."
Hunter McDonald has worked his way up with his play these last few weeks.
'In the past couple weeks, my opinion on Hunter's game has greatly changed," Gustas said. 'He stood out in the JV practices so much that I had to move him up to test him with the big boys."
Louis Ungs is a hard-hitter who loves the game of tennis.
'Like Carson, Louis can't seem to get enough tennis," Gustas said. 'I've noticed that playing with these experienced players has made a difference for him because he has brought his game up to match."
Jimmy Chapman looks like a natural on the tennis court and has a good all-around game.
'Jimmy has all the strokes and just looks like a tennis player," Gustas said. 'To me he has the feel of a player who someday will come out and beat a bunch of his classmates to play high in the lineup."
Riley Collins has a formidable forehand and is working to improve his all-around game.
'Riley is like you played a video game, created your own character, then used all the stat points to build up a monster, varsity level forehand, then left everything else at a freshman level," Gustas said. 'For him, it will be about bringing everything else up to play solid while using the forehand as his weapon."