B1G Preview: New era, new teams, new image?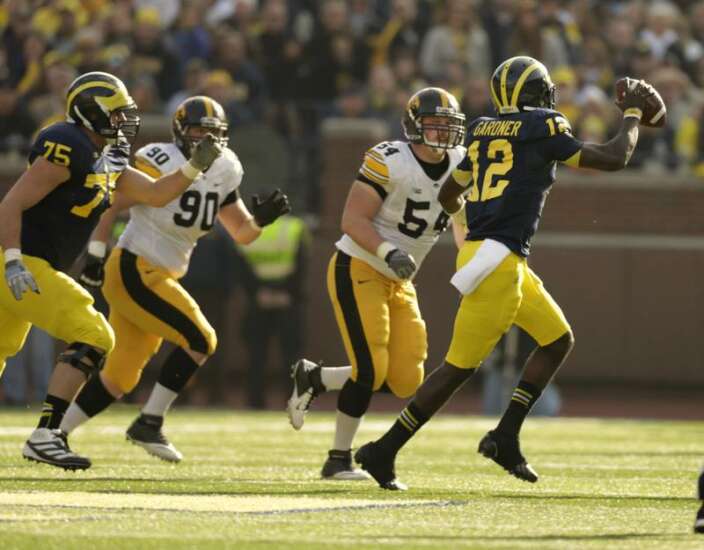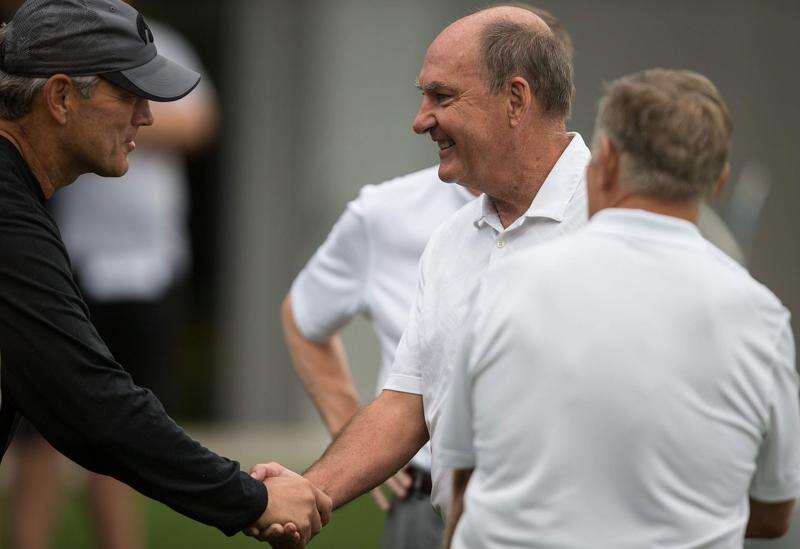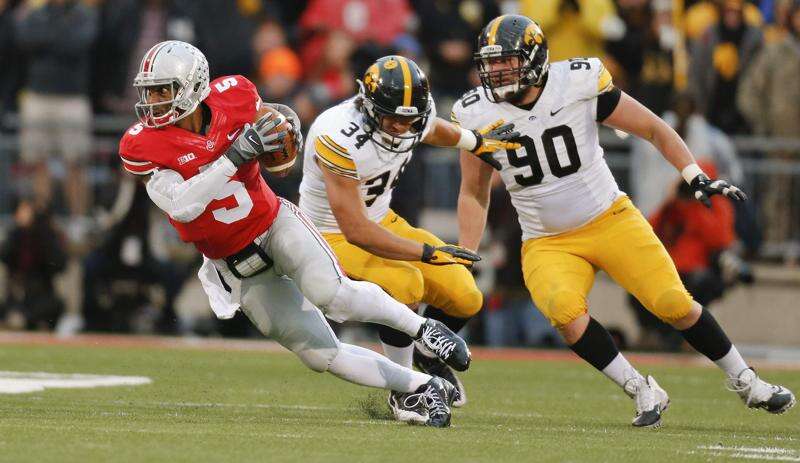 CHICAGO - No league needs a great regular season like the Big Ten. No league needs a great postseason like the Big Ten. And it just might get both this year.
The league has stars on both sides of the ball. Wisconsin touts running back Melvin Gordon as a Heisman candidate and Nebraska has his equal in Ameer Abdullah. Michigan State defensive end Shilique Calhoun might win the Ted Hendricks Award, but his main competition comes from Nebraska counterpart Randy Gregory. Iowa tackle Brandon Scherff is the favorite for the Outland Trophy.
Michigan State won every league game by double digits last year and still has a chunk of that team returning. Maryland and Rutgers are new to the league, and Northwestern eyes a bounce-back season. Michigan Coach Brady Hoke and Illinois Coach Tim Beckman appear to be coaching for their jobs. Minnesota Coach Jerry Kill wants to prove last year was no fluke.
Yes, Ohio State quarterback Braxton Miller (a two-time winner of the Big Ten's Silver Football) is out for the season and the Buckeyes will start freshman J.T. Barrett. But the last two Heisman winners (Texas A&M's Johnny Manziel and Florida State's Jameis Winston) were freshmen. It's hardly a death sentence for a team with such talent.
The college football world paints the Big Ten as an aging league with little hope. Only four teams were ranked in the AP Preseason Top 25. But there is optimism north of the Mason-Dixon Line.
Minutes after the Big Ten's annual media day concluded this July, players and coaches left the seating area and reporters shuffled to the workroom down the hall, I hung around the Chicago Hilton's interview area. I spoke with a Big Ten official who was confident the league is poised for a big year.
'You can just tell ... they're ready," the official said about the league's coaches.
They need to be. They need to conquer perception as well as their opponents.
'It's tough to sit here and say in August that you have to be perfect to get into the playoff because Ohio State lost its starting quarterback. I'm not sure I see a huge connection there," ESPN college football broadcaster Chris Fowler said. 'I think your margin for error in the Big Ten for getting in the bracket isn't as much as in some leagues. You have to be very impressive when you get your chance because you're going to be scrutinized every game. Every game is important in the evaluation process."
A NEW ERA
The new four-team College Football Playoff comes at the perfect time for the Big Ten. In the BCS era, the Big Ten was 14-15 in BCS bowls. Ohio State claimed the league's only national title in 2002 and the league has posted just one winning bowl season since 2005.
The league had not qualified for the BCS title game since 2007, when Ohio State absorbed its second consecutive championship beating. From 2008 through 2012 (except for maybe 2010), the league doesn't even send a team to the four-team playoff.
Last year Ohio State was unbeaten entering the Big Ten championship game against one-loss Michigan State. Had the Buckeyes won, they would have qualified for the BCS title game. That led to a public relations push from Southeastern Conference media and officials that a one-loss SEC champ deserved to leapfrog an unbeaten Big Ten team. Ultimately it didn't matter, as Ohio State lost to clear the way for Auburn. But Michigan State wasn't even considered.
Under the new system, a 13-member selection committee will rank the four teams competing in the playoff. The No. 1 team will play the No. 4 team in one bowl, while No. 2 will play No. 3 in another. The semifinal winners will meet at a neutral site for the championship. The semifinal bowls this year are the Rose and Sugar. The semifinal sites rotate every three years.
The committee also will match opponents in four other top-tier bowl games with no guidance from outside polls or computer rankings. The Cotton, Peach and Fiesta bowls are have no conference affiliation. The Orange Bowl will pit an ACC team against either an SEC or Big Ten team or Notre Dame. When it's not hosting a semifinal, the Rose Bowl will resume its traditional Big Ten-Pac-12 match-up. Likewise, the Sugar Bowl will host teams from the SEC and Big 12 in non-semifinal years.
Champions from the Big Ten, Big 12, ACC, SEC and Pac-12 automatically qualify for either the playoff or an upper-level bowl. The best team from outside those leagues also gains entry in either the playoff or a top bowl.
'What we've tried to do is structure our conference schedule and our scheduling to deliver an opportunity for our teams if they're successful," Big Ten Commissioner Jim Delany said. 'We make no predictions. We make no excuses."
B1G CHANGES
For the second time in four years, the Big Ten expands and realigns itself. In 2011, the league moved to 12 with Nebraska. This time with Maryland and Rutgers, the league chose straight geography.
For a league built on tradition and cohesiveness, the alignment has the potential to wedge between the two divisions. The highest profile and most historically successful programs reside in the East Division with Michigan, Penn State and Ohio State. Newcomers Maryland and Rutgers have more allegiance to those neighboring schools than their new western allies.
The blue-collar West Division features a series of backyard brawls. Iowa, Minnesota and Wisconsin have competed annually against one another for more than 100 years and Nebraska has joined that fight. Northwestern and Illinois have an instate battle, and both have strong rivalries with the other West Division schools. Purdue has a traveling trophy game with Illinois, which is 90 miles away, and Northwestern-Purdue once was a protected series under the old 11-school system.
The geographical divisions are different from the competitively equal, but ill-named Legends and Leaders. It also allows Wisconsin to rejoin its neighbors in divisional action.
'We get to keep our rivalries, which is so important," Wisconsin Coach Gary Andersen said. 'We get to keep the Iowa game. We get to keep the Minnesota game. That matters a ton to us because of the recruiting base and where we are and how we recruit.
'Northwestern, Illinois, to be able to move through those, it's great for our recruiting base. So I like the way it's broken up. It's highly competitive."
TEAMS ON THE RISE
Indiana
- The Hoosiers averaged 508 yards and 38.4 points a game last year and return eight starters. The Hoosiers have the league's most dynamic offense and it isn't close. But Indiana's defense was just as horrid as its offense was terrific. It gave up nearly 528 yards a game. With a new defensive staff and a little improvement with nine returning starters, Indiana not only could get to a bowl, it has potential to earn a nice spot around New Year's.
'We're going to be young, we're going to be more athletic, we're making a change, we're going to be a work in progress," Indiana Coach Kevin Wilson said of his defense. 'But from what I saw in spring, we're going to be significantly improved on D."
Maryland
- Whether it was by design or pure luck, Maryland enters the Big Ten at the perfect time. With nine starters back on both sides of the ball, plus a sixth-year quarterback, the Terrapins are veteran enough to compete in several games this year. The schedule is rough, but if they have success in non-conference play and pick off a few teams in the process, Maryland could have a positive and immediate impact on Big Ten football.
'We know we have a tremendous challenge that's ahead of us this year as we enter the Big Ten, but one that we're really looking forward to," Maryland Coach Randy Edsall said.
TEAMS FALLING DOWN
Minnesota
- This simply comes down to scheduling. The Gophers face the league's most grueling late-season schedule, playing host to Iowa and Ohio State then traveling to Nebraska and Wisconsin to finish the season. Minnesota's crossovers are Michigan and Ohio State. Last year the Gophers took advantage of their crossovers by beating Penn State and Indiana en route to an eight-win season.
'I think there's some philosophy behind that," Minnesota Coach Jerry Kill said of the stout schedule. 'I won't share that with you, but I've got a pretty good idea of how things went after looking at the schedule. Who got what and when. But there's nothing you can do about it. The great thing about that is if you win a couple like that, you're going to be playing in a great situation."
Penn State
- NCAA sanctions eventually will catch up with the Nittany Lions, and this appears to be the year. Yes, new Coach James Franklin is a winner and a dynamic recruiter. Yes, Penn State thus far has competed admirably in most of its games, has a tremendous young quarterback and a tight end group. But only five starters return on offense, including just one on the offensive line. Penn State lost by 20 to Indiana and 14 to Minnesota last year. It's likely Franklin builds a winner, but he may have to wait.
'We have some challenges up front, there's no doubt about it," Franklin said.
RETAINING RIVALRY
Wisconsin and Iowa boast the league's closest, old-school rivalry. Through 87 games, Wisconsin leads 43-42-2. The teams have played all but four years since 1937, and each time expansion was the reason for cycling off the schedule. The last three years they competed in opposite divisions, but with the recent expansion, they'll join one another in the Big Ten West.
'That game is an unbelievable game, very difficult to prepare for," said Andersen, who has coached against Iowa once. 'A lot of people get skewed in the fact that in their mind saying, 'Well when you prepare for a team that runs like we do with multiple tight ends and what Iowa does,' I've heard it stated many times that's a team that's easier to prepare for than the spread or maybe fast-paced offense. I disagree. They're both very difficult because you've got to be able to handle the physicality."
Wisconsin scored two fourth-quarter touchdowns to beat Iowa 28-9 last year at Kinnick Stadium. Because of a scheduling quirk, the teams will meet for the third straight time in Iowa City. The Hawkeyes haven't played at Camp Randall Stadium since 2009.
'The Iowa game, we haven't played it at home and we won't again," Andersen said. 'It's been a minute since that game's been at Camp Randall. We'll head off to Iowa again, which is a very difficult place to play. It will be the same type of game; physical, tough-minded kids. In my opinion, coached well, very well, on both sides."
about to sizzle
Ohio State and Michigan are tied to the hip historically and that won't change. But it's possible Penn State and Ohio State could form a more cutthroat rivalry in the future.
Both have aggressive, bombastic recruiters in Ohio State's Urban Meyer and Penn State's Franklin, both of whom coached in the SEC. They share a border that straddles the richest recruiting territory north of the Ohio River. They are traditionally rich programs and will compete in the same division.
When he arrived at Ohio State, Meyer previously called out the Big Ten for its lack of recruiting prowess. Franklin has found creative ways to make recruiting inroads. Yes, there will be friction.
'It's our job to do everything in our power within the rules to give Penn State a competitive advantage," Franklin said. 'And whatever that may be, whether it's recruiting certain parts of the country, whatever it may be, whether it's the satellite camps, we're going to look into all those things. So we're going to study best practice and find what's the best way to allow Penn State to be competitive."
PREDICTIONS
Off-season discussion has put the Big Ten into a two-team race between last year's unbeatens Ohio State and Michigan State. With Miller out for the season, the national prediction chips naturally slid toward the Spartans.
But I can see a third team entering the fray. By all accounts Michigan had a subpar year in 2013. Quarterback Devin Gardner was considered a potential Heisman candidate and instead flamed out. Michigan couldn't run the ball and its defense was worn down.
Michigan Coach Brady Hoke picks up this year's 'hot seat" label, partly because of the 7-6 record and mostly because Michigan's rivals have scooted past the Wolverines by every measurable criteria. However, I can see a revival in Ann Arbor. New offensive coordinator Doug Nussmeier, late of Alabama, has the opportunity to bring out Gardner's potential. A young offensive line and running game should be a year better. The defense returns nine starters and appears as Michigan's best since the Lloyd Carr era.
A year ago Michigan State was unranked and lacked any offensive continuity. It rode its defense to wins early, then the offense caught up by October. Michigan, which also is unranked, is farther along offensively than MSU was a year ago. Michigan has a good enough defense to stay with about anyone.
Ohio State still has talent on both sides of the ball, but its defense was overpowered at times last year. Miller was a playmaker and that's tough to replace. But the Buckeyes will be a factor.
I think the East is a three-team race, but I'll go with Michigan in an upset.
The West Division is up for grabs with Nebraska, Iowa and Wisconsin considered close to even. They form a mini round-robin late in the year with Nebraska heading to Wisconsin, the Badgers playing at the Hawkeyes, then Nebraska traveling to Iowa. They all look like field-goal games to me, but I'll take Iowa. The Hawkeyes have the best offensive line of the three, the most skill position returnees and a physical defensive front. Plus, Iowa plays the other two at Kinnick Stadium.
BIG TEN EAST
Michigan 11-1, 7-1
Ohio State 10-2, 6-2
Michigan State 9-3, 6-2
Indiana 8-4, 5-3
Maryland 8-4, 4-4
Penn State 4-8, 1-7
Rutgers 2-10, 0-8
BIG TEN WEST
Iowa 11-1, 7-1
Wisconsin 10-2, 6-2
Nebraska 9-3, 5-3
Northwestern 6-6, 3-5
Minnesota 6-6, 3-5
Illinois 5-7, 2-6
Purdue 3-9, 0-8
Big Ten Championship:
Michigan over Iowa
Big Ten Bowls
Rose (Four-team playoff)
- Michigan
Fiesta
- Iowa
Capital One
- Ohio State
Outback
- Wisconsin
Holiday
- Michigan State
Fight Hunger
- Nebraska
Music City
- Indiana
Pinstripe
- Maryland
Detroit
- Northwestern
Heart of Dallas
- Minnesota
Offensive Player of the Year:
Melvin Gordon, Wisconsin
Defensive Player of the Year:
Shilique Calhoun, Michigan State
Freshman of the Year:
Raekwon McMillan, Ohio State
Coach of the Year:
Brady Hoke, Michigan
l Comments: (319) 339-3169; scott.dochterman@thegazette.com