B1G football recruiting costs soar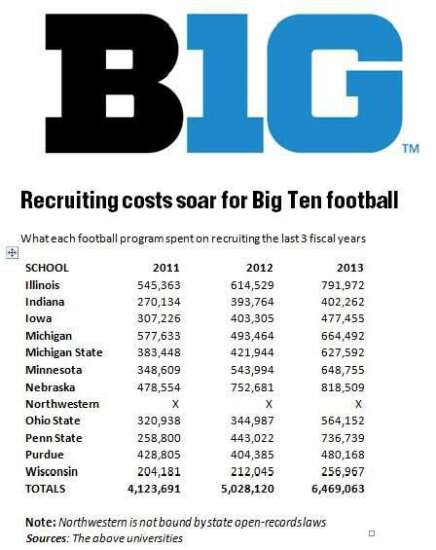 IOWA CITY - The Big Ten's lack of football success at the highest level has led the league to aggressively invest in talent acquisition.
Big Ten public schools have increased their football recruiting expenses by 57 percent in a two-year period, according to documents supplied to The Gazette via state open-records laws. The league's current 11 public schools combined to spent nearly $6.47 in football recruiting in fiscal year 2013. That's a jump from $4.1 million in 2011.
Penn State nearly tripled its recruiting expenses over that two-year span. Among Big Ten schools, Nebraska spent the most in 2013 at $818,509, up from $478,554 in 2011. Illinois totaled nearly $800,000 in recruiting expenses after spending $545,363 in 2011.
Iowa's football recruiting expenses soared from $307,226 in fiscal 2011 to $477,455 in 2013. That's still the Big Ten's third-lowest number among its current 11 public schools, ahead of Indiana and Wisconsin.
'The costs are rising, coaches are traveling, they have to travel," Iowa Coach Kirk Ferentz said. 'It's an expensive thing.
'It's an arms race, no doubt. But we're probably a little bit healthier here in the Big Ten than in other regions in the country."
The Big Ten boasts many of the nation's most profitable athletics departments and football programs, but losing high-profile games obviously has spurred the increase. Since Ohio State's Bowl Championship Series title in 2002, the Big Ten is just 30-52 in bowl games and 8-13 in the BCS. The Buckeyes made the league's only two BCS title appearances in the last 11 seasons and were trounced by a combined 41 points.
'I think they know they need to step up their game with the SEC being as dominant in college football as they've been the last few years," said Josh Helmholdt, Midwest recruiting analyst for Rivals. 'The Big Ten really has dropped among those big five conference programs. They're falling behind; there's no doubt about it."
Big Ten football programs have opened up its coffers to hire non-coaching positions. Thirteen of the Big Ten's 14 programs - counting 2014 newcomers Rutgers and Maryland - have a director of player personnel. Iowa is the exception, but the Hawkeyes have non-coaching positions on staff that handle those chores without the title. With recruiting coordinator and assistant coach Eric Johnson leaving for private business, Ferentz said he's exploring all options.
'The smart thing to do right now is make sure everything covered in the short term, make some adjustments and take some time to think about this," Ferentz said. 'I want to talk to everybody on the staff and get their ideas, as well. If it means re-tweaking or reshaping, it will give us a chance to discuss those things and not rush into it."
Iowa's competitors have made significant changes. In 2010, a Penn State assistant coach served as recruiting coordinator but the school listed no recruiting support staff. Under new coach James Franklin, the Nittany Lions have a director of player personnel, a recruiting operations assistant and two assistants that serve as recruiting coordinators. Rivals lists Penn State second nationally in its 2015 recruiting rankings.
Minnesota's staff includes a director of player personnel, a director of recruiting operations along with a recruiting coordinator on the coaching staff. Nebraska has a director of recruiting operations, a director of player personnel, a recruiting manager and two regional recruiting assistants. Even Wisconsin, which spent nearly $150,000 less on recruiting than the Big Ten's next-lowest program, employs a director of football player personnel and a non-coaching recruiting coordinator.
'It's a full-time job just keeping pace with it," Ferentz said. 'Not all of it is healthy, but it's the world we're living in."
But the Big Ten's recruiting investment is light on personnel when compared to Southeastern Conference schools. Every SEC football program has at least two non-coaching employees that works in recruiting. Alabama has three player personnel directors and a recruiting operations coordinator along with eight football analysts. Ole Miss employs separate associate athletics directors for recruiting and for high school/junior-college relations, an assistant recruiting director, two coordinators for recruiting development, a recruiting assistant and two staff coaches who separately coordinate offensive and defensive prospects.
That recruiting aggressiveness has paced the cutthroat SEC to seven consecutive BCS titles from 2006 through 2012. The SEC posted a record 63 NFL draft picks in 2013, while the Big Ten had just 22. For the Big Ten to gain ground on its historic regional rival, it must acquire a similar level of talent.
'I would hope that the fire is a little bit hot in the Big Ten," Helmholdt said. 'They're losing traction, they're losing ground to the other major conferences."
l Comments: (319) 339-3169; scott.dochterman@sourcemedia.net