Home / Sports / Minor League Sports
Another tough loss in 9th inning for Cedar Rapids Kernels
Beloit scores 3 runs Thursday night for 4-2 win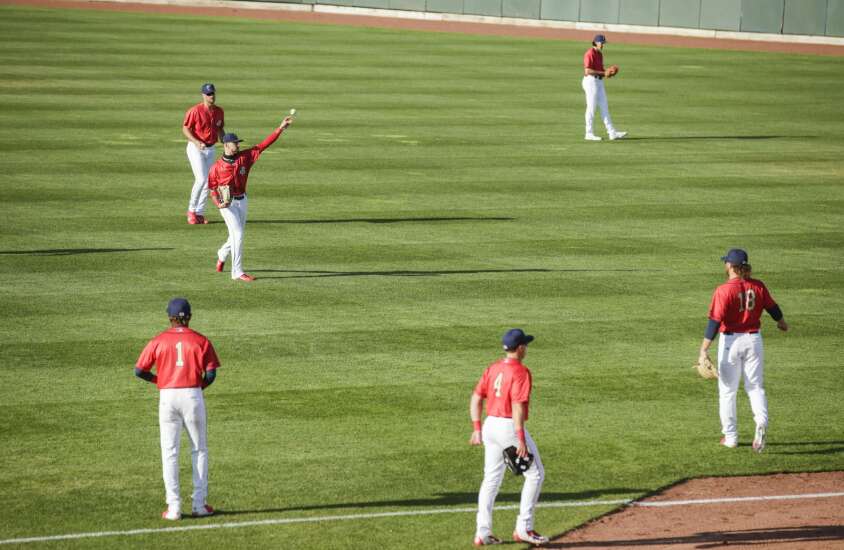 CEDAR RAPIDS – It's the age-old question about winning in the minor leagues.
How much does it matter? Does it matter at all?
Do the players give one crap about it? Maybe two craps but no more?
Especially in a season where there isn't a playoff berth that could be dangled in front of them. It's 120 games in the High-Class A League season this summer and that's it.
"Losing sucks, I hate it," said a succinct Cedar Rapids Kernels outfielder Matt Wallner, after his team lost to Beloit, 4-2, Thursday night at Veterans Memorial Stadium.
The Kernels (7-8) were unable to handle a one-run lead going into the ninth inning for a second consecutive game. Will Banfield, who came in hitting under .100 and had strikeouts in almost half of his at-bats thus far, hit a two-run home run off Cedar Rapids relief pitcher Derek Molina.
An insurance run came later in the inning. Beloit (8-7) scored twice in the ninth inning Wednesday night to rally for a 4-3 win.
"I think there's a fine line between developing and trying to win games," said Kernels Manager Brian Dinkelman. "We put the guys out there and give them an opportunity to win ballgames. Sometimes you win, sometimes you fall short. I thought it was a good battle tonight."
Especially since there was no 2020, the most important thing right now is just to get guys playing time to get caught back up with their development. Lots of position players are going to share time, as are starting pitchers.
The Kernels had just four true relievers on a pitching staff of 13, though one of those relievers (Jonathan Cheshire) was sent to Triple-A Saint Paul before Thursday's game. Thus many starters are piggybacking with each other.
You start a game, with the other guy in your "tandem" relieving you. Next turn around the rotation, you'll flip roles.
Guys are going to get their pitches in, really, no matter how they're doing in that particular game. That's an example of winning not being quite as important.
But, again, just listen to Wallner, who had four hits in this game, coming up a double shy of the cycle.
"I think winning is a huge part of development," said the parent Minnesota Twins sandwich pick in 2019 out of the University of Southern Mississippi. "If everyone is playing well, you're winning, everyone is getting better. That's a simple formula. It doesn't work out like that all the time, if ever.
"But, yeah, you've still got to have that competitive spirit. And if you don't want to win, you shouldn't be here. Even if you see the games as irrelevant with no playoffs this year or whatever, it still means much to us. It sucks losing."
The Kernels outhit Beloit in this game, 10-3, which makes the loss feel even worse. Seth Gray and Gabriel Maciel had two hits each to support Wallner's big 4-for-5 night.
Starting pitcher Kody Funderburk breezed his way through 5 2/3 innings on just 55 pitches. He gave up just two hits and a run.
The teams play again Friday night at 6:35.
Comments: (319)-398-8258, jeff.johnson@thegazette.com