Alphonso Soko capitalizes on chance for football return with Coe
Former UNI player leads American Rivers Conference with 355 rushing yards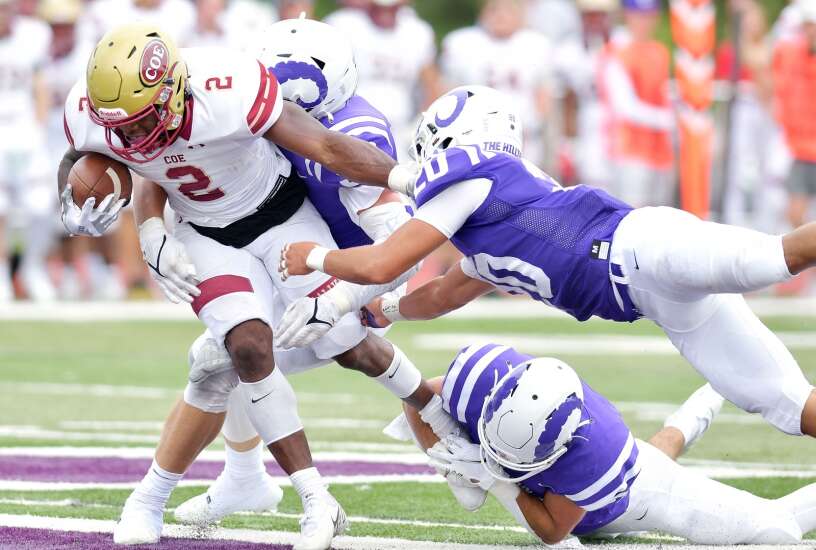 CEDAR RAPIDS — Alphonso Soko considered his football career done.
Adversity had struck in the form of an Achilles tendon rupture that cut his time at the University of Northern Iowa short in the fall of 2019. The pandemic occurred and impacted his ability to train, leading him back to live with his parents in Cedar Rapids. The two-time all-stater for Muscatine High School was ready to move on from his athletic calling.
"I found a job and everything," Soko said. "Football wasn't even in my plan. After the injury and COVID, I didn't have anybody to rehab with so I thought football was it for me."
A phone call, meeting with someone who returned from the same injury and lots of hard work to heal provided a chance to return to the field. Soko has capitalized on his opportunity to suit up for Coe (2-0) after about two years away from football.
Soko leads the American Rivers Conference with 369 rushing yards and is tied for first with three touchdowns on the ground, entering the Kohawks' league opener against Simpson (0-2) on Saturday at Clark Field.
He was named ARC Male Athlete of the Week for his 284-yard, one-TD performance in a 28-21 victory over Hope (Mich.) College last Saturday.
"He hits the hole hard," Coe Coach Tyler Staker said. "He moves the pile, but he also has really quick feet so has the ability to step out of an arm or shoestring tackle and hit some big ones."
Soko was out of football for a year and came to town to help his parents. Coe coaches discovered him working out and reached out to ask his future football plans. Soko remained doubtful at first, but former Kohawk assistant Elvin Walker explained he came back from the exact same ailment.
"(Walker) really mentored him and brought him along," Staker said. "(Soko) decided to give it another shot. We're happy to have him."
Walker picked Soko up for 6 a.m. workouts. They spent time together, weight training and working on strength drills for his Achilles. Soko was inspired by Walker.
"He was the one who really helped me," Soko said. "He kept me motivated for football."
Soko witnessed improvement and recognized the possibility of getting back on the field. His performance against other college athletes during a workout proved to be the tipping point.
"I noticed I was doing the same thing they were doing and maybe better than them," Soko said. "It started to give me confidence. … I can give this a shot."
The return has been successful, so far. He appreciates football more than ever. He is committed to all the little things, rehabbing, taking care of his body and staying after practice for extra work. He is healthy, happy and reaping the rewards.
"It feels good," Soko said about his Achilles. "I have to ice it every day. The training staff helps me a lot with that. Everything is great."
In the opening 38-7 win at Cornell, Soko scored two TDs and rushed for 85 yards in a little more than a half. Interestingly, that first game back was more tiring than the full game with sore ribs against Hope and he was apprehensive about making cuts off his previously injured leg.
He proved what he could do and focused on running hard and being physical. The objective is to keep building each week.
"Every week is a goal," Soko said. "The first week was working on my speed and shape. The second game was being more explosive.
"I know how it feels. I've been through it. Now, I just have to cut loose."
Comments: kj.pilcher@thegazette.com