A women's basketball gem: Kirkwood's Kim Muhl closing in on another milestone
Ogden column: In 34th season, Muhl will notch his 1,000th career win next month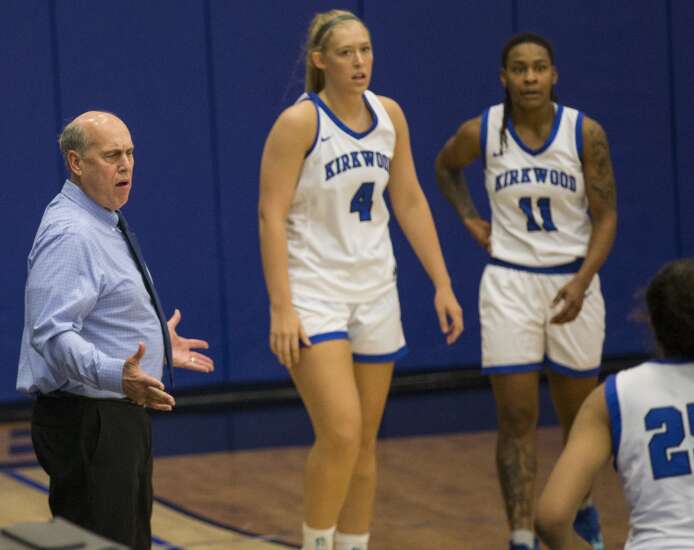 CEDAR RAPIDS — Kirkwood women's basketball coach Kim Muhl was asked Wednesday what the number was.
Muhl is not a numbers guy, so he wasn't sure. He knew it was "900 something."
That number is at 995 career wins heading into Saturday's game against Iowa Lakes Community College, scheduled for 1 p.m. at Johnson Hall.
The date to circle on the calendar, though, is Feb. 8. Assuming the defending national champion Eagles win their next five games — a fairly safe bet considering they are 17-1 and ranked third nationally — Muhl will register win No. 1,000 that night.
"It's kind of crazy," Muhl said, adding he hasn't really thought much about another milestone. "I haven't had the time to think about it. This season is flying by."
But let's pause for a moment and not let this moment fly by. One thousand wins is a pretty big deal — at any level. It's been done — former Duke men's coach Mike Krzyzewski ended his career with an NCAA-record 1,202 wins and Stanford women's coach Tara VanDerveer has 1,020 and counting.
Kimm, 67, has been Kirkwood women's basketball coach since 1989. He was at Norway High School as girls' basketball and baseball coach, but saw consolidation coming and wanted no part of it.
"I didn't think I'd be coaching women's basketball," he said. "I applied for the men's job."
He didn't get that, but was offered the women's job.
He had a shot at that men's job before the 1996-97 season, but "I stayed and we won the national championship."
The first of eight national championships, by the way. Stop and think about that, too. Eight NJCAA titles over 33 seasons. That includes four in a row from 2007 to 2010.
Stop and consider these tidbits, too.
He has never had a losing season. The "worst" loss to total was 11 in 1993-94.
He has taken 30 teams to the regional finals, 21 to national tournaments.
He has had 33 straight 20-win seasons, including 37 wins in 2009-10 and a 37-0 mark in 2016-17.
Over the past five years, his teams have won 133 games and lost 15.
He has been named regional coach of the year 20 times, coach of the national championships eight times and he is in the NJCAA Women's Basketball Hall of Fame.
He'll be inducted into the Kirkwood Athletics Hall of Fame on Feb. 3.
Kim Muhl's year-by-year success
2022-23 … 17-1
*2021-22 ... 36-1
2020-21 ... 24-2
2019-20 ... 29-4
2018-19 ... 27-7
2017-18 ... 34-4
*2016-17 ... 37-0
2015-16 ... 27-6
2014-15 ... 31-6
2013-14 ... 25-7
2012-13 ... 28-5
2011-12 ... 32-4
2010-11 ... 25-7
*2009-10 ... 37-1
*2008-09 ... 36-1
*2007-08 ... 31-6
*2006-07 ... 35-1
2005-06 ... 32-5
2004-05 ... 28-8
2003-04 ... 33-4
2002-03 ... 31-6
*2001-02 ... 33-3
2000-01 ... 25-8
1999-00 ... 29-4
1998-99 ... 32-5
1997-98 ... 34-2
*1996-97 ... 34-3
1995-96 ... 25-6
1994-95 ... 29-7
1993-94 ... 21-11
1992-93 ... 24-7
1991-92 ... 26-6
1990-91 ... 22-10
1989-90 ... 26-9
In his own words, Muhl has kind of created a monster.
"We created something a lot of people never thought was possible," he said.
A basketball standout at Lost Nation High School and William Penn University, Muhl said he never could have imagined this in his younger days. He didn't even know what he wanted to do until he was "close to 30."
"It took me forever to figure it out," he said. "I just knew I loved basketball. I loved baseball, too."
He obviously chose wisely.
Muhl has grown, learned and seen a lot over his long career. He's been through everything with his athletes, from video game distractions to social media issues.
"Everybody says the kids are changing," he said. "You still have problems. They just are different problems."
He is most proud of the consistency the program has sustained over his 34 years. It started with a 26-9 campaign in 1989-90 and has really never wavered. Only 11 times did the Eagles not make the national tournament.
But all good things must come to an end. In 2019, after winning his 900th game, Muhl said he'd "lose my mind" if he retired.
Three years — and many bus rides later — his tune is changing. He finds himself wondering "why the hell am I on this bus" after long rides to and from the Kirkwood campus more often these days.
"It's getting closer," he said, adding he'll likely be a "snowbird" but he and his wife, Freeda, never want to be far from their grandchildren. "It's coming sooner than later."
Stop and appreciate what Muhl has accomplished. Don't let this moment fly by.
Comments: jr.ogden@thegazette.com