A nature run on the wild side
Views from 'renewal' burn to a lake (or is it reservoir?)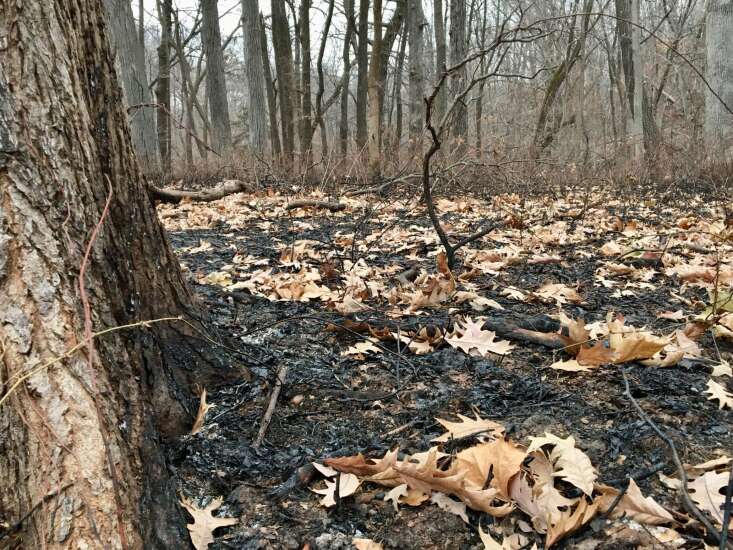 Blackened leaves and forest litter gave me a pause at my first visit to the Linder Point area at the Coralville Reservoir.
The trees looked normal as I parked, but as I approached the trailhead for a run, I saw the evidence of a recent burn. Some newly fallen leaves in contrasting brown layed scattered across a dark and ashy tableau.
I felt a grin pull at the corner of my mouth for it was nothing to fear. It was the vision of a prescribed burn and the promise of renewal and woodland well-being.
Running was my backup plan. I only brought my trail gear because it was fishing that brought me to the south end of the Coralville Reservoir. I got some privileged information from a fish-crazy pupil of his recent successes at the dam's outflow area.
That lit the fire of my motivation. The fire didn't smolder, rather it grew with intensity until I could go several days hence.
The weather was weirdly mild that afternoon at the tube where the becalmed water of the reservoir returned to life as a flowing Iowa River. High expectations were tempered because only two other anglers were there: a man on the far bank and a juvenile bald eagle. Since nothing ventured was nothing gained, I wet my line.
The eagle flew off. The man drove away. If a crowd attracts a crowd, then the reverse is true, too.
This late in the year, the dark sneaks up on you. I contemplated continuing my casts of futility or switching gear and location for a run. I wasn't catching any fish and I had no bait.
The rod tip doubled over. Alas, it was a river bottom rock rather than a walleye that imparted resistance. I broke off my line and that made the decision easy.
The trails at Linder Point had predictable names on predictable paths that would follow the contours of the shoreline. Any yet this would be my first go at them, the unknown fostered an excitement. Given the hour that Sunday afternoon I expected few people, and I needed to get back before dark.
Trail running means gnarly roots snaking along the path, erratic rocks and the occasional hole. Those add to the thrill during the day but become cursed at night.
The burned area was only a companion in the early stages of the run. At the shoreline and points west, the woods were clothed in their typical pre-winter drab.
North was the water. It looked like a lake. But looks can be deceiving. Earlier a road sign had directed me north on Prairie Du Chien road from Newport Road. It read, "Coralville Lake" with an arrow.
I knew better, but excused the language. It's no lake. Precisely it is a flood control reservoir on the Iowa River, but that's an unromantic mouthful. We need a new word; how about Flake, maybe spell it with a "ph" for distinction? "'Phlake: A man-made body of water that is popularly thought of as a natural lake."
A "lake" suggests permanence, but the rez was doomed to silt-in from the start. This catchment is too low in the watershed to avoid it. All that sediment from all that land upstream was destined to fill-in the basin. The flood control facet won't change even if the "lake" aspect of the rez is reduced to mudflats.
It was preordained. The rez will fill in with silt just like Red Rock; a feature not a bug. Nearby Lake Macbride is no lake either. Rather it's an impoundment. But MacBride drains an area so much smaller by ratio that it will have a long life. Not as long a life as Clear Lake, a true lake, but much longer than Coralville Lake.
We ought to invent a better word for something like it, too.
Dusk and the overcast sky kept the features of the forest and trails flat. I had to watch my steps more than I wanted, the placid water was so lovely. But I wanted to avoid face-planting myself on the trail more than taking in the view. I smiled an acknowledgment to the man I passed for a second time.
After two footbridge crossings and a go at the water's edge pullup bar station, I neared the burn area again. We need a new name for that type of fire.
The run was neither long nor difficult. At about 50 minutes, it was refreshing. The final stretch demanded an ascent but asked in an easy way. I happily obliged.
My return path was different from the start. Here I saw a phantom as I neared the end. A veil of smoke rose slowly from the forest. It rose so slowly it appeared to be fighting gravity to free itself from terra firma. I had to investigate.
My footfalls caused little plumes of ash to "poof" as I padded toward the smoke. Rather, as I was called to the smoke.
When I crested the rise, I saw a glowing red eye staring at me.
The prostrate trunk of a shagbark hickory burned while the remains of its main stem laid out in white ash. A type of strange photonegative. I looked left. Nearby was a second stump simmering with orange and red light. It was so still.
This wasn't a fire, at least not a fire like one would normally react to the word. No, these flames were renewers of life. They prepared the forest system for a rejuvenation come spring. "Prescribed burn" is far too technical and sanitary a moniker. We need a new word for that.
The flames left over from a fire that wasn't a fire were next to a lake that wasn't a lake. "John, what seest thou?" I didn't know how to respond.
I do know that next time I visit the pleasures of Johnson County, I still will be thinking of new words for what I see. I also know I'm looking forward to my next visit. There is a word for that: eager.
May you too feel eager to enjoy our wonders, this year and the years to come.
Looking up, looking ahead, and keeping my pencil sharp.
John Lawrence Hanson, Ed.D., of Marion teaches U.S. history with an emphasis on environmental issues at Linn-Mar High School and sits on the Linn County Conservation Board