A fan of Steve Stricker and Zach Johnson tries to deny them John Deere Classic win (with videos)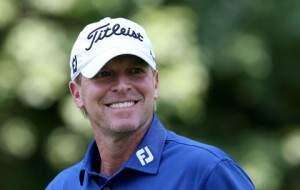 SILVIS, Ill. - Troy Matteson, why are you trying to ruin the John Deere Classic?
The storyline this tournament would have preferred doesn't have you winning Sunday. It didn't even have you in the final pairing. Everybody here would have been hot for a grouping of 3-time defending champion Steve Stricker and tourney favorite-son Zach Johnson.
Well, it's up to Wisconsin's Stricker and Iowa's Johnson to catch fire today if they are to catch and pass Texan Matteson today at TPC at Deere Run.
It's not that they haven't been giving it a good try so far. Both shot 5-under-par 66s Saturday to leave themselves in contention. But Matteson posted the same score to get to 18-under-par 195 overall, good for a 3-shot lead over second-place Stricker and 4-shot edge over Johnson and PGA Tour rookie Brian Harman.
So Matteson and Stricker are in the final twosome, with Johnson and Harman playing immediately in front of them. Johnson's tee time is 12:25 p.m.
CBS Sports, local and regional media, the JDC fans, and tournament officials are probably at least 98.6 percent in favor of either Stricker or Johnson prevailing Sunday afternoon. Stricker is the Wisconsin guy who attended the University of Illinois ("A Badge-ini?" Johnson asked Saturday). A win would tie the Tour record for most consecutive wins in an event with four.
The co-holders of that mark are Young Tom Morris, Walter Hagen, Gene Sarazen and Tiger Woods (twice). Woods is the only one who did it after 1930.
Johnson? With his 11 consecutive appearances here, he has attracted more fans to this event than any player over its 41-year history. He has been on the JDC's board of directors since 2005.
So you can imagine the what-might-be dancing through minds here. Popular Stricker chasing history. Popular Johnson chasing his first win here after tying for second in 2009 and tying for third last year.
But while Matteson has missed 11 cuts in 21 previous events this year, has finished no higher than 26th, and is 161st on the Tour's money list, he isn't unfamiliar to Sunday pressure in a Tour event. He won 2006 and 2009 tourneys in Las Vegas and Scottsdale, Ariz., respectively.
In '09 he won a playoff over Jamie Lovemark and Rickie Fowler. The people's choice in Scottsdale clearly was Fowler, who was 20 and not yet a Tour member.
"I'm not the guy people root for," Matteson said, "so I think that will be pretty normal for me."
But it's not like the 32-year-old is some kind of villain. The admiration he expresses for Stricker and Johnson makes him sound like someone who would be rooting for a dual between those two were he not sitting atop the leader board.
"Steve is a great guy," Matteson said. "He's the kind of guy who personifies what we're looking for on the Tour. He's the kind of guy you can tell your kids to use as a role model.
"Zach being from up this way, really good to see him at the top of the leader board. It gives people a reason to really come out and watch."
Stricker has 11 Tour wins, Johnson eight. Both have won this year. Stricker is ranked 13th in the world, Johnson 17th. Both seem like good bets to be a captain's pick for the U.S. Ryder Cup team that will play Team Europe in September if they aren't automatic qualifiers by being in the top eight in points after the PGA Championship.
Matteson's world ranking is No. 368.
"Those guys are Ryder Cuppers," said Matteson. "They're the kind of guys who win major championships. They're just in a different class, so it's totally understandable that people would buy tickets to watch them.
"I'm only 32. Until I get to where I've won six, eight, 10 times, then you might become a little bit more the favorite. Those guys have put in the hard work, they've had the wins, and they deserve what they're getting."
In his post-round press conference, Johnson was asked over and over about Stricker but got no questions about Matteson.
"He's a great guy," Johnson said about Stricker. "He's hard not to be a fan of. He's a good friend of mine. I love the guy.
"Winning two (in a row here) is great; three is terrific. If he's in contention and has a chance to win, that is great regardless. That's just great in sport, right?"
But many a spectator here Sunday won't want a Stricker four-peat, but instead, Johnson's first win in his "home" tourney. Many others will want to see a Stricker Slam.
Then there's Matteson, a lone rider from Texas.
"Nobody's really paying any attention to what I do," he said. "I'll just go about my business."