Home / Sports / Iowa Prep Sports / Iowa High School Wrestling
Iowa high school wrestling 2021-22: 5 questions about the upcoming season
What teams will be in the trophy hunt? What schools will have girls' teams this season? Who are the area's top pound-for-pound wrestlers?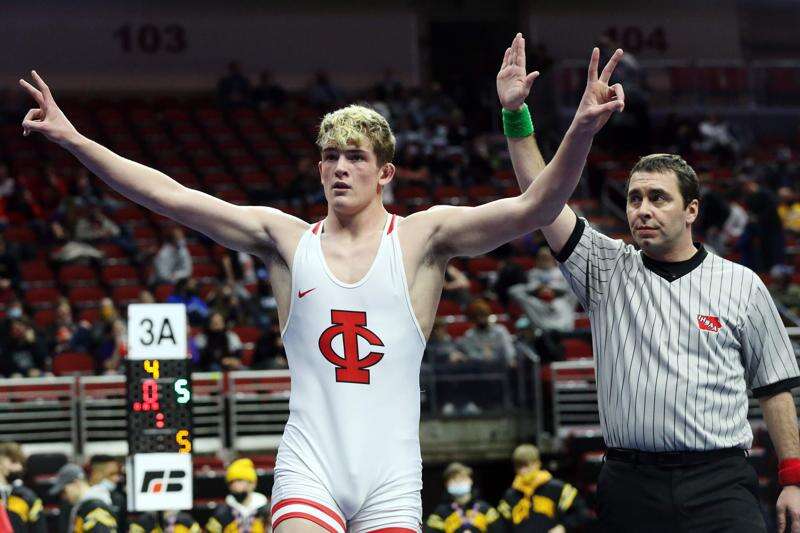 You asked and we tried to answer. Social media followers posed questions about the 2021-22 high school wrestling season.
1. What Gazette-area team is most likely to win a team trophy?
West Delaware and Lisbon are the first programs to come to mind, especially with their recent history. Both programs have a string of state Duals and/or traditional tournament success. They added to their trophy haul last season. The Hawks swept state titles in Class 2A. Lisbon was second in both meets in 1A. Both teams return a lot of talent and could add more hardware. Independence was third and should be in the trophy hunt in 2A. Iowa City West and Linn-Mar are the best chances to earn a 3A trophy.
2. Are there any freshmen on the radar?
Freshmen are more experienced than ever and are extremely talented. Iowa City West's Justin Avila is nationally ranked in his class and is in a logjam in the middle of the Trojans' lineup. He could make a contribution. West Delaware has two freshmen in Brent Yonkovic and Jax Miller. The young Hawks duo are tough and have AAU success. They will make an impact. Iowa City High's Kendall Kurtz owns an AAU state title and was runner-up last season. On the girls' side, keep an eye on Iowa Valley's Emma Peach. She is ranked 18th nationally at 144 pounds.
3. How many programs have a girls' team also?
I'm not exactly sure on the number of full teams but they have climbed. I believe Linn-Mar and Cedar Rapids Kennedy have teams. Iowa City West has been a leader and Iowa City High has added a team. Outside of the area, Bettendorf has good numbers for its team. Northeast Iowa Conference schools and Denver have had full duals. The numbers will continue to grow. It will be exciting to see the expansion as sanctioning comes closer to reality.
4. Who are the top pound-for-pound wrestlers in the Gazette area?
Eastern Iowa is full of NCAA Division I talent. This is very debatable. Iowa City High's Ben Kueter leads the way. The Iowa football and wrestling commit is a two-time champ, a folkstyle and freestyle national finalist and unbeaten in high school. Former Lisbon prep and Iowa City West transfer Robert Avila Jr. has signed with Virginia. He is looking to win his fourth state title and owns one of the longest current win streaks in the state. Trojans teammate Hunter Garvin has been in this category from his first high school match. He is a three-time finalist and two-time state champ who has signed with Stanford. Linn-Mar's Tate Naaktgeboren is smooth and relentless. The state champion and two-time finalist could have two golds, if not for Kueter. He has committed to Iowa State. West Delaware's Wyatt Voelker rounds out the top five. He is powerful and tenacious, breaking almost every opponent he faces. Voelker will continue his career at Northern Iowa.
5. What are some of the top duals this season?
Wrestling fans won't have to wait long for one of the marquee duals of the season. Class 3A top-ranked Waverly-Shell Rock will wrestle at 2A No. 1 West Delaware in Manchester on Thursday. They are the defending state team and dual champions in their respective classes. West Delaware will also have its annual dual with Independence on Jan. 27. The dual between Iowa City High and Iowa City West should be a good one to watch on Dec. 22. Multiple D-I recruits will be on display and definitely a must see. Plus, they will have a girls' dual as well. Linn-Mar and Cedar Rapids Prairie have had battles in the past. The two Metro schools wrestle Jan. 13 at Prairie. Don't forget the battle between 1A powers Lisbon and Don Bosco. The Dons will host the dual on Jan. 27.