Home / Sports / Iowa Prep Sports / High School Soccer
Ombeni Mubake is scoring goals and making memories again with Kennedy boys' soccer
Cougars beat Cedar Rapids Jefferson 2-1 on rainy night at Mount Mercy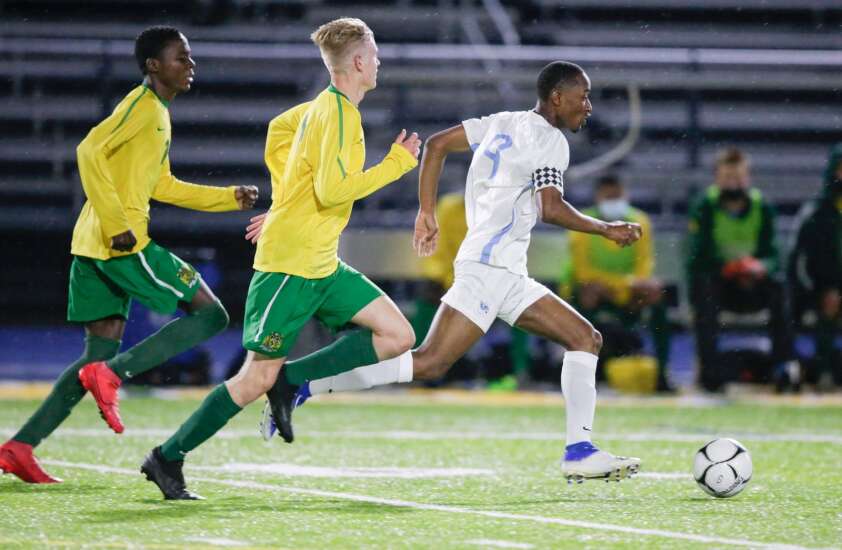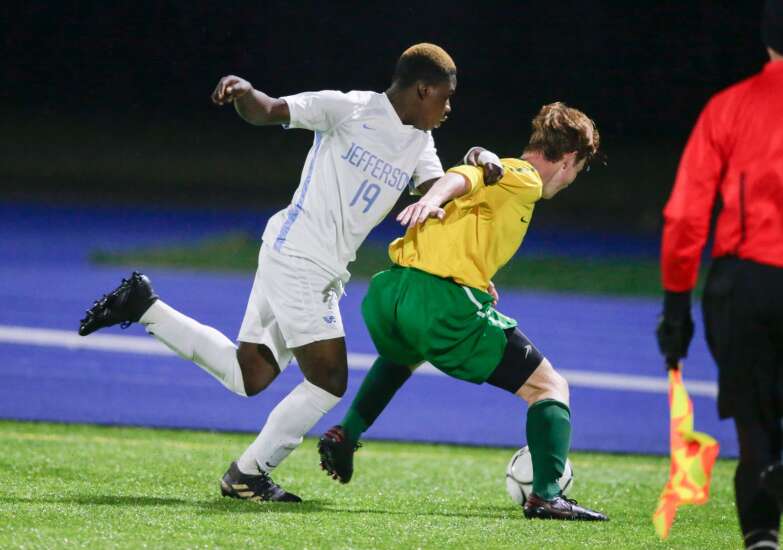 CEDAR RAPIDS — Ombeni Mubake has already played two years of varsity soccer.
That didn't make the cancellation of his junior season last spring hurt any less.
"I was looking forward to my junior year, making my mark," said Mubake, a senior at Cedar Rapids Kennedy. "Now, this is my last year. I've got to give everything I have and try to make it as far as possible."
Mubake made his mark Thursday night, heading in the opening goal in Kennedy's 2-1 win over Cedar Rapids Jefferson at Mount Mercy University.
With rain falling throughout a wide-open, back-and-forth game, a loud crowd and friends on the opposing team, this was the type of high school experience Mubake is happy to have back.
"It was really challenging," Mubake said. "I feel like my team played well."
The game was scoreless at halftime, but the Cougars (2-2) took control in a key stretch of the second half.
Elijah Kwizera's corner kick found Mubake's head with 27:07 remaining, then less than a minute later, Ben Joens drew a penalty and converted the spot kick to make it 2-0 Cougars.
Mubake scored six goals each of his first two years and is now halfway there already this year. He uses his size — he has plenty of experience scoring headers — and speed to his advantage on the field. That was evident as he nearly opened the scoring in the first half, working his way past multiple defenders on the right side and firing a shot low that Jefferson goalkeeper Jacob Cross dove to save.
Mubake feels like he'd be even better if last season hadn't been canceled — "not gonna lie, I ate a lot," he said — but he ran at Lower Kingston Stadium while trying to continue to get touches on the ball to get in shape for this season. With Kennedy's substitution rotation keeping players fresh and defenses honest, he looks to maximize his opportunities.
"He's got that prototypical power forward kind of body," Kennedy Coach Adrian Evans said. "He uses it really, really well. He's got that speed to be able to take advantage of the second he can give a little shoulder juke, and he's gone."
Jefferson (0-2) has been a program on the rise, with a 9-6 season in 2019 its first above .500 since 2012. The J-Hawks have multiple seniors who were all-conference picks as sophomores for a team that was a win away from state.
Thursday, junior Ronald Choute scored their lone goal with 19:04 left on a ball centered into the box by senior Laurence Ramazani. More chances came, including a ball spilled on the doorstep, but the equalizer never arrived. A slippery shot with 10 seconds remaining was collected by Tyler Miers and the Cougars celebrated on the field, then turned to acknowledge their opponents.
"These are the type of games you wish the stands were absolutely filled with students," Evans said. "These are two high schools that are just giving it everything they've got. You look at both sides, they're absolutely gassed. The only difference is, my guys are a little happier than their guys are."