Home / Sports / Iowa Prep Sports / High School Soccer
Amre Ibrahim's first career goal sends Iowa City West to boys' state soccer finals
Trojans score twice in final 16 minutes to beat West Des Moines Valley 3-2 in Class 3A semifinals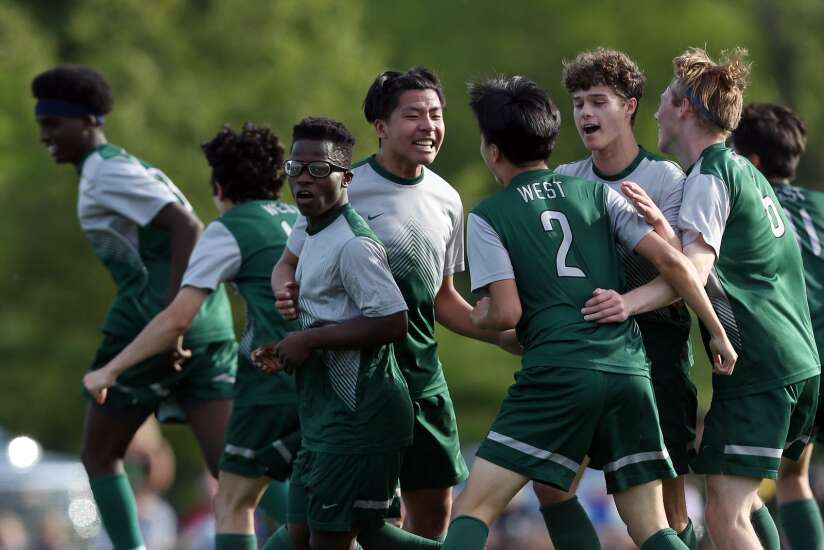 DES MOINES — The first goal of Amre Ibrahim's high school soccer career was not what he envisioned.
"You dream, you think you're gonna score a bicycle," Ibrahim said.
Considering the stakes, the Iowa City West sophomore substitute forward will absolutely settle for a toe poke from a spilled cross in the 6-yard box. His 68th-minute goal gave third-ranked Iowa City West a 3-2 win over No. 4 West Des Moines Valley in a Class 3A boys' state soccer semifinal game Thursday at Cownie Soccer Park.
"A tap-in, I guess it's good enough," Ibrahim said. "I'll take it."
Twitter
The Trojans (20-1), who like West Des Moines Valley (17-5) are making their record 21st state tournament appearance, will meet first-time qualifier Pleasant Valley (19-3) in the final at 5 p.m. Saturday. The fifth-ranked Spartans beat No. 7 Johnston 1-0 Thursday.
At halftime, it was questionable whether West would get a shot at its 10th state title. The Tigers led 2-1 thanks to a corner kick tap-in from Elijah Guzman and a headed own goal that canceled out Marko Migambi's 10th-minute opener for the Trojans. It could have been 3-1, if not for Andy Lu clearing a bouncing free kick off the line in the final minutes.
The second half, though, was basically all West. It was a matter of time until the equalizer came, and Kolby Godbolt provided it in the 64th minute, not long after he hit the post with a similar attempt.
"We calmed down, took a deep breath and we just started playing soccer like we know how to," Godbolt said.
Twitter
It's the second West rally of the week, after Godbolt scored four straight goals Tuesday to lift the Trojans to a 5-1 win over Sioux City West in the quarterfinals.
"The word I chose today was believe," Iowa City West Coach Brad Stiles said. "A lot of these guys hadn't been in a situtation like this before in a state tournament and I could tell there were a lot of nerves and a lot of maybe doubt in their minds. Hopefully I changed their minds a little bit."
Stiles' rotation, subbing in multiple players for intense shifts, undoubtedly helps in recovering from a deficit against highly-ranked teams. It was clear throughout the second half that West was fresh and on the front foot, quickly winning the ball back almost every time it was turned over.
"Our philosophy has been a deep bench, getting guys prepared from week 1 just to be able to play 12 minutes out here," Stiles said.
Guys like Ibrahim.
"It felt unreal," Ibrahim said of his game-winner. "It felt like I was dreaming."