Home / Business News / Small Business News
Black-owned businesses help feed the Corridor economy
A portrait series by Gazette photojournalist Savannah Blake
Small businesses are the heartbeat of the community and drive our local economy. As a photojournalist, I believe it is important for our readers see themselves in the pages of our newspaper and website, and to identify with the stories we are telling.
My goal with this portrait series is to create visibility and representation while connecting the community with a wide variety of Black-owned businesses and highlighting their work and dedication to creating jobs and strengthening the economy.
I hope to continue this photo series and promote people of color and their businesses. If you know of a business in the Corridor that should be highlighted, email savannah.blake@thegazette.
Tasha Lard, owner of JD Beauty Supply in Iowa City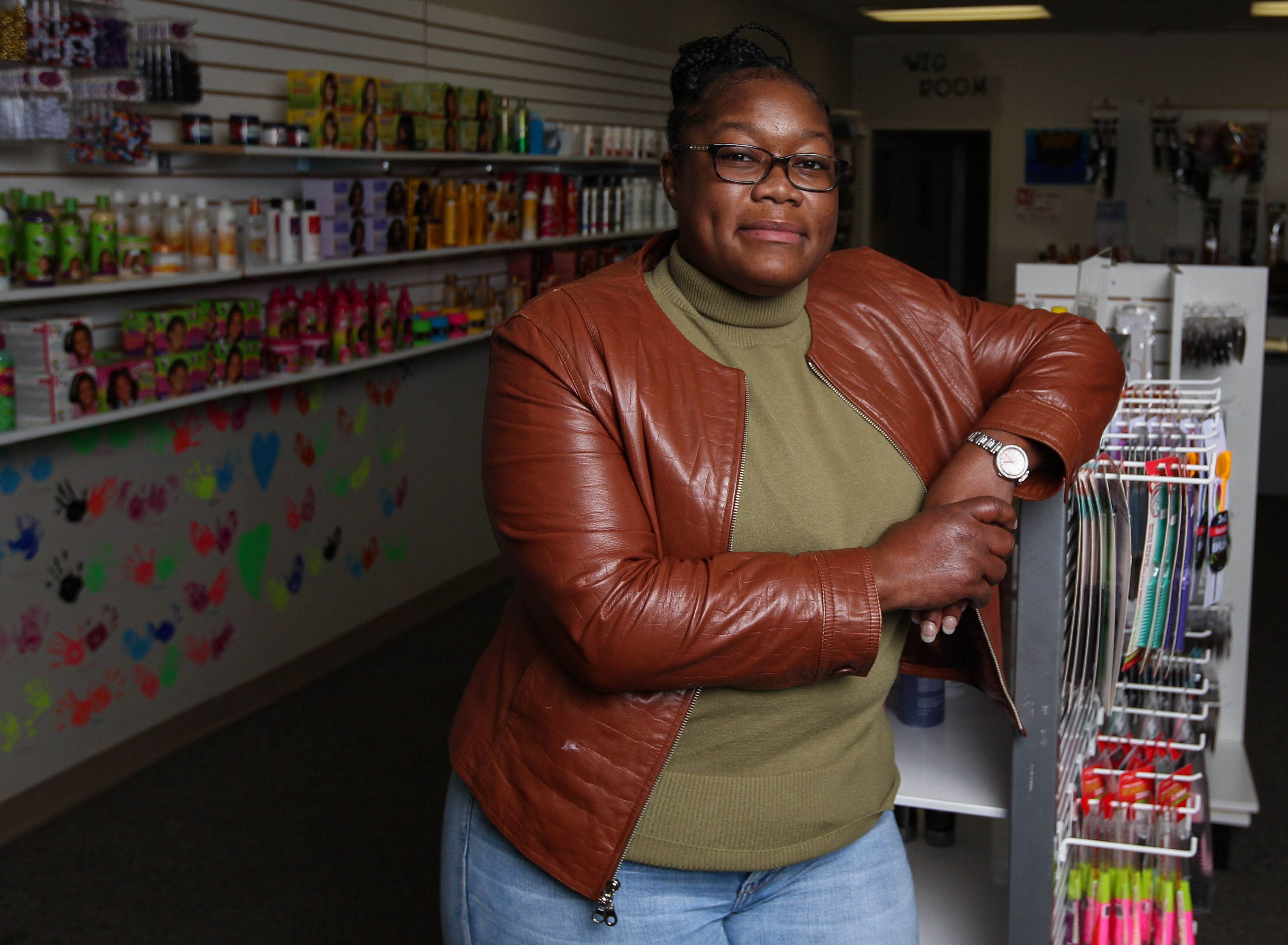 Tasha Lard is the owner of JD Beauty Supply in Iowa City, which offers a variety of hair products and accessories including wigs. The store is a family-owned business and they have one additional part-time staff member to help out.
Lard is also a founder of the Diversity Market that helps promote businesses owned by people of color. She got the idea to open up a beauty supply store when she recognized that bigger stores such as Walmart and Walgreens did not cater to all hair types.
"Being a Black woman and a mother it was very disheartening to not have hair care supplies needed to maintain my family's hair," she recalls.
Now two years into the business she says she loves being able to meet new people and build a rapport with customers. While she has faced challenges trying to find a location to establish her business including racism and stereotyping, Lard has now established a business that provides women of all races a place to find hair care products for them and their family.
JD Beauty Supply, 1067 Highway 6 E, Iowa City, is open seven days a week.
Chef Gabrielle Williams, owner of Meal Prep Queen in Iowa City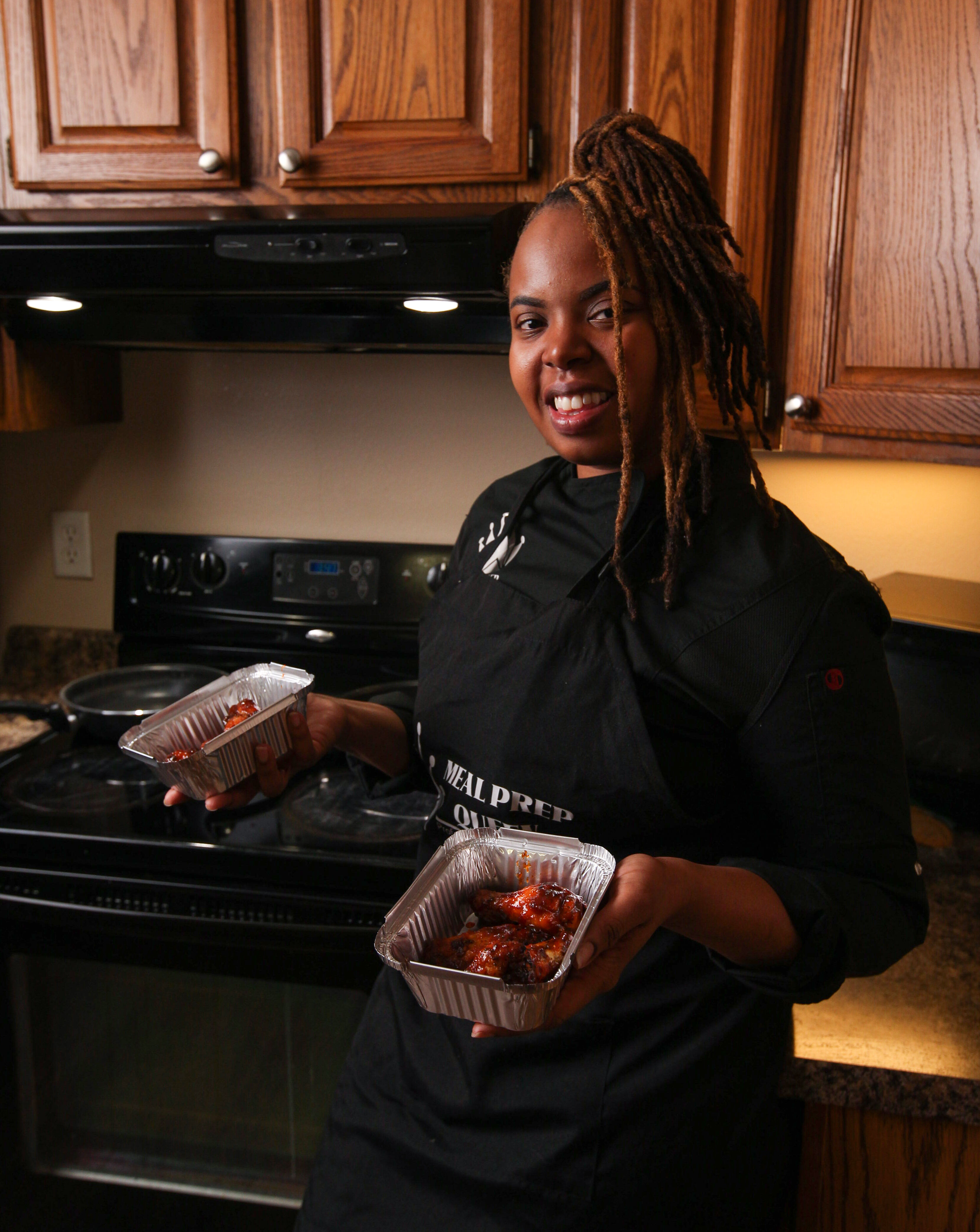 Chef Gabrielle Williams has been in business as Meal Prep Queen since March of 2021.
Her love for cooking started at the age of 8 when she watched cooking shows and wanted to recreate what she saw. She continued to cook as she got older and would prepare meals for her family, friends and co-workers who gave her positive feedback and encouraged her to capitalize on her cooking.
As a personal trainer, Williams also wanted a way to offer her clients healthy meals without sacrificing taste. She makes a variety of dishes, but says her most popular ones are her chicken wings and her cheeseburger egg rolls.
"I enjoy cooking and making food for others. Food to me is like art work," she says.
After cooking on the side for a year, she created an LLC and began working events, meal prepping for clients and offering personal chef services. While she currently uses her home kitchen or event spaces to do her cooking, Gabrielle says she is working toward getting a location to base all her services.
Her chef services can be found at personalchefbygabby.com.
Candice Luter, owner of Candice Luter Art and Interiors in Cedar Rapids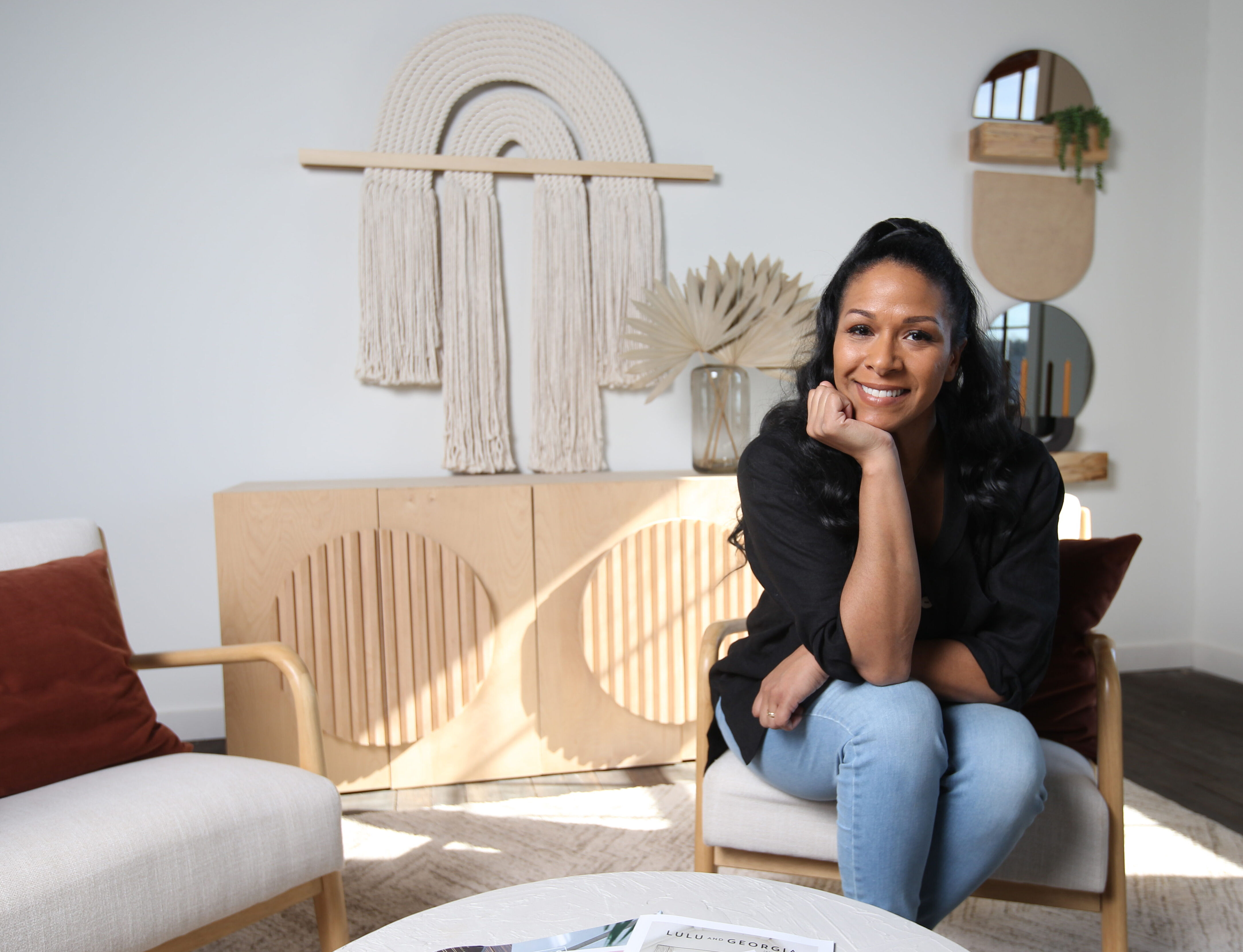 Candice Luter is the owner and designer of Candice Luter Art and Interiors, which is a small batch manufacturer of custom furniture and home decor based in Cedar Rapids that she started in 2019.
She leads an all women team and has six part-time employees that help her with the operation of the business. All her products are made to order. She got her idea for her business when she purchased her first home in 2018 and was in need of wall art to furnish her bungalow. After designing her own artwork she decided to list them on various selling platforms and her business took off from there. As a business woman she says she strives to be the boss she always wished she had.
"It's important for my employees to put themselves and their families first before they walk in the door. That's why we encourage transparency and flexibility because I know what it's like to have a bad day and to be a working mother," Luter says.
When it comes to helping out small businesses in Eastern Iowa she says she would love to see the community donating hours of service for local small businesses that are making strides.
"Not a hand out, a hand up — any one small business succeeding is a win for all of us," she says. In the future she hopes to make connections with bigger markets to open more doors for her business and to work on continuing to collaborate with other brands and subcontractors. Her products can be found on her Instagram page @candiceluter as well as at candiceluter.com and on Etsy as "shopcandiceluter."
Felix and Omolola Anaman, Anaman Concierge Services in Coralville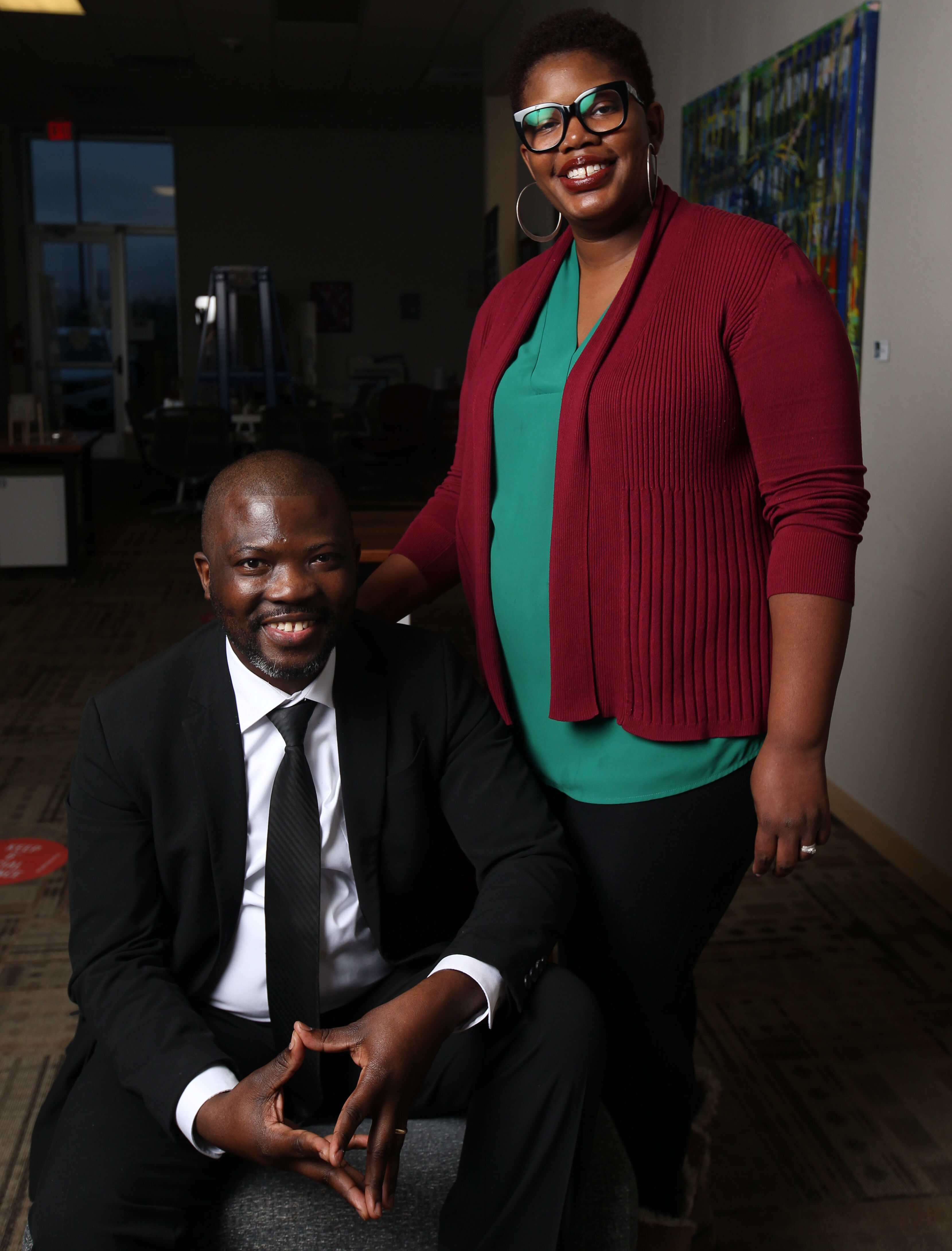 Felix Anaman, with his wife, Omolola Anaman, in their Coralville office space is owner and CEO of Anaman Concierge Services and has been in business since May of 2017.
His company provides transportation solutions to busy families, individuals and institutions.Those services include general chauffeured trips, wedding transportation and Hawkeye game day shuttles. He says they are hoping to add wheelchair accessible services and non-emergency services in the future.
The idea for his business first came from Omolola, who suggested a business tailored to help busy families with transportation issues.
"We found that the airport transfer car service was much needed in the area. Without hesitation we started and today we are a leading transportation provider in the area," he says.
The business took about two years for him to start seeing numbers that allowed him to hire more drivers and office support staff.
During the height of COVID-19 cases, the number of rides a week drastically declined, but he was able to keep his business afloat. Before the pandemic, they had a staff of 30, but now they currently have 19 including full-time and part-time team members.
"We treat our drivers very well, which contributes to our success story. In fact, we pay more than all the limo companies in the area," Anaman says.
Anaman Concierge Services are available at anamancs.com or calling at (319) 382-5839.
Clif Johnson, owner and manager of ICOR Boxing Club in Iowa City
Clif Johnson is owner and manager of ICOR Boxing Club in Iowa City, which offers classes to both the young and old as well helping local boxers -- competitive and amateur -- train.
"Our goal is to strengthen the individual in order to strengthen the entire community," he says.
Johnson was a U.S. Marine and aimed to bring those core values into his business including building confidence, grit and unity. After moving to Iowa from Philadelphia, Johnson wanted to open a gym with inspiration coming from his father.
"Watching the strength of my father's gym and influence inspired me to try and do better here in Iowa City with my own unique experiences and mindset," he recalls.
ICOR Boxing Club has been in business since 2000, but Johnson took over in 2013. It moved to a venue on Highway 6 in November 2021 and now has four part-time employees.
As a small-business owner, Johnson enjoys that he gets to express himself freely and is making a positive impact on his city. While he has seen plenty of success, he has also had to overcome the negative stigmas of a brutal and toxic environment that often overshadows boxing gyms.
"We have proven that boxing is for everyone. From children to people battling Parkinson's Disease, to champion level fighters and everything in between," he says.
Johnson strives to make the sport of boxing accessible to everyone in the community through a not-for-profit that helps eligible children in need and is possible through the donations from the community.
ICOR Boxing Club is at 391 Highland Ave., Iowa City.
Cindy Shaw, owner of Renewal Skin and Body in Iowa City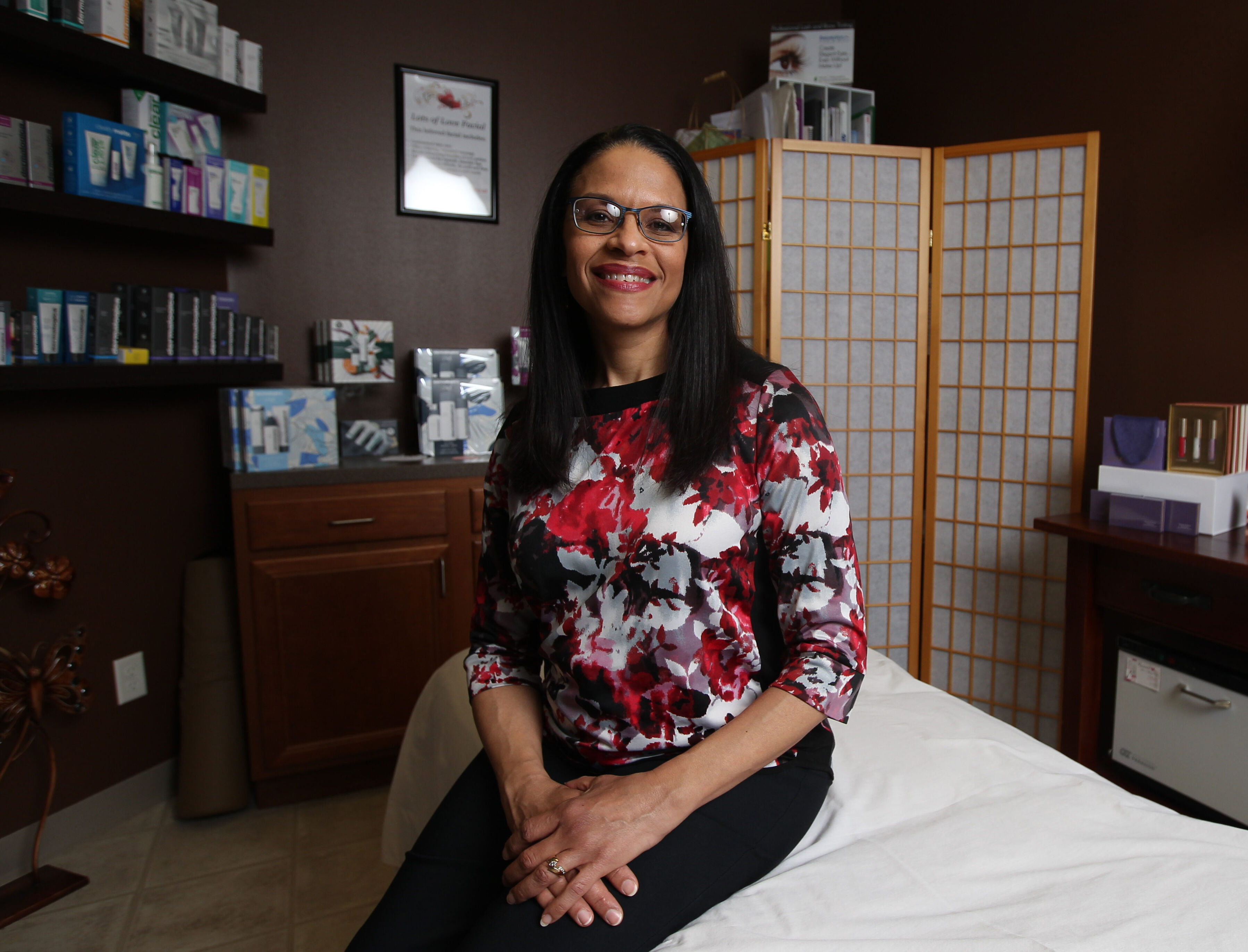 Cindy Shaw, a licensed aesthetician, has been in her current location with her business, Renewal Skin and Body in Iowa City, since 2012.
Her skin salon focuses on skin treatments and makeup application. She is the only full-time employee and has one part-time assistant, with plans to hire a part-time or full-time massage therapist.
She first found her interest in beauty care when she became a consultant for Mary Kay selling makeup in 1995. While a research position at the University of Iowa in 2009, she felt called to do something different with her life.
"My relationship with God had gotten to the point where I was praying and asking him, 'What is my purpose?' He kept pushing me toward using my gifts to help people," Shaw says.
She entered the Salon Professional Academy in 2010 and soon decided to open her own salon. Her experience being her own boss through Mary Kay gave her the confidence to go out on her own.
At first, she barely paid herself as she reinvested all her revenue back into the business, including the tips. As her client base grew and she managed her money frugally, she was able to get step away from needing to borrow from the bank.
When it comes to defining success, Shaw finds that there is a variety of channels she achieves success -- whether that is earning the trust and loyalty of her clients or having revenue growth every year.
"Renewal is a place where people of all ages, races and sexes can come and experience renewal of their outside as well as their insides," she says.
As a small-business owner she wants the community to know that brick-and-mortar locations such as hers exist only with patronage from the community.
Her services can be found online at renewalskinandbody.com.