Home / Business News / Small Business News
Black Friday more green for hordes of Eastern Iowa families visiting Christmas tree farms
'I got here early this year,' says a tree-buyer who nearly missed getting a tree in the past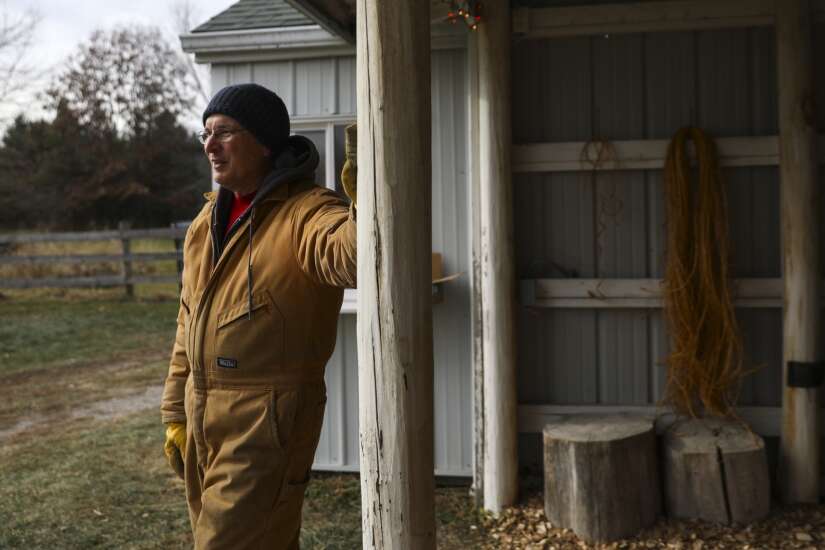 ELY — Occasionally in years past, Sarah Crist and her Ely family waited too long before making their annual visit to a Christmas tree farm. They've felt the disappointment of rolling up in hopes of finding the perfect tree, only to see locked gates and empty lots.
"I think two years ago I had to buy one out at Culver's — it was one of the last two," Crist, 34, said Friday while an employee at Cedar's Edge Evergreen Market in Ely strapped a wrapped tree to her van. "So I got here early this year."
And, it seems, so did everyone else.
Bundled-up tree-hunters with mittened kids in tow lined the road along the Ely market even before it opened at 9 a.m. Friday. And at Handley's Holiday Hillside., about 30 minutes south in Solon, dozens of parked vehicles squeezed the gravel road from both sides for as far as the eye could see.
"I've never seen it this crazy," one woman shouted over a low roar of hundreds of families standing in line, trees propped up beside them, to have their freshly-cut evergreens shaken free of bugs or loose pine needles before dragging them into their living rooms.
"This is our first time here," Tony Kies, of Muscatine, said while walking toward the Solon tree farm just after it opened. "Last year, we started out from Muscatine, went to Dubuque and ended up at five other places."
The family couldn't find what it was looking for. "We're kind of picky," Kies said, describing the "perfect tree" as 8 to 9 feet tall.
His oldest daughter, Gracelyn Kies, 17, said it "has to be a good triangle." And her 6-year-old sister, Layla Kies, suggested their perfect tree also have "ornaments."
"And tinsel."
In all their tree-hunting adventures, the Kies family said their Friday stop in Solon "was the busiest we've seen." Even so, the family found what they were looking for quickly — and their two teenagers were toting it away on their shoulders about 15 minutes later.
Most area tree farms say they'll be open this holiday season as long as supplies last, and Kathleen Banowetz — co-owner of the Ely evergreen market, which offers both precut and in-ground options — said that could be a little shorter this year.
"We did have a little harder time this year finding more of the pre-cuts," she said. "We weren't able to get as many trees this year as we had hoped for. It took us a little while. Our usual suppliers couldn't offer as many as they did."
The market managed to secure about 250 precut trees, which Banowetz said is "probably a little less than what we had hoped for." The good news is their crop of in-the-field trees weren't affected by the 2020 derecho, save a few uprooted evergreens.
"The rest of them were fine," she said.
Despite supply issues, Banowetz said she and her husband haven't increased prices. But, with such high demand, their selling season could wrap sooner rather than later.
"We will be open until we run out," she said. "Last year we were only open eight days."
Christmas tree shortages are making national news this season, marking another part of the supply chain affected by COVID-19. Given that tree farms across the country saw a surge in sales last year — with some selling out in only hours — experts are warning that buyers could pay 10 to 30 percent more this year for both live and artificial trees.
Dan Hoffman, of Hoffman Tree Farm in Marion, said his operation hasn't increased prices or seen a shortage this season. But that doesn't mean their stock of hundreds will last very long.
"We have enough to supply anyone who wants to get a tree this weekend, that's for sure," he told The Gazette.
Laurie Ramsey, of Iowa City, and her 18-year-old daughter, Anna Ramsey, said they didn't notice any price increase for the tree they harvested in Solon. But the demand, vexed by local supply, is what redirected their Christmas tradition to Holiday Hillside years ago.
"That is actually how we started coming here," Laurie Ramsey said. "The one south of Iowa City is actually closed permanently now."
And there's nothing like a real tree, in her daughter's opinion.
"It feels more Christmassy," she said. "And we like the smell."
Comments: (319) 339-3158; vanessa.miller@thegazette.com