Home / Business News / Small Business News
223 Baby Co opens in downtown Iowa City
One of the newest retailers in downtown strives for 'the Instagrammable stuff moms want'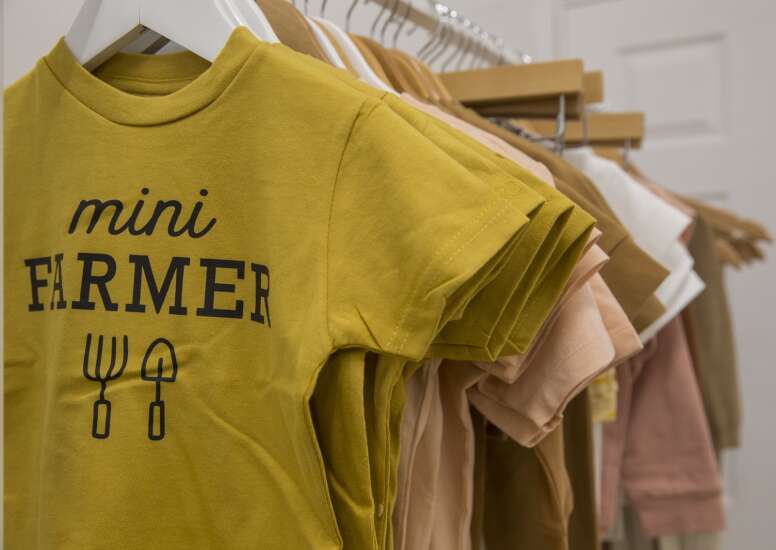 IOWA CITY — Macy Krall is expecting her first baby.
And while some moms-to-be might be intimidated by the idea, Krall used this personal milestone to help inspire her next retail adventure.
She officially opened 223 Baby Co at the beginning of October as one of the newest retailers in downtown Iowa City.
223 Baby Co is a modern baby store that carries items that include clothing, toys and for feeding times and even a few items for moms to decorate the home.
Items are handmade and Krall said she focuses on carrying brands that are locally owned, family-owned or female-owned. Placards around the store tell more about the brands that it carries.
"None of our toys light up or make noise," Krall said. "That's kind of a big thing for me as I wanted to focus on wooden toys with a Montessori approach that encourage kids to use their imaginations.
"All the big box stores offer those other kinds of toys, so I wanted to stay away from that."
She also aims to provide as many gender -neutral products as possible.
"We really strive to have all the Instagrammable stuff that moms want," Krall said.
"And I just love baby stuff and it sells really well. It will always be needed. Vintage comes and goes, but baby stuff will always be in."
Krall knows vintage well as she also owns 223 Vintage Co, a boutique in West Branch. She began thinking about opening a shop in Iowa City because of the number of customers from Iowa City whom she sees visiting her West Branch store.
"We do have a 10-foot-by-10-foot section of baby items at 223 Vintage Co and it does so well there," Krall said. "We just hear from people that we carry different baby items than they have seen elsewhere."
Krall and her family spent the summer months redoing the space.
"We completely remodeled this space with the help of our landlord," recalled Krall, noting that her husband handled a lot of the work.
"This was Daydream Comics and ... Discount Records before that, so this space was unchanged for many years."
Krall said they painted everything white to brighten up the venue, replaced ductwork and installed new lighting and flooring.
"The slat walls were here and they really work, but other than that this space looks nothing like what it used to," she added.
The shop's back wall features a mural by Iowa City artist Thomas Argan.
Krall knew several other shop owners in Downtown Iowa City who encouraged her to open up a business in the district. When she heard about grant opportunities through the Iowa City Downtown District, it seemed like the time was right.
The agency this past spring offered $15,000 grants for businesses that sign new soft-goods retail leases.
She also has a personal connection to downtown Iowa City as her grandfather started McDonald Optical and operated that business for many years.
"I always had this goal that I wanted to be down here like my grandpa," Krall said.
Between her two stores, Krall has six part-time employees who work during business hours so she can mostly focus on behind-the-scenes tasks to keep the businesses up and running.
"I usually show up in the morning to get things opened up. Right now I am working on our website. And I come in and stock the store at night or in the morning with my mom and my husband," she added.
"I really like unboxing, barcoding and handling all of our social media."
Owner: Macy Krall
Address: 21 S. Dubuque St., Iowa City
Phone: (319) 325-1625
Website: 223vintage.com
The supply chain challenges have hit 223 Baby Co as most every other business, making gettting in products a challenge. Toys she ordered in July, for example, are just arriving.
"Everything you see in the store is about one-fourth of what I ordered. But it has really come together."
"Owning a small business is a rollercoaster every day," she added. "Some days you think we did well today in sales and you get compliments. Some days you want to lock up the door and throw away the key.
"Every day is different and it keeps us on our toes. But just like with our vintage store in West Branch, we strive to be welcoming of everyone."
Know a business in the Corridor that could make an intriguing "My Biz" feature? Email us about it at michaelchevy.castranova@thegazette.com.