Taco Gato brings new Southern, Mexican restaurant hybrid to downtown Cedar Rapids
Take a trip to 30 degrees latitude
CEDAR RAPIDS — Don't let Taco Gato's name fool you.
Yes, there are tacos. Yes, there are cats tastefully hidden among the decor. But with an elevated rustic niche among Mexican, Tex-Mex and Southern American cuisine, tacos are only a small portion of Fun Not Fancy's latest restaurant in downtown Cedar Rapids, which opened April 18.
Welcome to the 30th parallel north that runs through northern Mexico, Texas, Louisiana and Florida — longitude not defined.
What: Taco Gato
Address: 209 Third St. SE, Cedar Rapids
Hours: 3 to 10 p.m. Tuesday through Thursday; 3 to 11 p.m. Friday; 11 a.m. to 11 p.m. Saturday; 10 a.m. to 3 p.m. Sunday; closed Monday
Website: Find Taco Gato on Facebook
Details: With appetizers starting at $9 and entrees ranging from $13 to $17, Taco Gato offers a niche cross among Mexican, Tex-Mex and Southern styles. Available for dine-in and carryout; third-party delivery may be available in the future.
The food
In a city with an abundance of standard-style Mexican restaurants, Taco Gato's opening isn't just adding to the list. Think of it as Southern influence injected into Tex-Mex.
Appetizers range from fried chorizo huarache with al pastor to homemade chicharrones nachos and fried okra.
A Hot Brown Burger with poblano gravy stands next to fried cactus Parmesan — a cousin of the eggplant parm — and bone-in pork chops sits next to shrimp and grits.
"A lot of these work well together, even though they aren't always paired," co-owner Tim Kindl said.
Inspired by bold, impactful ingredients that elude being distinctly from one region or another, Taco Gato's concept eludes being squared away in one category or another.
The Taco Bento box, which takes up about a quarter of the menu page, offers chicken, achiote steak, fried cod, al pastor, fried crawfish, sweet potato and beef options — all served with red beans, yellow rice, edamame and a creamy chipotle dipping sauce.
Rice and soup bowls round out the menu with elevated salad options. Sides like chorizo collard greens, cotija creamed corn and fried jalapeno macaroni and cheese marry two distinct styles well.
The drinks
If you were looking for cat puns, start with the cocktail list.
The Iowaxacan Old Fashioned joins the Meowgaritas on draft — the latter available in kitten or cougar sizes in multiple flavors paired with uncommon rim options like jalapeno salt, lava salt, tart hibiscus sugar or Tajin.
The paw-loma offers a grapefruit cocktail classic, and seasonal cocktails like the Catnip Crazies and Heads or Tails bring tropical coconut and fruit flavors into the fold to kick off patio season.
Even for the adventurous, a build-your-own agave shot option may raise some eyebrows. With any agave spirit, drinkers have a choice of salt or sugar, fruit and bugs — crickets, grasshoppers, ants or agave worms.
"It's to enhance the sipping experience of tequila and Mezcal," co-owner Justin Zehr said.
The decor
It wouldn't be a Fun Not Fancy restaurant without thoughtful decor. And like its food, it's not necessarily one thing or another.
Western and Mexican inspiration defines the cozy space with warmth around about 10 tables.
"We wanted it to feel lived in before we even opened," Zehr said.
Crocheted blankets in a rainbow of colors adorn the walls and drape the barrier among tables. Tchotchkes line the wall to the restrooms, and reclaimed wood sets the foundation for delightful surprises everywhere the eye turns.
Imagine the kitsch-adjacent spirit of the now departed Fong's Pizza, but set to a different region.
Above the bar front's ornate pattern, repurposed from old table tops, a tumbleweed christens the front illuminated by stained glass windows. On the opposite wall, a collection of Mexican wrestling masks runs parallel to Catholic-inspired imagery synonymous with a significant part of Mexican culture.
Look up, and you'll see Dia de los Muertos-inspired mannequins, custom-made on rotating turntables that bring movement to a small space.
If the umbrellas on the ceiling of the hidden cats near the bar don't catch your eye as you wait for your order, maybe the ceramic pots housing large cactuses will — they came from Pei's Ohana, the now-closed Chinese staple in southwest Cedar Rapids.
Rapid expansion
In the past four years, the Fun Not Fancy restaurant group has gone from one restaurant to seven. In the past two years, they've opened four restaurants.
The concept for Taco Gato, and its build-out, started three years ago. As other partners came into the fold, new ventures like Sacred Cow, Cliff's Dive Bar, and the Hip-stir in Marion opened first.
Zehr and Kindl said this will be their last opening for now — their plates are full.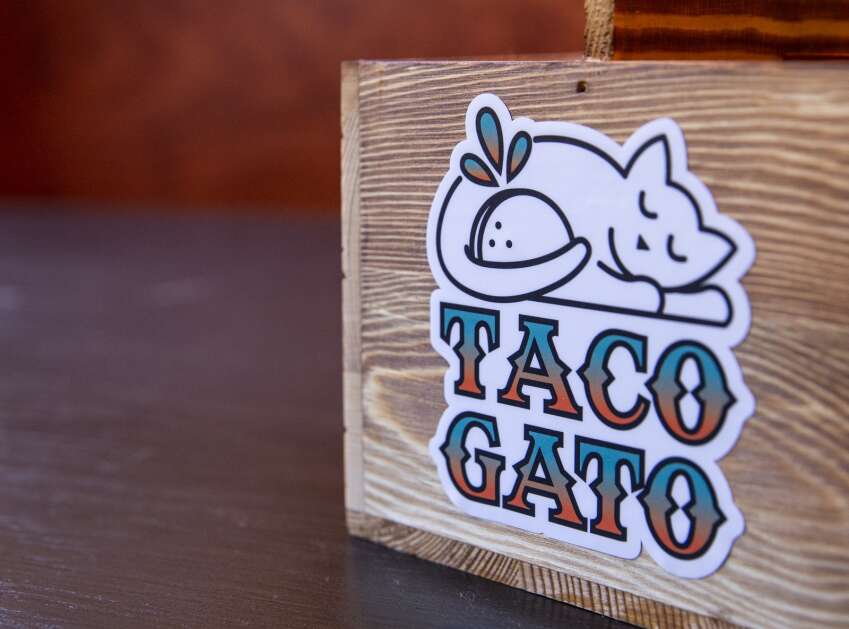 Comments: (319) 398-8340; elijah.decious@thegazette.com