Home / Food & Drink / Restaurants
Review: Tasty new items make an appearance for Cedar Rapids Restaurant Week
See our take on new offerings from six restaurants available this week only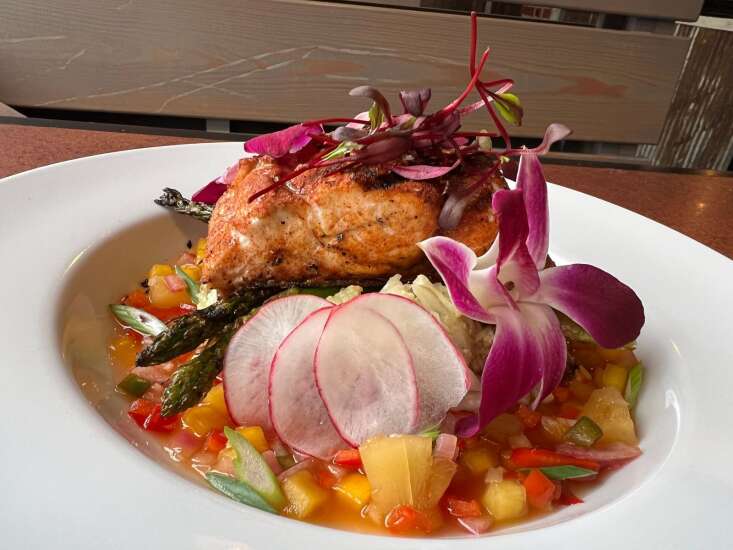 CEDAR RAPIDS — I have a confession to make: like many diners, I tend to be a creature of habit. Once I find a dish or restaurant I like, I stick to it.
If you're looking to get a little more of the spice of life in your diet, Cedar Rapids Restaurant Week is your chance. With 21 restaurants on the roster, there's a bevy of new entrees to break free of your regular orders.
While I couldn't find the stomach space to try all 21 restaurants this year, I managed to reach six restaurants that were not on the roster for Restaurant Week last year. This year, I tried 10 appetizers, entrees and desserts plus two beverages — all new items on the menu at these restaurants.
My favorites:
Peppadew Poppers from Fong's Pizza
Old Fashioned Corn on the Cob Cocktail from The Map Room
Fried Banana Empanada from Mulligan's Pub
Green Chile Cornbread from 350 First
What: Cedar Rapids Restaurant Week
Where: 21 participating restaurants
When: Friday, Feb. 18 through Sunday, Feb. 27.
Details: With no Fork and Knife Feast this year, enjoy restaurants at your own pace over 10 days. Find punch cards at participating restaurants and receive a stamp from restaurants with purchases of $20. Punch cards can be turned in to the Cedar Rapids Metro Economic Alliance for the chance to win a variety of prizes and gift cards to local restaurants.
1. Fong's Pizza (1006 Third St. SE)
Up first is Fong's Pizza, an Iowa brand whose Asian-fusion pizzas have become a unique staple in both Des Moines and Cedar Rapids.
This year, Fong's is featuring Peppadew Poppers and Fong's Bowl Pizza.
The Peppadew Poppers, small fried bites of Peppadew peppers wrapped in bacon with a creamy filling, are similar to Fong's Dragon Eggs, which are jalapeno and cheese-stuffed pieces of chicken wrapped in bacon and fried. The Dragon Eggs are one of my favorite appetizers at Fong's.
The Peppadew Poppers did not disappoint. At first bite, they give a bright, tangy flavor at the top, followed by a very mild tingle of spice. About the point where you notice that mild tingle, the crispy bacon, now a gathering of crumbles after you bit into the little ball, comes along to reassure you that everything will be OK.
The flavor of these peppers might remind you of a good vinaigrette. The balls aren't overfilled with the cream cheese sauce and the popper sauce has a nice, thick consistency that ties it together.
Fong's also features a Bowl Pizza for Restaurant Week, which was a monthly feature in March 2020 before the pandemic hit. With mashed potatoes, a chicken-based white gravy drizzle, fried chicken, corn and scallion topping, the collection of ingredients on this pizza might remind you of the fried chicken bowls served at that one fried chicken chain.
The gravy on this pizza was not overwhelming, which was better to allow you to taste everything on the traditional Fong's crust. The texture wasn't gloopy.
The mashed potatoes served as a creamy, smooth base on the pizza in lieu of sauce. I would have added a little more salt or seasoning to it — the flavor profile is unusually tame for Fong's.
Pieces of corn added a sweet little accent here and there, about every other bite. The cheddar cheese is a nice addition to the typical mozzarella.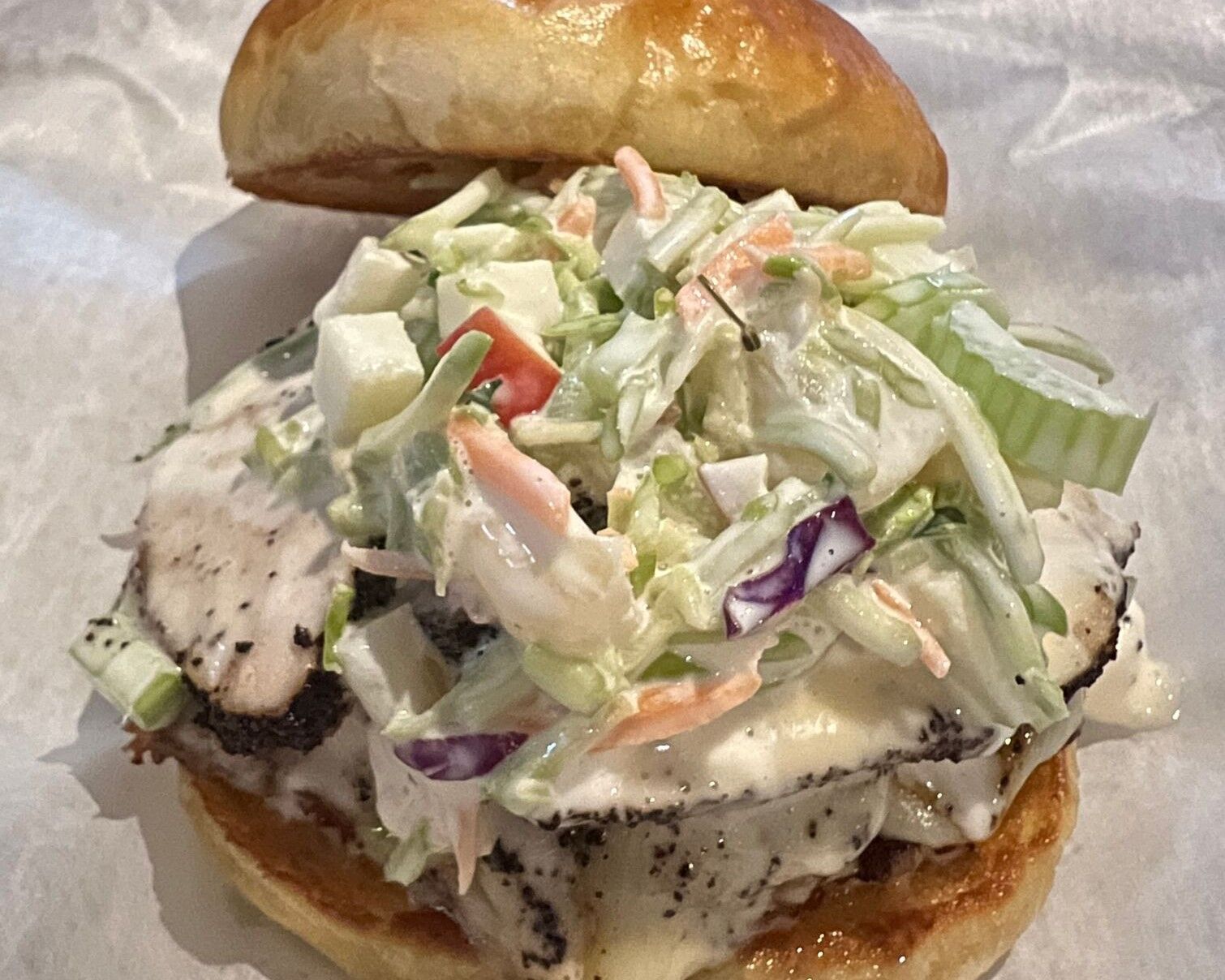 2. The Map Room (416 Third St. SE)
This tiny restaurant has had an outsized impact on the burger scene in Cedar Rapids, with a variety of bold and novel choices on its menu. Its new item this week, the Ode to the Iowa Potluck, was no different.
The bright, visually appealing Waldorf-style slaw on top gives the feeling of a springtime picnic underneath a buttered, toasted bun. Overall, a very cogent presentation for a burger that has an large number of ingredients on it.
From the first glance, you'll immediately notice the encrusted pork loin, whose seasoned crust sparkles a little bit like black sand.
The sweet notes from the burger weren't delivered in the way I was expecting. The slaw did not have the sugary, mayo-like salad dressing you have probably had with Waldorf-style salads before. Although it provided a lovely texture to the burger, particularly with the crunchy apples, I would not have guessed that it contained marshmallows and pineapple by tasting it.
The real sweet moments came in a little later as I started to notice the maple aioli playing a duet on the side with the chunks of smokey bacon. The white cheddar acts as an adhesive between these elements and the smash burger.
The burger is paired with an Old Fashioned Corn on the Cob cocktail made with butter-washed Cedar Ridge rye and corn on the cob syrup. It pairs perfectly with the burger special.
With the color of an iced coffee, you'll immediately notice the buttery taste with hints of may remind you of brown sugar or maple — smooth, velvety, decadent. It might be too sweet for some, but it complements the layers of the burger well. Still, there's enough of a bite from the liquor to remind you that you are, indeed, an adult.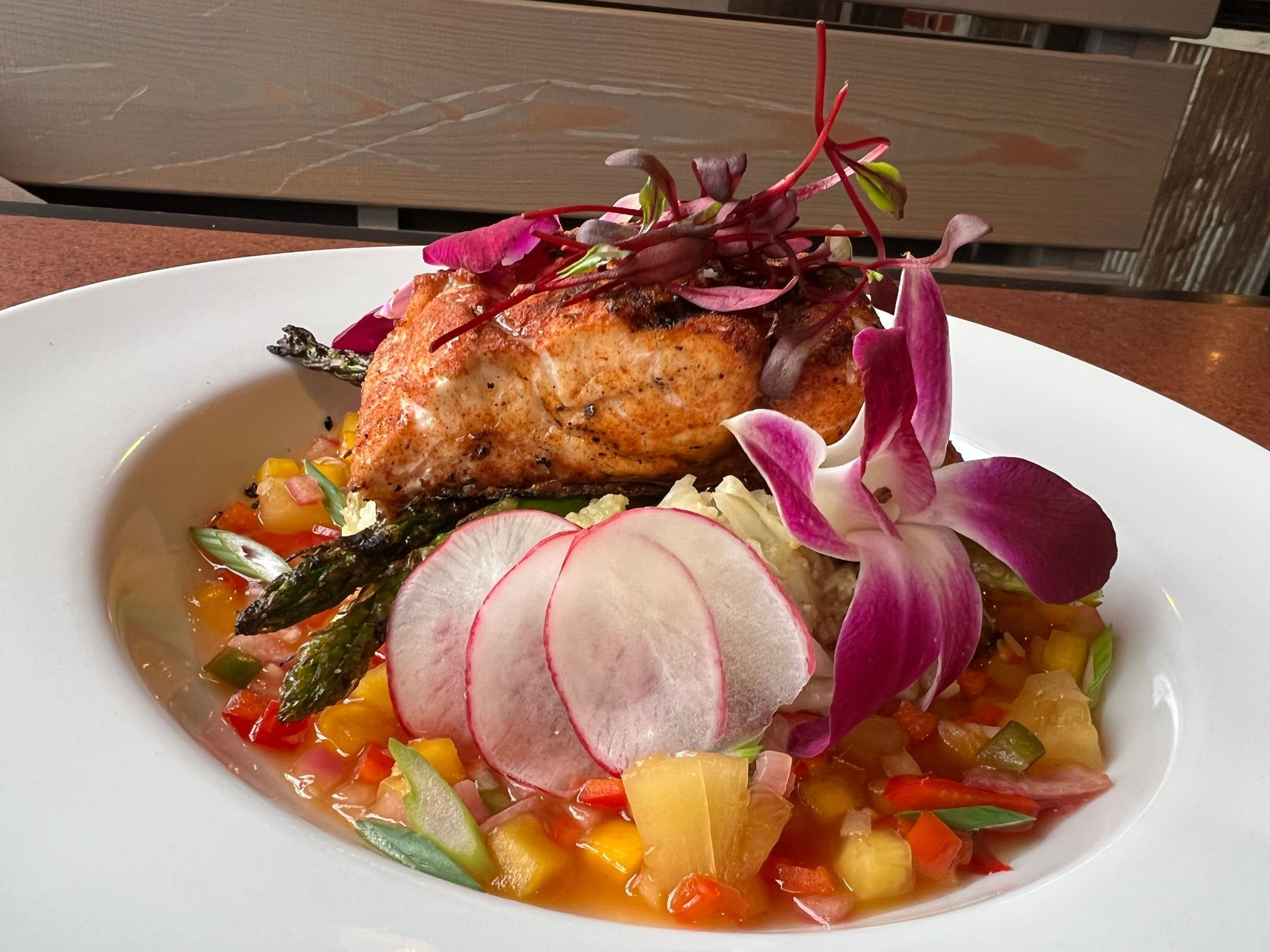 3. Chophouse Downtown (411 First St. SE)
Chophouse Downtown, a newcomer that has become known among foodies for good red meats, is taking this week to remind you that it serves fish, and serves it well.
This week's special is mahi-mahi brought in fresh from Ecuador. Garnished with edible orchids and bull's blood microgreens, the dish was so beautiful that I didn't want to disturb it.
The smooth, mild flavor of the fish pairs wonderfully with the tropical chutney. It made me feel like I was sitting in Key West, away from a cold February day in Iowa.
The bulls blood adds an earthy flavor to each bite of paprika on the fish, balancing the sweetness of the chutney. It tastes like beets. The edible orchid had a flavor and texture vaguely like a carrot.
Overall, this dish reminds you that you don't have always have to live on the coast to find good seafood. You just have to find someone who knows how to prepare it well.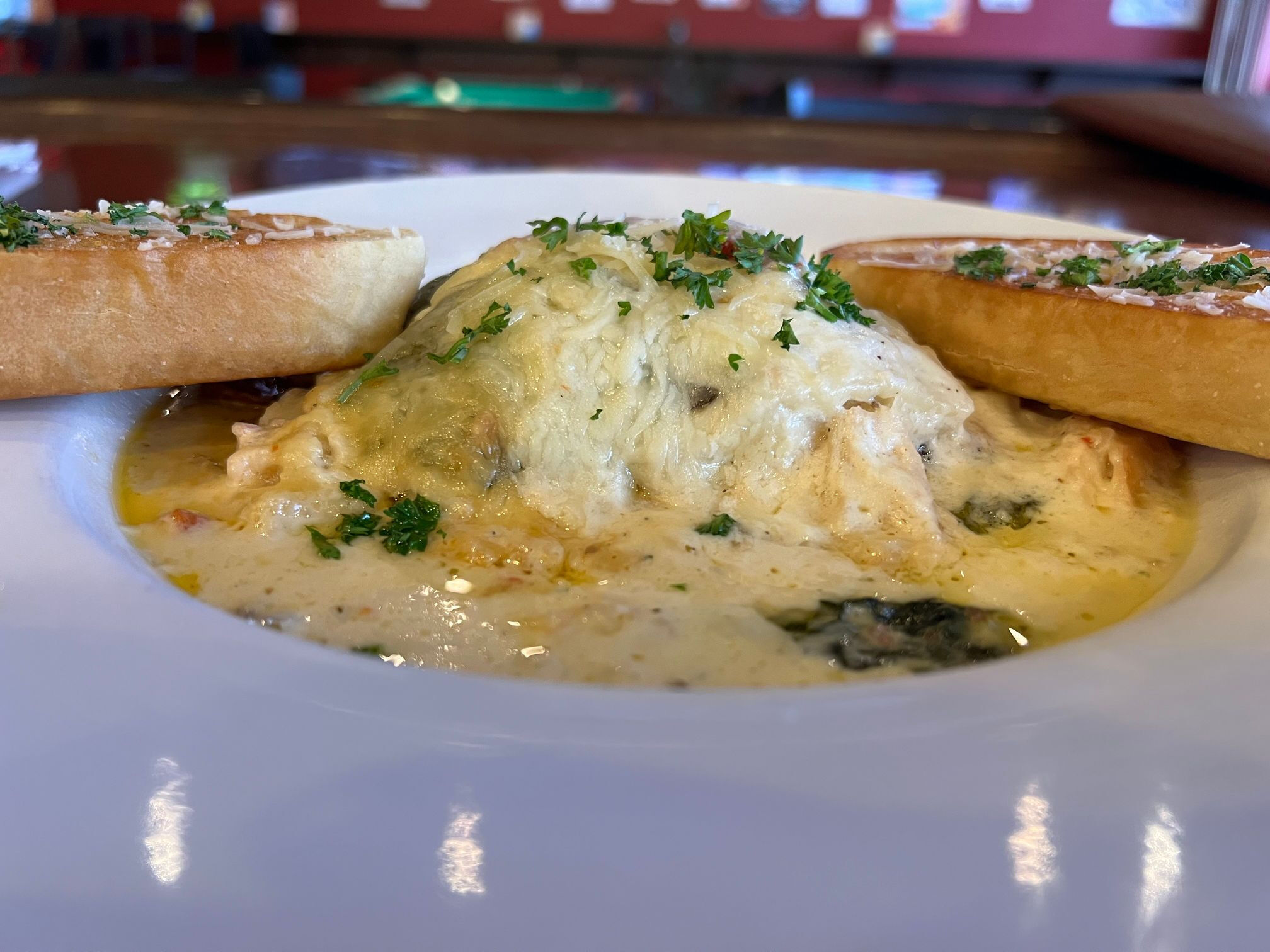 4. Pedalers Fork (2010 Sylvia Ave. NE)
Pedalers Fork has several options for Restaurant Week, but I decided to try the Seafood Florentine Lasagna since it was one of the more novel dishes I spotted.
From first glance, the lasagna appears to be in a pool of buttery, creamy sauce. In each bite, you can taste an abundance of cheese, particularly the ricotta. This all pairs well with a few pieces of lobster.
The melted mozzarella was so thick that the lasagna came out looking a little bit like a giant scoop of mashed potatoes. You almost need a spoon for this instead of a fork.
This dish was very rich. While I certainly don't take points off for that, the richness of the dish overpowered other elements.
The tomatoes were a bright and tangy reprieve and the spinach was noticeable, but the portobello mushrooms were not noticeable to my palate.
5. Mulligan's Pub (1060 Old Marion Road NE)
Welcome to Brazil.
If there's one thing you need to try during Restaurant Week, it's the fried banana empanada. It's served as an appetizer, but tastes like a dessert.
Covered in a thick caramel drizzle with raw sugar dust, each bite is a pleasure from beginning to end. The dough is golden brown but not over-fried, giving it a nice chewy texture that is the perfect segue to the caramelized banana inside.
The banana isn't mushy, and the sugar is a great punctuation.
The banana flavor reminds me of the really good banana puddings you can get at barbecue restaurants in the South — the kind that are served warm and take about 20 minutes to get ready.
A Brazilian Churrasco steak sandwich is served with a rare flank steak on a ciabatta roll with chimichurri and fried onion.
The meat, with a mild marinade, is tender. The chimichurri, to my surprise, was similarly mild with not as much of a punch as I expected. The fried onions topping the sandwich probably weren't necessary, given what the meat had to offer.
The blueberry caipirinha, a traditional Brazilian drink made with a fermented sugar-cane juice, was strong but not terribly fruity. The blueberry syrup was there, but not to the extent I was expecting, given the beautiful color of the drink.
6. 350 First (350 First Ave. NE)
It took me almost a year of living in Cedar Rapids to realize there was a restaurant overlooking downtown at the top of the DoubleTree by Hilton Hotel downtown.
Green Chile Cornbread, a traditional cornbread with roasted poblano peppers, is a sweet and mildly spicy appetizer that gives a great first impression. With fennel butter on the top and the aroma of honey, it gets better with each bite.
After a few bites, it gets the texture of a pancake soaked in syrup for a few minutes. Goat cheese balances out the peppers.
The restaurant's chicken and waffles presents a flash-fried breast atop a waffle of garlic mashed potatoes. I recommend eating the chicken, waffle, and apple butter all together for maximum flavor. A slightly spicy Thai sauce and apple butter worked together to steal the show.
Maple butterscotch pudding brought a complex flavor when paired with a tart cherry and black pepper jam, cocoa nips and an apple chip. There was even a little drizzle of olive oil on the top — an unusual choice for a pudding, but something that made sense after the first couple bites, as a smooth buffer between three different kinds of sweet.
Comments: (319) 398-8340; elijah.decious@thegazette.com