Home / Food & Drink / Restaurants
Ranking the best of Taste of Iowa City 2021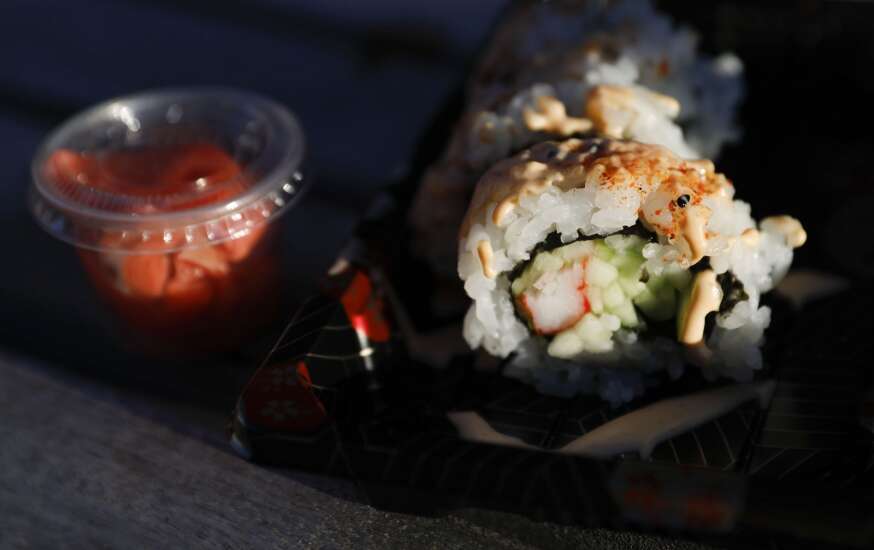 IOWA CITY — Do you ever feel like there aren't enough meals — or dollars in your budget — to try all the restaurants you'd like to try?
Catching up with the number of restaurants in the area can feel like a gargantuan task. But like all large tasks, it becomes manageable one bite at a time.
With more than 45 vendors at Taste of Iowa City's 13th year, I tasted the diversity of what downtown and Northside Iowa City has to offer. Here are my top picks:
Best things I tasted:
Pork Tacos from One Twenty Six
Conglomeration from Mickey's Irish Pub and Grill
Peach and Lychee Pop Tart from The Dandy Lion
Pulled Pork Slider from The Dandy Lion
Cucumber Gazpacho from Brix Cheese Shop and Wine Bar
Strawberry Sundae from Wild Culture Kombucha
Spicy Crab Roll from Formosa
Avocado Toast on Oat Bread from High Ground Cafe
Samosa from Masala Indian Cuisine
Jasmine Green Tea and Lemonade from The High Ground Cafe
1. Pork Tacos from One Twenty Six
Let me just preface this by saying that I'm not easily impressed by tacos. As someone who has lived in southern California and Storm Lake, Iowa — where Mexican immigrants have brought authentic cuisine to the masses — I've been spoiled by good Mexican food.
These tacos are worth mentioning for a few reasons.
From the first bite, you notice crispy edges around the corn tortilla. But it wasn't the tortillas or even the luscious pork that drew me in.
For these tacos, the creamy ancho spread is the star of the show, supported by the full, fatty flavor of the pork. Pico de gallo and avocado add a nice touch.
2. Conglomeration from Mickey's Irish Pub and Grill
This classic staple at Mickey's starts with a crisp, garlic buttered sourdough bread that invites you in to taste what is between the two slices: turkey, ham, Swiss cheese and cheddar cheese.
It's served with ranch — a nice Iowa touch, but you almost don't need it.
The classic hot ham and cheese sandwich profile piques your interest. I was expecting to not like having two different cheese types competing for my interest, but the cheddar and Swiss played nicely together — my tongue didn't get confused.
3. Peach and Lychee Pop Tart from The Dandy Lion
I did not know a toaster pastry could be this good. I would buy these by the dozen, if I could.
The peach really shines through in a viscous, gooey filling that brings back good memories of the home-canned peaches my mother would use to make peach cobbler in the summer.
The dough itself was great, too — not overbaked, leaving it a little softer in the center.
By the time you enjoy both of the other elements, the icing almost seems unnecessary. That element was, well, the icing on the pop tart.
4. Pulled Pork Slider from The Dandy Lion
Starting with a fresh, quality bun, you immediately notice the homemade pickle, thinly-sliced onion and mustard sauce in the first bite all working together like a quartet.
The pork is slightly sweet and well seasoned. The mustard brings a little heat without turning the music up too loudly at the party. The mustard isn't spicy just for the sake of being spicy — it actually contributes a nuance to each bite.
For me, the pickles were one of the best parts. When I think of good homemade pickles, this is what I envision. A delicate color, not too sweet, and delivering the perfect, audible crunch as your teeth sink past the bun.
5. Cucumber Gazpacho from Brix Cheese Shop and Wine Bar
After standing in the 90-degree weather for hours, the last thing I wanted to eat was hot soup. But this chilled soup was the antithesis of most soups.
A mix of cucumber, olive oil, miso, lemon juice and a Japanese rice wine, this refreshing option is topped with goat cheese and spearmint.
After trying every cuisine under the sun, it almost felt like a palate cleanser — a light flavor that doesn't overwhelm.
6. Strawberry Sundae from Wild Culture Kombucha
When I think of an ice cream sundae, the last thing I picture as an ingredient is kombucha tea. Wild Culture Kombucha incorporated that element nicely.
With fresh fruit and strawberry shrub poured over a scoop of Dan & Debbie's vanilla and topped with basil chiffonade, this ice cream treat was a nice way to end the evening.
The bright strawberry flavor is enhanced by the shrub — a syrup blend of fruit, raw sugar and apple cider vinegar — that makes for a very elevated strawberry sundae, when you want to feel classy. The kombucha incorporated makes the flavor even more tantalizing.
7. Spicy Crab Roll from Formosa
Think of this as, essentially, a California sushi roll with benefits.
Typically, when I order a "spicy" iteration of a California roll at sushi restaurants, the spicy sauce they put on top isn't very spicy at all. The sauce on this has a pleasant kick to it, but isn't overwhelming.
A pleasant crab flavor at the front with a cool, cucumber finish.
8. Avocado Toast from The High Ground Cafe
With toasted oat bread, this was a nice offering of a classic. The avocado was nice. Given the quality of the tomatoes, although I would call it a tomato toast with avocado — they were perfectly ripe and juicy.
Cilantro topping gives a nice finish.
9. Samosa from Masala Indian Cuisine
This fried vegan pastry was a surprising delight.
Unsure what to expect, the first bite delivers a crisp sensation with a dusting of salt. I cannot underrate this crust, it really was what made the samosa, for me.
Inside, potatoes, peas, mint and tamarind chutney offer a starchy, surprisingly complex flavor. The filling of the triangular pastry was heavier on the potato.
10. Jasmine Green Tea and Lemonade from The High Ground Cafe
After trying several other drinks, including lemonade, this one was the highlight of my Taste of Iowa City evening.
Unlike many Arnold Palmers I've had, the green tea in this provided a much different hit to each sip. The fresh-squeezed lemonade is bright, cheery, and the right balance between sweet and tart.
The jasmine green tea was not overpowered by the lemonade, but rather worked in tandem with it, providing a refreshing complement to the avocado toast.
Comments: (319) 398-8340; elijah.decious@thegazette.com