Home / Food & Drink / Restaurants
Ramen Belly opens in Iowa City's Peninsula Neighborhood
Former Takanami owners enter new ramen venture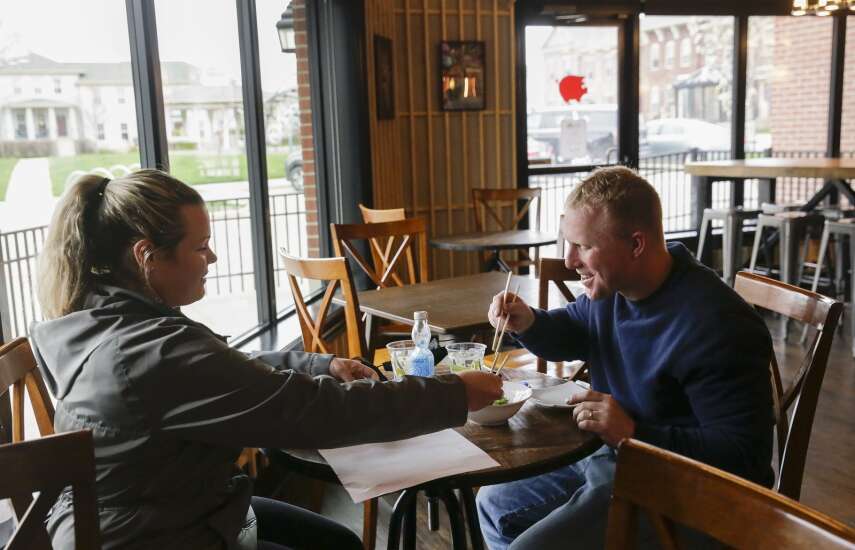 IOWA CITY — More than 18 years after they opened Japanese fusion restaurant Takanami, John Lieu and Andy Diep have entered a new venture with Ramen Belly.
The new, fast-casual dining concept at 1010 Martin St. in Iowa City's Peninsula Neighborhood offers diners a specialized take on ramen. This joint doesn't simply offer it alongside a variety of other Japanese items — ramen is the main attraction.
Ramen Belly opened April 8 with a limited menu. The owners said they hope to soon add poke and rice bowls. But for now, diners can be satisfied with a robust base of offerings available for dine-in or carryout.
Ramen offerings — which you can order yourself at a touch screen kiosk — include creamy pork broth, slow cooked for 24 hours, with a choice of three bases. Bowls are adorned with soft boiled eggs, scallions, corn, mustard greens, bean sprouts and bamboo shoots.
While you're waiting for the broth to boil, a selection of other appetizers like pot stickers, short ribs, korokke — potato and pork croquettes — and sashimi are available.
After years of working at other restaurants, Diep perfected his own personal art of ramen. A version of his ramen was previously put on the menu of Konomi Grill in Coralville, Lieu said.
"He put it on the menu," Lieu said. "People started ordering it, and (Diep noticed) it was pretty popular. He just made more and more of it."
The two hope to bring Diep's ramen dreams to life in a cozy location with food that brings as much comfort to diners as it does to Diep.
"Ramen is like a daily meal," Diep said. "Just like (how) here in the U.S., pizza is everything, in Japan, ramen is everything."
To the Ramen Belly's menu creator, ramen is a daily comfort that lingers when the diner takes care to not rush the experience.
"Ramen lingers after you eat it. You enjoy the flavor and swallow. It's gone, but it's not gone. It's still there," he said. "I love that about ramen … and that motivated me even more to try to perfect that umami, that taste."
Originally from Vietnam, Diep, 44, said he has wanted to open a ramen shop for several years. Now, with a baby at home, he hopes the scaled-down size of the restaurant will allow him more family time than the bustling, full-service restaurants he has worked with in the past.
"I want to stand back, I want to cook something comfortable," he said. "It doesn't have to be expensive to be good."
And with so many ways to improve and provide variation to a ramen bowl, he said the possibilities are nearly limitless. The outcome depends not on who cooks it, but how it's cooked, he said.
But for those who work with him, they said the man in the kitchen makes a big difference, too.
"Andy puts his heart into his food," said Thao Lieu, John's wife.
While the new venture is a big jump for the Lieu family, with 10- and 12-year-olds at home, she said the time now is much more suitable than it was for their family when the children were younger.
Since he opened the last restaurant with Diep, John Lieu got married, had children, and worked in consulting, insurance and accounting, most recently for Marriott. But as the pandemic forced his hours to be cut, he had to make some choices.
After the closure of Apres, the wine bar and bistro previously housed in Ramen Belly's location, Diep and Lieu found themselves at the intersection of opportunity and preparation. The location's interior was redecorated with woodwork, paint, a Japanese motif and an eye-catching arrangement hanging from the ceiling.
Now, with passion and investment coupled, they're cooking.
Comments: 319-398-8340; elijah.decious@thegazette.com