Home / Food & Drink / Restaurants
Market at the Tap opens speakeasy restaurant, bar in Monticello
Step into the glitz and grit of the 1920s
MONTICELLO — Can't repeat the past? Why, of course you can — at one of Monticello's newest restaurants.
Combining two store fronts into one expansive venue for food, drinks and entertainment, The Market at the Tap is bringing an upscale option to Jones County's Monticello — about halfway between Cedar Rapids and Dubuque.
"We wanted to bring something unique to Jones County," said Krystina Lafler, general manager of the restaurant. "How many people are leaving this county to go to Cedar Rapids or Dubuque to eat at places like this, or see a live music venue?"
What: The Market at the Tap
Where: 105 W. First St., Monticello
When: 11 a.m. to 10 p.m. Wednesday; 11 a.m. to midnight Thursday; 11 a.m. to 2 a.m. Friday and Saturday; 11 a.m. to 8 p.m. Sunday; closed Monday and Tuesday.
Website: facebook.com/MarketTap105
Phone: (319) 844-1028
Details: The Market at the Tap serves a variety of dishes ranging from sandwiches and 1920s classics to steaks and fresh seafood. With entrees starting at $12, you don't have to be rich to feel like you're in the money at this speakeasy-themed restaurant.
The venue
Stepping into The Market at the Tap hearkens back to an era that delivered the paragon of man's duality in one the 20th century's most dramatic decades.
On one side, a bar and entertainment stage embraces the gritty spirit of the Prohibition — the years when Al Capone and gangsters dominated the streets.
Lafler, whose family has roots in bootlegging, said the trendy theme was in part inspired by her personal connection to the era. Her grandfather, a native of North Carolina, used to run moonshine through the Great Smoky Mountains to Capone with NASCAR driver Richard Petty's father.
Many early NASCAR drivers cut their teeth on racing by outrunning cops during the 1920s, 1930s and 1940s in the underground alcohol market.
"(My grandfather) got in trouble, so that's how we ended up in Iowa," Lafler said. "We changed the spelling of our last name — the whole thing."
On the other side, oversized crushed velvet booths line elegantly papered walls under chandeliers and sconce lights fashioned out of an original Model T lights. Those sconce parts were sourced by owner Matt Kumley and his father, who have long been involved in the Cedar Rapids chapter of the Antique Automobile Club of America.
"When else was there a period like it? It's just such a cool time period." said Lafler. "This is your Gatsby glamorous, glitzy fabulous side of the '20s. The other side is the dirty, gray speakeasy side with the gangsters."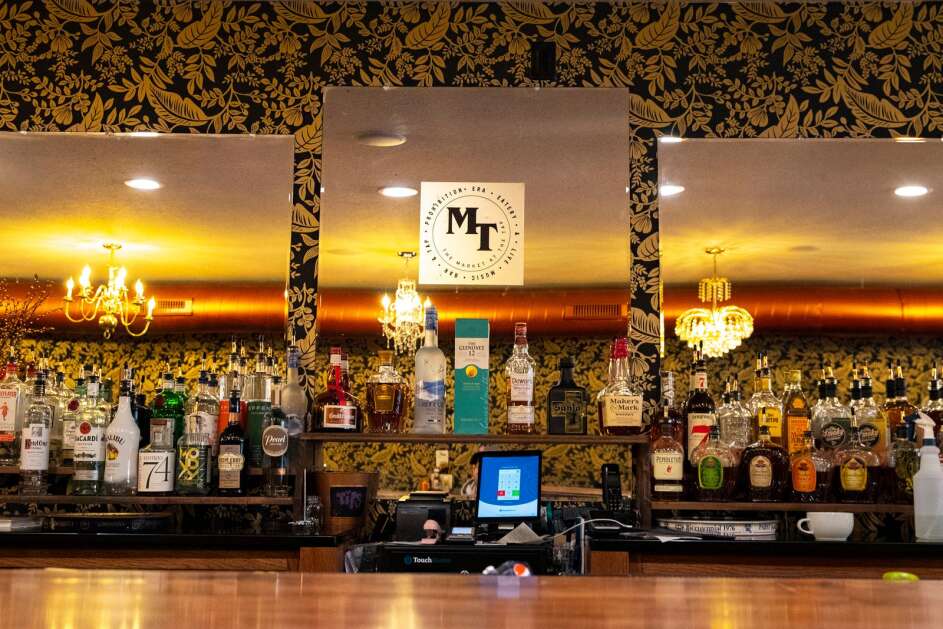 In addition to the decor, staffers are encouraged to get into character with themed clothing and accessories on a weekly basis.
The two halves of the building on West First Street were married in 2021 after the opulent dining room's side, vacant for about 15 years, was condemned by the city of Monticello. The bar side, previously a sports bar venture by Lafler and Kumley called the Glass Tap, closed after the pandemic hit.
In addition to the ground level space, the total renovation features an outdoor patio plus an upstairs prep kitchen and separate area with future potential.
The entertainment
With local and regional musicians from the tri-state area of Iowa, Wisconsin and Illinois, Lafler and Kumley hope the new space serves not just as a place for locals but a draw for tourists.
With a new stage, the venue will feature rotating forms of entertainment, like game nights and theme nights, on a regular basis.
To complement the venue's vibe, they hope to install an old-fashioned, lighted marquee sign for advertising each week's entertainment.
"It brings more foot traffic," Lafler said. "If we can bring that tourism, that's more money people spend at other businesses in town."
The food
In addition to an upscale dining option in Jones County, the new restaurant provides an elegance in its variety that's approachable.
"People don't want to be overwhelmed," said chef Kyle Kilburg, former owner of Torch Kitchen Company at NewBo City Market in Cedar Rapids. "How do you make upscale stuff without it being scary? People don't want 50 frilly things on the description."
With a time capsule menu that incorporates 1920s classics, burgers, sandwiches, pasta, steak and fresh seafood flown in weekly from Boston, Kilburg's presentation embodies the "roaring" part of the 20s as well as the resourcefulness after the stock market crash of 1929.
"We're in a transition period now too. People are talking about the before times and the after times (of the pandemic), so this menu does reflect a little bit of using that resourcefulness," said Kilburg.
Hors d'oeuvres offer 1920s duchess potatoes piped next to smoked paprika and sour cream. The salad menu and dessert options embody inventions of the decade like the Waldorf salad.
Mussels Rockefeller baked with herbs, breadcrumbs and garlic butter sauce are served on a bed of kosher salt, delivering an exuberance that matches its namesake. Old fashioned chicken potpies offer a "chicken in every pot," as President Herbert Hoover's opponents accused him of promising.
Sides include old fashioned warm apple sauce, brown butter yams topped with roasted marshmallows and cobbler, macaroni and cheese and brussels sprouts.
The restaurant plans to offer brunch soon.
The drinks
If you don't see the drink menu at first glance after being seated, check your table again — the cocktails in this speakeasy are hidden inside a copy of "The Great Gatsby."
Signature drinks keep in theme with options like Giggle Water, a mojito available in several fruit flavors, Bathtub Gin, Appalachian Whiskey and the Bees' Knees with a strawberry-infused gin.
The menu also offers a robust mocktail list for nondrinkers.
Comments: (319) 398-8340; elijah.decious@thegazette.com