Home / Food & Drink / Restaurants
Foundry Food + Tap expands to Coralville from Quad Cities ahead of broader plans
Bettendorf-based American restaurant eyes expansion to Marion, Des Moines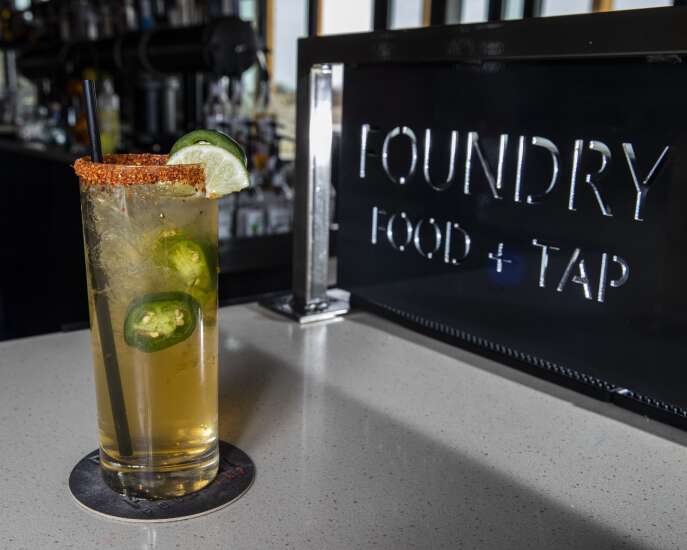 CORALVILLE — A Bettendorf-based American restaurant has made its first expansion to Coralville with an eye toward expansion to Des Moines later in 2023.
Foundry Food + Tap opened its Coralville location in November to offer a wide variety of entrees, beers and cocktails at 3266 Crosspark Rd., Suite 101. Owner Michael DeWitte said the move to Coralville was prompted by feedback from customers all over Iowa who came to eat at their Bettendorf location, first opened in June 2019.
"We would hear 'any time I'm in the Quad Cities, I eat at Foundry,' " DeWitte said. "I knew that it would work in (the Coralville) market, knowing it was very similar to Bettendorf's market."
Given promising growth in the area, including a new hospital campus in nearby North Liberty, the owner said the time was right for Foundry to get its foot into other markets. With a midrange price point, the owner said the demographics similar to Bettendorf's would ensure success in its first expansion away from the original location.
"I was really blown away by how the (Bettendorf) community responded to our concept," he said. "I felt comfortable this concept wasn't a one-off. It wasn't because we were next to a ballpark — it will work anywhere we put it."
What: Foundry Food + Tap
Where: 3266 Crosspark Rd., Suite 101, Coralville
Hours: 11 a.m. to 1 a.m. Monday to Saturday; 9 a.m. to 1 a.m. Sunday
Phone: (319) 665-0001
Website: foundryfoodtap.com
Details: Open for lunch and dinner. Sunday brunch service is coming soon. Available for dine-in, carryout and delivery through Chomp with online orders placed through the website.
Appetizers fill a variety of niches and moods with a range from poutine and avocado egg rolls to mussels, ahi poke and Bangin' Shrimp.
A large menu offers several chicken sandwiches including Cordon Bleu, soups and salads, wings, ribs and signature taphouse burgers on brioche buns with beef or alternative proteins like bison, Jamaican Jerk Turkey and black beans.
Lunch-sized portions of pasta also join a dinner-sized menu of steaks, seafood and head-turning sizzling fajitas available with flat iron steak, chicken, seafood or grilled portobello.
One standout among locally-owned concepts is Foundry's late-night food offerings. With a full menu available until 1 a.m. daily, appetizers are half off after 9 p.m. — a large driver for attracting new customers that has launched a loyal customer base, DeWitte said.
"Our food is a very expansive menu," he said. "What makes us accessible is that anyone in your group can find something they like, unlike other concepts that are very specialized."
"Executing that is tough, and we've done a good job," he added.
Foundry plans to add brunch service by about May 1 to mirror its offering at Bettendorf, where action stations for prime rib, ham, omelets, eggs Benedict and crepes are available along entree selections for $22.95 per adult. Brunch drinks include bottomless mimosas, mules and Bloody Marys.
Honoring the latter half the restaurant's name, drinks are not neglected on the expansive menu. More than 25 taps, about half which are local, offer a beer for just about anyone. White or red sangria, a specialty at Foundry, also is served on tap alongside shelves with more than 25 bourbons — on the high end of selections available at Corridor restaurants.
"We're not a brewery, but we're really proud of our local breweries," DeWitte said. "Anybody can make sangria from scratch, but to have it on tap is another level."
DeWitte, 48, whose first restaurant job and management position was at Carlos O'Kelly's in Marion, started in the restaurant business at 16 and has been involved ever since. The owner, originally from Cedar Rapids, worked for Granite City after college before venturing out on his own.
DeWitte opened Barrel House's first location in downtown Davenport in 2011 before selling his share in 2019. Barrel House now has five locations around the state, including a recently opened one in Marion. Another location is planned for downtown Cedar Rapids soon.
Foundry Food + Tap has an eye on Marion and the Des Moines metro, with plans to expand in Des Moines later in 2023.
"We've just perfected our execution to the point where we opened the doors (in Coralville) and you couldn't tell we were brand-new in that location," he said.
Comments: (319) 398-8340; elijah.decious@thegazette.com