Home / Food & Drink / Restaurants
Coffee Emporium opens Tiffin cafe at The New York building
Third location nearly completes the brand's vision for Johnson County
TIFFIN — A growing, locally-owned coffee empire has opened its third location in Johnson County.
Since coming under new ownership with Abby Ochs, Coffee Emporium has left Cedar Rapids and taken on a life of its own in Johnson County.
In less than two years, the brand has opened a new location in Coralville's Iowa River Landing, sold the original downtown Cedar Rapids location first opened in 1991, and taken over High Ground Cafe in Iowa City.
Now, it's opening a new site with new features in a new city.
What: Coffee Emporium
Where: 1100 Andersen Place, Unit 500, Tiffin
Hours: 6:30 a.m. to 5 p.m. Monday through Friday; 8 a.m. to 2 p.m. Saturday and Sunday
Phone: (319) 626-2272
Website: coffeeemporiumia.com
Details: Customizable breakfast sandwiches and hot lunch paninis join coffee and cocktails. Drive-thru, carryout and dine-in available.
New Tiffin location brings first drive-thru
With the first three locations, Coffee Emporium's model has relied on pedestrian traffic in downtown Cedar Rapids, Coralville's Iowa River Landing and Iowa City. But with its new Tiffin location in a mostly residential area, its first drive-thru will come in handy.
"For a local brand, it sets us up to compete with the Starbucks of the world," Ochs said. "We're in Iowa and winter is cold. It was something for convenience purposes on the way to drop off the kids, on the way to work."
With 2,600 square feet of space inside and seating for 28, the new coffee shop is larger than the Coralville location but slightly smaller than the Iowa City site. The full new kitchen in Tiffin will prepare baked goods for the other locations.
It's a slightly more upscale version of the Coralville location, which Ochs modeled after European cafes.
Ochs anticipates a different clientele at the new site as developers continue to build up the area. In addition to new developments and rapid growth in the Tiffin area, Coffee Emporium's agreement with developers includes exclusivity rights for coffee shops within a mile of the location.
What's on the menu?
Coffee Emporium's menu in Tiffin mirrors its other two locations from food and coffee down to the cocktails. But over time, the fast-growing cafe menu has evolved.
Customizable breakfast sandwiches with sourdough bread, egg, house aioli and cheese are the star of the morning menu. For lunch, diners can quickly get a pressed panini in several varieties: BLT grilled cheese, turkey bacon ranch, ham and cheese, grilled cheese or veggie grilled cheese.
If you need something a little stronger than coffee at lunch or after work, a rotating selection of five seasonally appropriate cocktails keeps things fresh.
Monster Coolers, a new energy drink trending in drink shops around the country, have also been added to the menu in a variety of fruity flavors.
More growth scheduled
After selling their Cedar Rapids location, taking over an Iowa City location and opening the new Tiffin location all in a matter of months this spring, Coffee Emporium is eyeing one more location.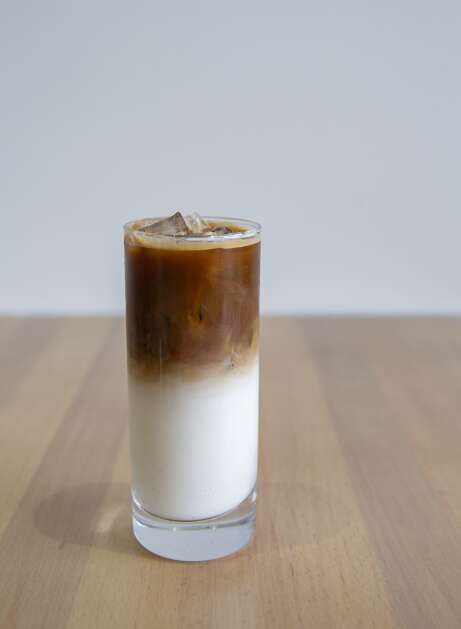 It's come a long way from the owner's purchase of the Cedar Rapids location in February 2021, when Ochs thought Coffee Emporium would be a "one and done."
The next one in North Liberty, scheduled to open this fall, will complete a quadrant around Johnson County. After that, the brand plans to slow growth to ensure sustainability — key among which is the local chain's company culture.
"What's important to me is we keep a good team culture. As long as the team is still feeling good, and we're able to maintain that company culture, I'm all for continuing to expand," Ochs said.
Along the way, plans for an uptown Marion location and southwest Cedar Rapids location — initially expected to be finished this summer — fell through, prompting the brand to realign its vision with a focus on Johnson County rather than the Corridor as a whole.
"It's evolved in the best ways possible. We've gotten a lot less scrappy," Ochs said. "We have a clean menu, consistency. But I don't think it's done evolving."
Comments: (319) 398-8340; elijah.decious@thegazette.com