Home / Food & Drink / Restaurants
Chophouse brings steakhouse staples with bold flares to downtown Cedar Rapids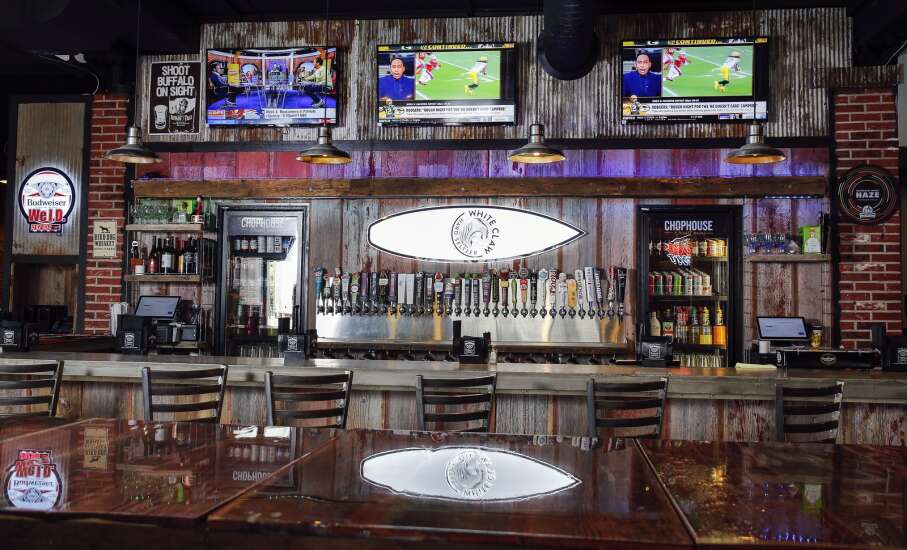 CEDAR RAPIDS — Everyone from their landlord to their contractors said they couldn't open downtown within 45 days of getting the keys.
Technically, they were right — Chophouse Downtown opened on Sept. 22, the 46th day after the new restaurant's owners started to overhaul the former Bourbon Creek Smokehouse space at 411 First St. SE.
"We did a major remodel in 45 days," managing partner Ryan Avila-Burillo said, describing the changes to the kitchen, back bar and decor. "We could sit 250 people in this building, but our kitchen was so small that they would not be able to feed … the amount of people that we can serve."
Where: 411 First St. SE, Cedar Rapids
Hours: 11 a.m. to 10 p.m. Monday through Thursday; 11 a.m. to 1 p.m. Friday and Saturday; 11 a.m. to 9 p.m. Sunday. Kitchen closes one hour before closing.
Website: chophousedowntown.com
Phone: (319) 200-1240
Details: Open for dine-in and carryout.
In an era of historic, compounded difficulties for restaurants — from supply chain disruptions to hiring struggles — the new restaurant's story is an anomaly in itself that started with an unexpected call for General Manager Heather Adams. On her first day of vacation this year, she found out the restaurant she formerly managed would be closing abruptly.
But the unexpected turn was an opportunity in disguise as she partnered up with Ryan and Joe Avila-Burillo, both with experience at a former Cedar Rapids steakhouse and other restaurants, to make their dreams of owning a restaurant for the first time a reality.
In short order, the trio managed to hire more than 40 employees — including a dozen from the recently closed Butcher Block — tone down excessive wood and tin decor from walls, renovate a second bar area in the back, tear out a horseshoe pit and add 500 square feet to the kitchen.
With experience managing Mellow Mushroom in Coralville and high-end restaurants like Saddle Ranch Chop House in Orange County, Calif., chef Joe Avila-Burillo has brought a new flair to make Chophouse more than just another steakhouse.
"I do things that are different," he said.
Their cotton candy dessert — a restaurant signature — is served as a towering cone of fluff that turns heads every time it heads to a table. The cotton candy cocktail dazzles diners as a pour of marshmallow vodka, strawberry and sparkling water dissolves housemade cotton candy, sweetening and coloring the liquid as it melts.
"Everybody was making fun of me for (choosing) it," Joe Avila-Burillo said. "It was a thing I did in California that went over really well. … It's easy, it's fun, we get to do different colors."
The RoughRider, a sparkly standout made with green vodka and edible glitter, is a nod to Adams' role as the director of adult hockey with the Cedar Rapids minor league team.
Cocktails like those are in addition to the 33 beers on tap that complement the array of burgers, steaks, shrimp and more. With steak from Tama and pork from Grand Junction, the chef said he wanted to create a menu that had a homestyle, family-friendly feel.
"I know on the back end, a lot of restaurants don't make it downtown," Joe Avila-Burillo said. "There's nothing on here that you can't pronounce or you wouldn't understand what it would be."
His strategy, nothing too fancy, is to be more accommodating and versatile to a larger crowd — from families looking for a quality place to eat after a game to friends who want to watch the game over burgers and beer.
With burgers and sandwiches from $10 and steaks starting at $19, there's variety for different tastes and occasions.
Standouts on the menu include asparagus fries, the popular Chophouse Platter, the Iowa Burger with sweet corn and a cage-free egg, and the Tomahawk Chop with apple bourbon glaze. True to the family-friendly style, kids have several options not typical for the kids menu like sliders, ribs, sirloin and salmon.
The owners plan to build a patio behind the restaurant for summer dining on the river.
"Here in Cedar Rapids, people don't take advantage of our river," Ryan said.
Opening quickly was not easy, the owner-operators said. But with a new environment and management style that has proved attractive to those working in the industry — the restaurant has managed to garner 13 applicants on a waiting list since it opened — the restaurant's owners are making a point to value staff more than the typical restaurant.
"We wouldn't be anywhere without our staff," Joe Avila-Burillo said.
The quick opening, in part, helped bring into the fold those who abruptly lost their positions at another restaurant.
"It's difficult to find good people to work for in the restaurant industry here," sous chef William Ellis said. "The restaurant industry is pretty monopolized with the same people (who) aren't really culinary people, per se."
Adams' simple use of common courtesies — having a schedule ahead of time, letting employees take a sick day without requiring a doctor's note and allowing personal time off to deal with difficult situations — stands out in a world where they're not always so common.
"Why isn't every business like that?" she said.
Comments: (319) 398-8340; elijah.decious@thegazette.com