Home / Food & Drink / Restaurants
Cedar Rapids food trucks out in full force after weathering pandemic
Four new mobile food vendors open shop, for 15 total to choose from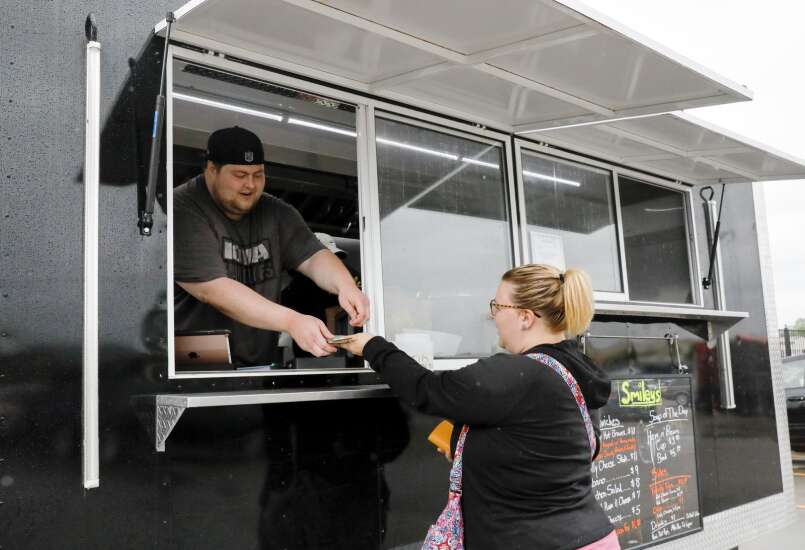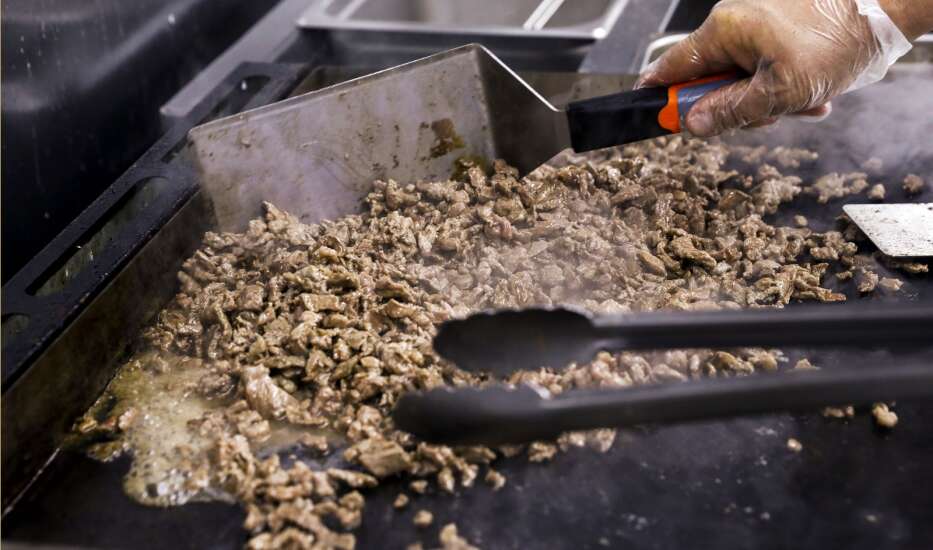 CEDAR RAPIDS — Come rain or shine, pandemic or derecho, food trucks in Cedar Rapids have weathered a challenging year to see another summer.
With a few new ones on the streets, the trend that has picked up speed over the last several years is as strong as ever, with even more variety for hungry customers.
New trucks on the block
Some, like Smiley's Soups & Sandwiches, are just getting started. The new food truck, which started serving Cubanos, cheesesteak sandwiches and Kentucky Hot Browns this month, offers recipes that Nicholas Fitzgerald and his family have been making at home for years.
The dream of his — to be able to work and spend more time with family — came after an unfortunate prompting.
"When my friend Dustin passed away, I wanted to do something in his honor, start a new chapter in my life, find a new career," he said. "Dustin had a great relationship with his father. I wanted to spend more time working with my father."
Bearing Dustin's last name, Smiley's signature Kentucky Hot Brown serves up carved turkey in an open-face sandwich topped with a cheese sauce, chopped tomato and bacon.
A former Verizon manager, Fitzgerald, 29, is able to run the business with the help of his father, wife and brother.
Though the upfront investment is lower compared to the price of a brick-and-mortar restaurant, not everything in the food truck business is easy as pie.
After getting a good deal on the truck and hauling it back from Texas, they realized it was not weatherized for Iowa conditions, Fitzgerald said. They had to replace water systems, pumps and other equipment before it would be ready to go.
"It's not terribly difficult, but it is quite a bit of work to do," he said.
With its first month in business, Smiley's has been learning one of the biggest rules to success by trial and error.
"Business starts with location, location, location," Fitzgerald said. "It's still a learning experience all the time, learning where you'll get the traffic and where clientele will be hungry."
So far, the new truck has found that community events, workplace events and church events are the most successful. With the success Smiley's has seen so far, Fitzgerald said the venture could potentially expand into a brick-and-mortar restaurant.
"It's a test trial to see if our menu and concept is successful," he said.
Tried and true
Other food trucks, like Caribbean Kitchen, are among the few originals in Cedar Rapids still running today.
"There were maybe four of us in the beginning," said owner Patrick Rashed, also known as "Jamaican Pat." "(I'm) one of the few that have been around."
A favorite among food truck diners, Caribbean Kitchen is known for its authentic, quality Jamaican dishes. It has been doling out jerk chicken, coconut curry goat and rice and beans since 2012, when it started as a business in NewBo City Market.
"The food is not typical for a food truck," Rashed said. "It's a restaurant on wheels. You can get restaurant quality food from my truck."
Rashed said both the biggest pro and con of his food truck is it's portability, which invites constant questions about where he's parked.
"I have to tell them to go on Facebook and see," he said, chuckling. "I enjoy the travel, meeting different people, going to events — it's a lot of fun."
And in the pandemic, when traditional restaurants were shuttered or limited to carryout only, his model thrived, bringing in about 20 percent more business than usual — a lifesaver when he didn't qualify for Paycheck Protection Program loans.
As many summer festivals and activities were canceled last year, he lost one of his largest sources of sales revenue.
But with the generosity Rashed sowed into the community, loyal customers ensured he stayed in business through thick and thin. When the derecho hit, he gave away 3,000 to 4,000 meals — something he had done quietly for years in smaller quantities.
"I just never told anybody. If somebody's brave enough to come up and ask for food, they must need it. I'm not going to say no," he said. "It wasn't something I decided to do because of the derecho, it's something I'd been doing for a long time."
If a customer comes up a little short, he just says "It's already paid for." Over the last year, loyal customers have donated to create a fund ensuring he's able to give away meals whenever someone needs one.
Hungry?
The City of Cedar Rapids has licensed four new mobile food vendors in the last year: Americana Concessions, The Coffee Pusher, I'm Soul Hungry and Smiley's Soups & Sandwiches. Two licensed vendors, Caribbean Kitchen and Keepin' Up With the Jones's, have added a second licensed unit.
Comments: (319) 398-8340; elijah.decious@thegazette.com