Home / Food & Drink / Restaurants
Barker's Ice Cream in Marion serves sweet treats, loose meat sandwiches and more
Former seasonal Dairy Queen is flipped into new local venture with year-round food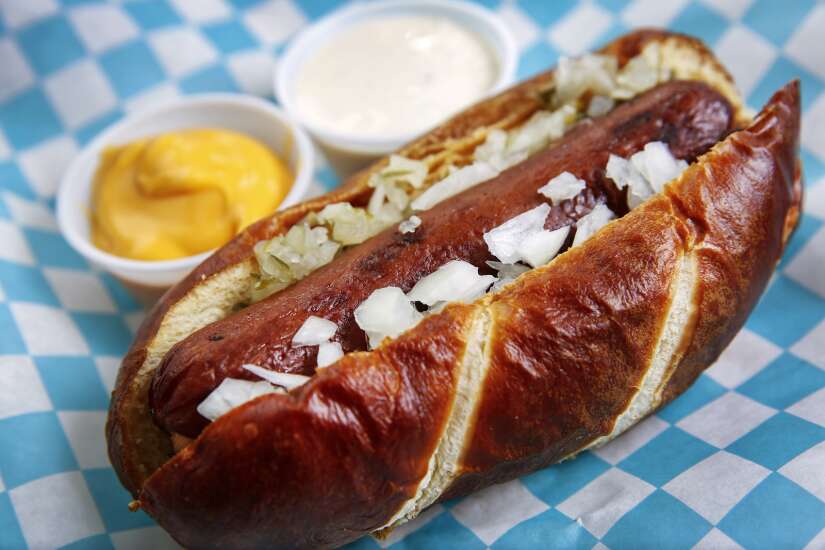 MARION — The location that served as a Dairy Queen for decades is now serving much more than ice cream.
Barker's Ice Cream & More, opened Sept. 20 by owner Joe Hill, brings a variety of loose meat sandwiches, hot dogs and higher butterfat ice cream to the table with Twisters, sundaes, malts, ice cream pies and more.
"This establishment has never served food, so we're really trying to get the word out there about the food portion and draw people in for lunch and dinner," Manager Teri Entas said. "They (already) know they can get ice cream here."
Opening later in the year than they anticipated, Entas and Hill are hoping hungry Marionites will flock to 2100 Seventh Ave. for more than frozen treats as winter approaches. Unlike the former Dairy Queen, Barker's will be open all year.
What: Barker's Ice Cream & More
Where: 2100 Seventh Ave., Marion
Hours: 11 a.m. to 8 p.m. Monday through Saturday; closed Sunday.
Phone: (319) 377-1054
Website: facebook.com/BarkersIceCreamandMore
Details: Open for dine-in and carryout. Drive-thru: 11 a.m. to 6 p.m., pull around to the main window to place your order.
With Entas at the helm of the new restaurant, the loose meat sandwich is getting a fresh spin.
"It's an iconic sandwich to the state of Iowa," Entas said.
She's hoping to capitalize on the sandwich's popularity with Iowans as well as her history with it.
For 27 years, Entas helped run the Marion Maid-Rite owned by her family. After that location closed, she said she couldn't adjust to a static desk job. She came back into the restaurant industry when owner Hill approached her with his idea. At Maid-Rite, the man she knew as a customer soon became a friend and, now, a business partner.
The quality of sandwiches and chili dogs at Barker's starts with fresh, never frozen beef, the manager said. With no fryers, the restaurant is keeping sides simple for now, with options like mashed potatoes, baked beans, coleslaw, deviled egg potato salad, and macaroni and cheese. Everything is made to order.
Entas said that while the ice cream is sourced from the same supplier as the previous Dairy Queen, their soft serve will have a higher butterfat content at about 5 percent, giving it a thicker texture and a richer flavor.
"The percentage of butterfat in the cream mixture is what it's all about," she said.
Currently, the most popular ice cream item is the Twister with mix-in toppings. Soon, Entas plans to introduce seasonal flavors like pumpkin pie. If you want something fun to save in your freezer for later, pick up frozen ice cream pies, ice cream bars or cookie sandwiches.
Hill would eventually like to see a line of cookies, cakes and pies named after his mother, Mary Patricia "Pat" Hill, for whom the new restaurant was named.
Hill, whose maiden name was Barker, died in July. Before retiring in 2015, Pat Hill owned Antique Wicker Hill & Tea Room in Marion. Wicker baskets from her decorate the top of the freezer near the counter as another way of honoring her memory.
"My mom loved sweets," Joe Hill said.
Now, with a vision for bringing the community together, the San Diego resident hopes to grow the business to one restaurant in all 99 counties of Iowa.
"Ice cream brings people together. I'm a visionary — I look forward, and I always look for ways to make things better. I try to make people smile," he said. "My mom was the same way. This is a venue for me to never forget her."
With hopes to have a location in many small towns, he wants Barker's to become a gathering place in areas where there is no gathering place. While many small towns have a fast-food chain, he said many of those restaurants don't foster a sense of community quintessential to small towns.
"Sure, I hope I make money doing it, but it's not for that," he said. "It's for bringing people together. It's the story."
Hill purchased the building early last spring, with few modifications needed to turn the restaurant into what it is now. The rental property manager also owns Burger Haul in Iowa City.
Although the building was built to serve food, he said the Dairy Queen never built a full kitchen into it — something Barker's is changing.
Customers also may notice a "VIP Entrance" sign above both of its front doors, "because everybody's a VIP there," he said.
Comments: (319) 398-8340; elijah.decious@thegazette.com