Home / Living / Recreation
Making a (mini) pitch for soccer
Hanna Park is Marion first in area to offer scaled down game for all comers
Marion and Rich Patterson - correspondents
Nov. 15, 2021 9:12 am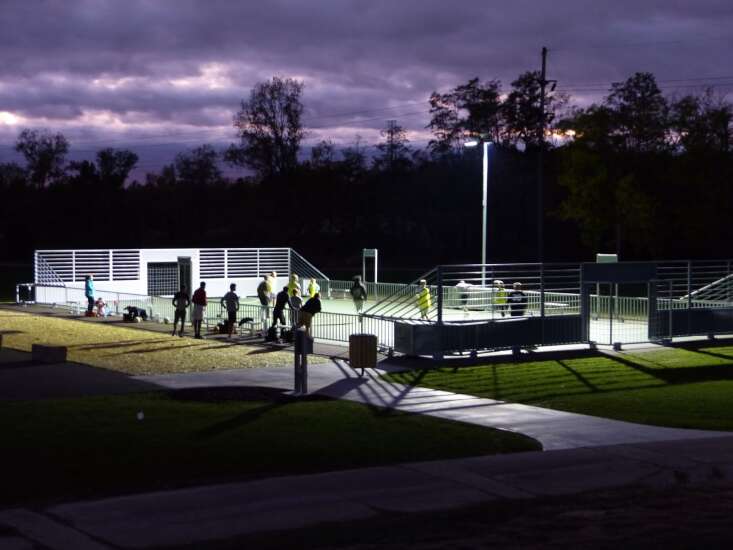 MARION — Hilly terrain, vistas of Indian Creek and large trees keep luring us to Marion's Oak Shade Cemetery for exercise walking.
Early this year we spotted a mystery forming in nearby Hanna Park.
An athletic court of some sort was being built. We wondered — a future tennis or basketball court? We called the Marion Parks and Recreation Department.
It was an emerging Soccer Mini Pitch.
We knew soccer was a popular game worldwide, but thought it could only be played on expansive fields, like Cedar Rapids' Tuma complex. Just what does "mini" and "pitch" mean when applied to soccer?
"Pitch" is a versatile word. One can pitch a baseball or a tent or sing in a certain pitch. We remember getting pine pitch in our youthful hair when climbing trees.
But what does pitch have to do with soccer? We learned it's an Old English term that means an outdoor sports court or field. So, tennis, soccer and football are played on a pitch.
Mini Pitch is a fast-paced, scaled-down soccer game played on a hard surface with dimensions similar to a basketball court. Pitches are being built all over the world. Some have even been constructed on the roofs of buildings in big cities.
The court and goals are bounded by fencing to keep the balls in. Balls tend to be smaller and have less bounce so they stay in bounds, although players we watched periodically booted a ball out — and cheerfully fetched it back.
Small convenient storage areas are attached to the fencing for soccer equipment and personal items.
"Soccer is usually played on large fields," said Dan Tuuri, a soccer enthusiast. "Cedar Rapids' excellent Tuma Complex is an example, but there's no public transportation to it and it's not lighted. Mini Pitches can be made in small spaces, so they are often in urban areas.
"Hanna Park is an ideal location. It's nestled in older neighborhoods and is within easy walking or bicycling distance of many residents. The pitch was made on the site of an old basketball court."
We visited the pitch on a blustery cold late October night and discovered 17 people in a pickup Mini-Pitch soccer game. Their diversity was delightful. A youngster of about 7 was playing amid high school and college age men and women, and several much older players.
We watched Titus Hannula, who recently moved to the area from Virginia, finesse the ball around the pitch.
Soccer is the world's game, and we were pleased to see immigrants enjoying the pickup game. It's a familiar activity in their former home countries and playing must help them feel at home in Iowa. Soccer is the connector that creates friendships.
"Mini Pitch is a pickup game. Anyone's invited," Tuuri said. "When they arrive, people are invited to play right away, and if they tire, they can leave.
"The size of the team often changes, since everyone who wants to play does. It's a great way for people to meet, have fun, and advance soccer skills."
His daughter, Anna Tuuri, played soccer for Marion High School and will soon join the team at the University of Wisconsin-Stevens Point.
"We moved to the area about five years ago and I didn't know anyone, but I love soccer," she said. "I soon met new friends through the game and it made me feel part of the community."
Dan Tuuri helped bring various groups together to create the new Mini Pitch. Marion Park Board has been enthusiastically on board with this project. The Parks and Recreation provided the space in Hanna Park and created the asphalt surface.
Tony Ireland, from the City Parks and Recreation, is looking into other opportunities for youth programming. Musco Sports Lighting sent a crew that crafted the pitch from a kit on the surface in two days.
Pro Iowa is building a new multimillion-dollar stadium in Des Moines with the intent of creating a professional team in the USL Championship League. They committed to help fund 10 Mini Pitches in Iowa, including Marion's. Others are in the Des Moines area, Council Bluffs and Sioux City.
Kick It Forward is a nonprofit that promotes soccer opportunities. They help coordinate volunteers and financially contribute to soccer initiatives. Finally, seven local families each donated $100 or more toward the project.
The pickup game we watched evolved. Initially players passed the ball and shot at goal until enough players arrived to form teams. Players then donned pinnies and faced off three-on-three.
As more men, women, kids and families drifted in the teams grew to six each. That's pretty crowded on a small pitch. So, they rotated out as a young group from Rockwell-Collins arrived.
As players jockeyed for positions, the air sang with common calls: Away. Cross. Send. Players quickly shifted with the ball position. Soccer players make instantaneous decisions of position, passing and blocking. The objective is always to score a goal, which the keeper tries to prevent.
Among many skills, the game develops communication, reflexes and physical stamina. Anna Tuuri noted Mini Pitch has helped her learn ball control. Useful on a full soccer pitch.
The Mini Pitch is open daily. Use is free. Anyone interested in enjoying a pickup game and meeting soccer enthusiasts can connect on the Cedar Rapids Pickup Soccer Facebook page at facebook.com/groups/259736795352961.
Dan Tuuri maintains the Mini Pitch Facebook page at www.facebook.com/MarionMiniPitch.
A lively YouTube video shows the story of a Mini-Pitch Koh Panyee Thailand group of youth.
We'll keep exercise walking in Marion's Oak Shade Cemetery, but when there's a pickup game going on at the Mini Pitch, we'll be sure to watch a diverse mix of soccer lovers having fun as they hone their skills.
Rich and Marion Patterson have backgrounds in environmental science and forestry. They co-own Winding Pathways, a consulting business that encourages people to "Create Wondrous Yards."