Home / Living / People & Places
Leaders Who Lunch pairs third graders with business professionals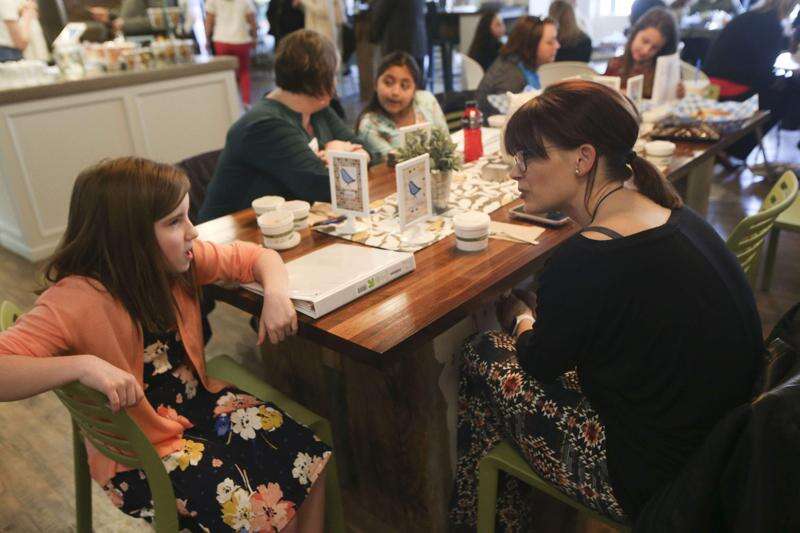 What do you want to be when you grow up? That's the question students will hear often throughout their education.
Deb Worm is someone who helps future female leaders answer that question.
Worm works in client relations and community outreach for F&M Bank in Cedar Rapids. She's also the volunteer coordinator for Iowa Women Lead Change, a leadership organization for women. And, earlier this year, she helped launch Leaders Who Lunch, a mentoring program that pairs young students with local business leaders for a conversation about goals, conflict management, teamwork and other topics over lunch.
'We believe that all girls should have the opportunity to fulfill their potential," Worm said. 'We are trying to plant the seeds of what that potential can be."
Leaders Who Lunch was launched after several third-grade girls arrived at Kenwood Leadership Academy and Magnet School's 'Dress as a Leader Day" in suits and ties, unaware of how female leaders dress. Third-grade teacher Elizabeth Callahan decided the best way her students would learn women also can be successful business leaders was to have them meet some face-to-face. Callahan contacted Lindsey Leahy who was with the Cedar Rapids Metro Economic Alliance, who put her in touch with Worm.
Then Worm took it up herself to send an email asking businesswomen in the community if they'd be interested in meeting with Kenwood students over lunch to discuss how they became leaders. The response, she says, was immediate, with about 80 women eager to volunteer their time. As a result, the first Leaders Who Lunch event was split into two days, with businesswomen from several industries represented, including finance, construction, architecture, health care and city government.
'Our goal is to introduce girls to women in various industries who've made choices throughout their careers, sometimes in non-traditional roles," Worm said, adding that the ultimate goal is that, eventually, the students don't view any career as non-traditional for females. 'Hopefully, someday, we won't say the words non-traditional career; it will just be career."
Female Kenwood students in third through fifth grade were treated to lunch at The Early Bird Coffee Shop by the business woman with whom they were matched. There was no plan as to how the adults and children were paired; Worm said it was decided to just let it happen. Judging by the amount of conversation each lunch generated, it was the right decision.
'There was so much chatter," Worm remembered.
Each student brought her 'leader binder" to lunch. A project of Kenwood, the binders are created for students to track their goals and record what steps they took during the year to meet those goals. The students also record school lessons and events that they participated in, such as field trips, that generated more ideas about their future. The girls shared their binders with their lunch partner. In turn, the businesswomen shared their personal and professional experiences, with some of their observations and advice making their way into a binder.
But it wasn't just the students learning from the adults. Worm said one of the unexpected surprises was the impact the youngsters had on the professionals, inspiring them in turn.
'One little girl told her adult the importance of recess, that it's important to have fun, go outside and take a break, before getting back to work," Worm recalled. 'That's something many of us need to remember."
Leaders Who Lunch also put area businesswomen in touch with each other, creating connections and forming relationships that otherwise might not have happened.
'I wish I would have had something like this when I was younger," Worm said. 'When I was a high school student, I did not understand what opportunities were out there for me."
In other words, Worm, and all the other women giving their time, are taking the 'Be the person you needed when you were younger" maxim to heart. They give their time. They give their support. They share their thoughts and listen as the students share their own.
'It's just so interesting to listen to them, to hear their ideas and aspirations," Worm said. 'At that age, nothing is out of the range of possibility."
And perhaps, with the support of the relationships formed through Leaders Who Lunch, it never will be. After all, the program already has expanded. The first two Leaders Who Lunch outings were so successful, six more occurred during the remainder of the 2017-18 school year, with eight to 10 students and businesswomen participating each time. Worm expects that number to increase during the 2018-19 school year, not only at Kenwood, but other local schools as well.
'I've been getting emails from people who want to get involved," she said.
The Anamosa Community School District is poised to start their own Leaders Who Lunch program this school year, and Worm has talked with an Iowa City teacher who hopes to start a similar program at her school. Additionally, Leaders Who Lunch will partner with Iowa Women Lead Change to identify ways to make the lunchtime interactions more meaningful.
'One of the greatest barriers for women in achieving high levels of leadership is the belief if it's even possible," said Tiffany O'Donnell, chief executive officer of Iowa Women Lead Change. 'Often, we have to 'see it, to be it.' It's critical to set the paradigm early; success is the expectation. A young girl who gets to know, personally, someone who looks like them, talks like them, begins to expect it's possible for her, too.
'Getting to these future leaders at an early age is critical to IWLC achieving its goal of growing the number of female leaders at all levels," O'Donnell said. 'In addition, so many of the Leaders Who Lunch are loyal IWLC supporters. We are proud to support them as they invest their time and talents in nurturing the leaders of tomorrow."
Worm also is thankful for the women who have taken time out of their schedules to dine with the area's future leaders, as well as those who expressed interest in future lunches. 'Each of these young ladies is on their own personal journey," Worm said. 'Our hope is that this interaction with these professional women will have a positive impact on that journey."