Home / Living / People & Places
In Hiawatha, this Santa ditches the sleigh and rides a Harley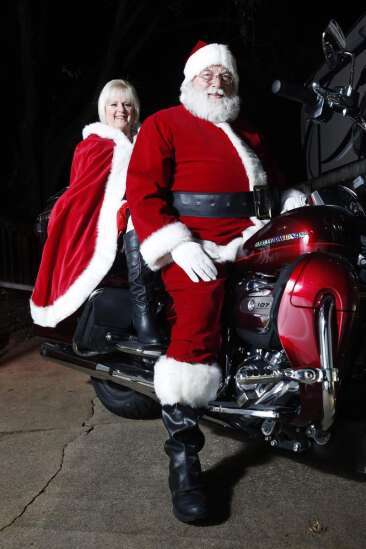 Take a drive down First Avenue in Cedar Rapids on Christmas morning and you might just spot Santa cruising along on a Harley-Davidson motorcycle, red of course.
That Santa look-alike is Dennis Hinz, 63, of Hiawatha, who has enjoyed transforming into Santa to delight young children, and the young-at-heart, for the past couple of years.
'When I am in costume driving down the road, people do double takes, especially when I am on the motorcycle," he said.
Hinz took on the role of Santa about four years ago after friends encouraged him to do so.
'People tell me I've got the personality for it, and I've got the looks for it. It just fits," he said. 'Several years ago I grew a beard, which came in gray. And my wife, Leia, is a seamstress and had made a Santa outfit that I tried on and it fit perfectly. Just for fun, I went to a relative's house and as I drove down First Avenue on Christmas morning I got quite a few looks and stares. So it's become a fun thing that we've been slowly getting into. Each year it gets a little bit better."
Leia has even joined in the fun, dressing up as Mrs. Claus.
'Two years ago my wife made her own outfit and said she wanted to go, too," Hinz said. 'So Christmas morning, weather permitting, she and I get on the bike and go down First Avenue."
They also visit patrons at Zeppelins restaurant on Christmas Eve.
'We'll go in the afternoon and if my son and his wife are in town, they dress up as elves and come with us," he said, noting that it's truly become a family affair. 'We'll pass out candy canes to little kids and they just love it."
'One of the neatest things we've had happen, a couple years ago at Zeppelins, was when we visited a little girl who was coloring at the table with her family. She was just in awe. Her jaw dropped when she saw me. We gave her a candy cane and then we went over and had our lunch. A few minutes later, she came over with a picture she had colored of Rudolph the Red-Nosed Reindeer and had written 'I love Santa.' It just warms your heart."
Hinz also has been the Santa for the local VFW's annual Christmas party. 'I tried that out last year and they got such great response they asked us to come back and do it again this year."
Although officially retired, Hinz works part-time as a shuttle driver for a local car dealership, and said co-workers have already started calling him Santa. Customers have mentioned his resemblance to Santa is uncanny.
'In December I'll probably wear a red hat while I drive people around town," he said.
It takes several months to get ready for the role, Hinz explained. 'I start growing the beard in August when my wife and I head to the Sturgis Motorcycle Rally in South Dakota," he said. 'That's when I start eating everything in sight, too. I've got the actual belly for being Santa. People just roar when I tell them that."
As much as Hinz enjoys his Santa gig, he continues to ease into it.
'I don't want it to become a job that I have to do. I want it to be a fun deal," he said.
And so far, it's fun, he said.
'It's been rewarding," he said, noting that it's so fun seeing how people react to seeing Santa out and about in Cedar Rapids. 'Kids sit on my knee, they bring me cookies, and we give them candy canes and get pictures. The reactions are great, watching kids' mouths drop open in surprise."
He's still working on memorizing his reindeer names, though.
'I'm still fairly new at being Santa, so I'm nervous when I first start. And some of the toys the kids ask for, I have no clue what they are talking about. I just tell them we'll see what we can do."