Home / Living / People & Places
Cedar Rapids woman honors her mother with dementia by being the mom she always looked up to
Their roles reversed, Kaitlin Scott cherishes Mother's Day and every day she has with her mom, even if she struggles to recognize her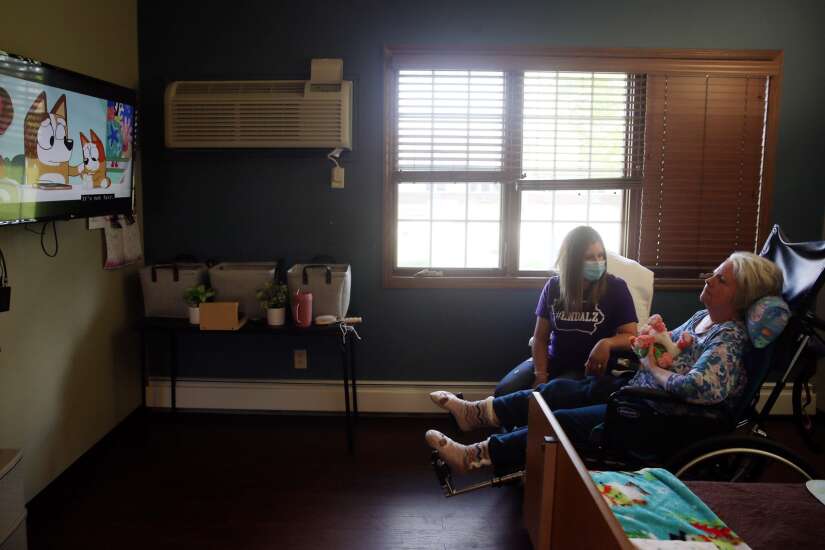 HIAWATHA — As many families take their mothers out to brunch, deliver flowers or make a video call this Mother's Day, Kaitlin Scott plans to deliver the simple, understated pleasures her mom can still recognize as enjoyable: her favorite cupcake, a Diet Mountain Dew and Scott's loving presence as they take in some fresh air.
For moms like Cindy Khan, a Hiawatha Care Center resident with frontotemporal dementia, it's the simple things that bring joy. For daughters like Scott, it's one of the ways she can make the best of the time they have left together and honor the woman who has always been her best friend.
"We'll sit outside and enjoy our time together," Scott said, "because that's what we have. We're going to make the best of it."
When Scott was 26, her mother was diagnosed with the aggressive form of dementia; Khan was only 59. Now, with Khan at age 65 and far into the disease's progression, they savor every moment they have left, 45 minutes of visiting at a time. After the pandemic took away one year of face-to-face time, they're making up for precious lost time, too.
"(Before the pandemic,) I think she did recognize me still," Scott said. "I don't think she does anymore, just because we had to be separated for so long."
Khan still flashes her trademark giggle and smile — something even dementia couldn't take away from her — with what Scott believes is knowledge that the woman she sees is someone special to her, even if she doesn't know exactly who it is. On a good day, she'll blow a kiss, give a wave and say "bye" when Scott leaves — one of the few things she can still articulate, being non-verbal.
"I miss that person that nobody can replace. She's the only one, and it's gone. Even though she's still here, I've mourned so much of her, losing her pieces at a time."
"I don't think that same connection is there," Scott said. "It's still there, but it's not as bright as it was."
Those who have watched the strength of their bond go unscathed by the progression of Khan's dementia know that the relationship still has meaning, just in different ways than it used to for the mother and daughter.
Just the mention of Kaitlin's name or showing a picture of her to Khan brightens her day, said Hannah Waters, activities director for Hiawatha Care Center. Her eyes widen, she smiles and might even say a couple words.
"It's crazy how the human mind can still (hold on to) those things that are important to a person throughout their whole life," Waters said. "You can still remember that."
So when Scott says "Bye mom, I love you," Khan's "bye" in response is more than a three-letter word.
Even in this new stage of life, it's clear through their routine that Scott still knows her mother very well and knows how to make her happy. Scott dutifully adjusts her pillow and asks questions that she knows her mom won't understand or reply to.
But in small ways, Khan manages to return the favor however she can muster, with tacit acknowledgment of questions through a nod, a knowing glance or a mumble that Scott knows is her way of trying to get something out.
Scott makes sure she has a stuffed animal to hold. Her favorite, a black and white cat, resembles Mister, the tuxedo cat she had for 18 years.
Scott, now 32, misses the time she had conversations with her mom — her role model and hero — like the times she could call and vent about a rough day.
"I always told everybody my mom's going to be around forever, she's my best friend," said Scott. "Then all of a sudden I can't call her anymore."
She chooses to remember the former social worker and disability examiner who was a confidant, source of strength and caring presence to those in difficult situations. Most of all, she still remembers that Khan is her mother.
"I miss that person that nobody can replace. She's the only one, and it's gone," she said. "Even though she's still here, I've mourned so much of her, losing her pieces at a time."
For most of their lives, Khan was the one person Scott could always rely on. Now, the roles are reversed.
"I've got her back. She doesn't need to worry," said Scott, Khan's only child.
Being a parent to one's mother is something many children Scott's age don't expect to be. Scott now acts as her financial manager, medical decision-maker and guardian.
"It's an honor," Scott said. "I will never stop showing up for her, no matter what."
With no children of her own this Mother's Day, Scott now honors her mother by emulating the advocate she always knew, returning the favor that Khan provided selflessly for most of their lives together.
Of the more than 6 million Americans living with Alzheimer's or dementia, two-thirds of them are women, said Lauren Livingston, communications director for the Alzheimer's Association's Iowa Chapter. More than 60 percent of Alzheimer's and dementia caregivers are women, and more than one-third of those caregivers are daughters.
Her new role has hardened her in some ways, she said, because she can't afford vulnerability because she must be strong to be there for her mother. But there are some moments that still soften her.
After Khan contracted COVID-19 late last year, medical providers didn't think she would make it. She pulled through.
"I feel like deep down, she knew we needed more time together," Scott said tearfully. "That would have been devastating to not see each other for so many months and then she's gone."
In the spirit of the generosity that Khan instilled in her, Scott continues to show up for others as well by fundraising for the Alzheimer's Association's Iowa Chapter and Cedar Rapids Walk to End Alzheimer's and helping the Hiawatha Care Center any way she can.
"Kaitlin has gone above and beyond anything she could do to help," Waters said. "Not just for her mom, but for all the residents. I think (that's) how Cindy raised Kaitlin."
As many remember their mothers this year through gestures that will soon fade, Scott makes the best of every moment they have left together.
"I hope people learn that it's important to constantly show how much you care," Scott said. "Don't take that for granted. Show that (love) to them. Be there."
Comments: (319) 398-8340; elijah.decious@thegazette.com