Home / Sports / UNI Panthers / UNI Panther Football
Woo Governor follows patience with production for UNI football
Governor had pair of pick-6s in win over Western Illinois last week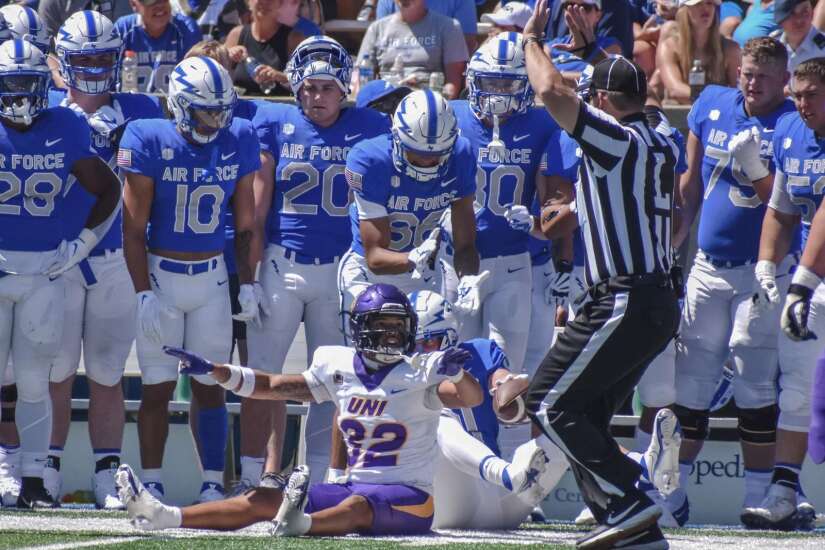 CEDAR FALLS — Last Saturday's 52-17 win at Western Illinois was a big one for Northern Iowa's defense.
It also turned out to be a big day for first-year starting cornerback Woo Governor.
Governor — who transferred to UNI in 2020 — secured a starting spot at cornerback in the preseason and has quickly solidified himself, intercepting three passes in only four starts.
This past Saturday's blowout of the Leathernecks was a particularly impressive performance by the Plant City, Fla., native. He reeled in two interceptions and returned both — 43 and 49 yards — for touchdowns.
"This means the world," Governor told The Gazette about being a starter. "I really just love the process, so obviously it was a process to get to this point I'm at today. It's a blessing just to be here. I love my teammates, my coaches. They believe in me. We're truly a family here at Northern Iowa."
Governor's story is similar to many others on UNI's football team. Those who stayed patient through a whirlwind era of college football with the pandemic, transfer portal and beginning of name, image and likeness rights.
UNI Coach Mark Farley complimented Governor's process-based approach this week, acknowledging his work ethic and pointing out how his production is evidence of how he's approached everyday since becoming a Panther.
"He's been here (three) years now and came in here wanting to be the starter right out of the gate, but really applied himself and started practicing like he plays," Farley said. "He practices as hard on Tuesday as he plays on Saturday. Once he did that, now he's getting all the production. He's putting himself in position to win."
Moving forward, Governor is optimistic last Saturday's performance was a sign of things to come.
Sitting at 1-3 overall, the Panthers also have the benefit of playing their next four games at home in the UNI-Dome, starting with Saturday's 4 p.m. kickoff (KCRG 9.2) against Indiana State (1-2).
"It was almost now-or-never time for us last week," Governor said. "We showed up and executed, and now we're just ready to continue cleaning up little things and we're ready to go on a run."
Despite UNI's poor start, Governor continues to see a level of confidence from his teammates that the goals they set for themselves to begin the season are undoubtedly still achievable.
"As far as the confidence side of things, I'm a strong believer in preparation fuels confidence," he said, "because when you invest so much work, when you invest so much time, when you spend countless hours on your technique developing yourself you definitely have confidence. Then, when you add talent, execution, game plan and play calls on top of that, it's just bound to be something great.
"We're definitely better than our record."