Home / Sports / UNI Panthers / UNI Panther Football
UNI's Spencer Brown, Elerson G. Smith poised to make NFL draft history
They could be first Panthers taken in same draft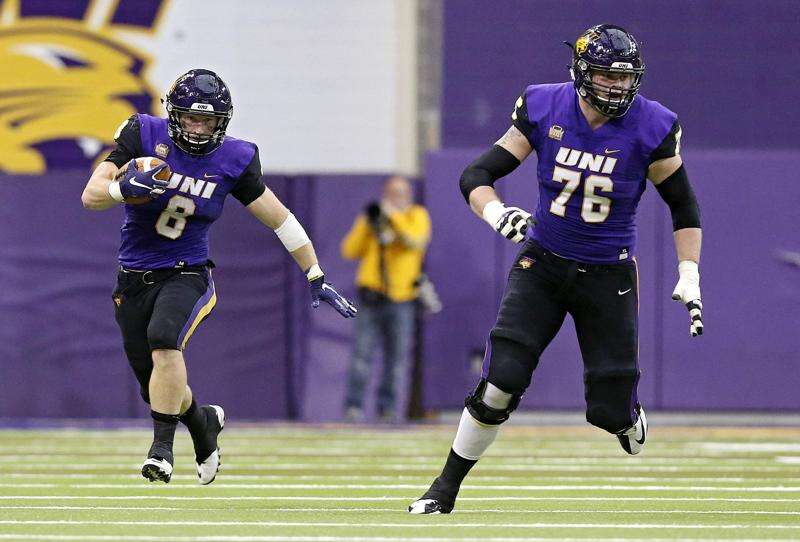 CEDAR FALLS — For the first time in program history, the Northern Iowa football team will have two players selected in the same NFL draft.
FCS All-Americans Spencer Brown and Elerson G. Smith are projected to be selected somewhere between rounds 2 and 5 of this weekend's draft, which runs Thursday through Saturday.
Brown, a 6-foot, 311-pound offensive lineman, has impressed NFL scouts with his size, athleticism and untapped potential. The Lenox native — who was a tight end for the Tigers' 8-player football team — added around 100 pounds to his frame while at UNI and bolstered his draft stock with a 4.88 40-yard dash, 29 bench press reps and 4.3-second pro agility time at his pro day in March.
"Pro-wise, they liked my mindset when I play the game," Brown said. "Just my run game tenacity and my pocket-hold in pass (protection). The cons — super raw. (But) they can work with raw."
Before participating in his pro day, Brown had been in California since late August training with former San Francisco 49ers All-Pro offensive tackle Joe Staley. He told The Gazette this week Staley has been invaluable for his preparation.
"I went out there and started training with Joe on the field and off the field. Working board work and schematics and lingo and things like that at his house," Brown said. "He just kind of blew the door off the hinges. I had a lot to learn. Now he's a mentor."
He plans to watch the draft at home in Lenox with family and friends and said his emotions are all over the place and hard to pinpoint. When asked, though, what he thinks it'll feel like to hear his name, school and position read on the podium in Cleveland, his emotions began to show.
"I wish I could tell you what it's going to feel like. Can't really tell you until I get there, but, just saying that and now thinking about it I got goose bumps going on," Brown said. "So, it's going to probably be an emotional wreck here in Lenox, Iowa."
Smith, meanwhile, has seen his stock boosted like Brown's due to his pro day and Senior Bowl performances. His 6-6, 252-pound frame with 34-inch arms and 10.25-inch hands helps, too. Combine that with gaudy pass-rushing stats from a premium position and it makes sense why Smith has been projected as high as the third round.
At his pro day, Smith tested well, but blew scouts away jumping 41.5 inches in his vertical test.
Questions about his ability to defend the run in the NFL persist, though, especially without having had a 2020 season to add to his film. But his ability to add strength and tutelage under former NFL Defensive Player of the Year Bryce Paup has helped solidify his value in the middle rounds.
"I tried to approach (the Senior Bowl and pro day) well and make sure I'm doing my due diligence throughout the last six months to make sure I'm prepared for both," Smith said. "It was a lot of self-accountability in the last year or so to try and get ready for these two events."