Home / Sports / UNI Panthers / UNI Panther Football
UNI football signs 14 in early period
Farley, Panthers focused on secondary, high school recruits for now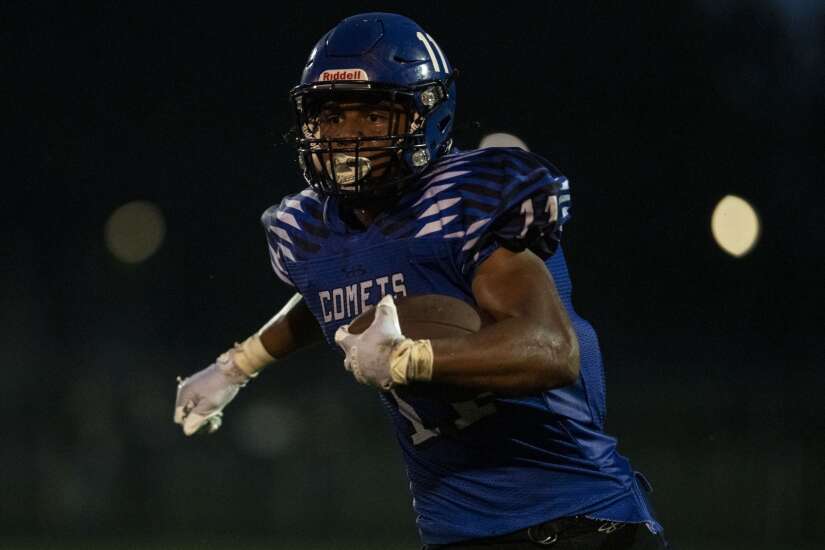 By Cole Bair, correspondent
CEDAR FALLS — Northern Iowa football coach Mark Farley and his staff are riding the changing waves of college football recruiting like every other staff across the country.
With more than 2,500 players in the transfer portal, UNI and all its peers are not taking as many recruits in the early signing period as in year's past, signing 14 on Wednesday's opening day.
"(Recruiting) is going to go on through May. It's changed," Farley said. "If everybody thinks it's what it used to be, just look at the numbers getting signed today. Everybody is not taking 25 (players) anymore. I'm recruiting guys as we speak right now that I've been talking to for a long time that don't have to sign today. They've got the opportunity to wait till Jan. 20 to decide what school they want to go to."
Among the Panthers' 14 recruits, 12 are high school seniors and only two are transfers.
Farley acknowledged high school players were a focus in the early period and the secondary was a position of priority given the roster's composition.
"Your local, your five-hour radius high school football players, that's always been the core of our football team. It's your developmental group," Farley said. "I think the secondary is where we have a lot of quality players coming back, but a year from now we have a lot of quality players (that) are going to graduate."
Of UNI's 14 signees, six are defensive backs and two others are characterized as athletes who have experience in the secondary. Four of the eight are three-star recruits (247 Sports) and three of the six are from Iowa, including Belmond-Klemme's Tate Sander, younger brother of 2021 graduate Korby Sander.
Its only other early-period signing on defense was Iowa State transfer Cordarrius Bailey. A 6-foot 4, 253-pound defensive end, Bailey saw limited action as a Cyclone, but should get an ample opportunity to play for the Panthers after three defensive-line starters graduated.
"(Transfers) need to be able to come in and play, but that's why they're leaving, too. They want to get on the field and play to showcase what they can do," Farley said. "But yet, they're still developed if they're coming from good programs, and I believe that Iowa State has a very good developmental program."
UNI's other transfer signee is wide receiver Devell Washington from West Virginia. Washington, a 6-4, 215-pound receiver, fills a need at the position for a pass-catcher with size and speed after Isaiah Weston's graduation.
"West Virginia is known for what? Throwing the football," Farley said. "We feel we got a nice, big receiver."
Ankeny's Brady McCullough will join Washington in the Panthers' wide receiver room. The three-star commit racked up an impressive 935 yards and 13 touchdowns this past season for the Hawks.
"We're ecstatic that he's at UNI," Farley said. "You could say he's the best high school player on the board by numbers and production and the type of team he came from."
UNI rounded out its early period class with three-star quarterback Matthew Schecklman from Appleton North High School in Wisconsin and a pair of 6-foot 7 offensive linemen in Gavin Proudfoot from Onalaska, Wis., and three-star Ben Kuehast from Humboldt.
Matthew Schecklman, QB, 6'4" / 210, Appleton North HS (Appleton, WI), 2-star
Devell Washington, WR, 6'4" / 215, West Virginia (Bay City, MI), 3-star
Brady McCullough, WR / TE, 6'4" / 210, Ankeny HS (Ankeny, IA), 2-star
Ben Kuehanst, OL, 6'7" / 265, Humboldt HS (Humboldt, IA), 3-star
Gavin Proudfoot, OL, 6'7" / 240, Luther HS (Onalaska, WI), not rated
Cordarrius Bailey, DL, 6'4" / 253, Iowa State (Clarksdale, MS), 3-star
Jahsiah Galvan, DB , 6'2" / 185, West Liberty HS (West Liberty, IA), 3-star
Lamarr Box, DB, 6'1" / 170, East St. Louis HS (East Saint Louis, IL), 3-star
Dewuan Mack, DB, 6'0" / 185, Lee's Summit North HS (Lees Summit, MO), 3-star
Keith Moko, DB, 6'1" / 170, Newton HS (Newton, IA), 2-star
Jordan McClom, DB, 6'0" / 185, Robbinsdale Armstrong HS (Minneapolis, MN), 2-star
Tate Sander, DB, N/A, Belmond-Klemme HS (Belmond, IA), Highlights, not rated
Rayshaun Dallas, ATH, 6'2" / 190, Southeast HS (Bradenton, FL), Highlights, not rated
Dalesean Staley, ATH, 6'1" / 190, Blue Springs HS (Blue Springs, MO), 2-star