Home / Sports / UNI Panthers
Northern Iowa moves into penthouse of MVC
Panthers defeat Missouri State, 95-75, on Sunday, lead conference with 2 games to go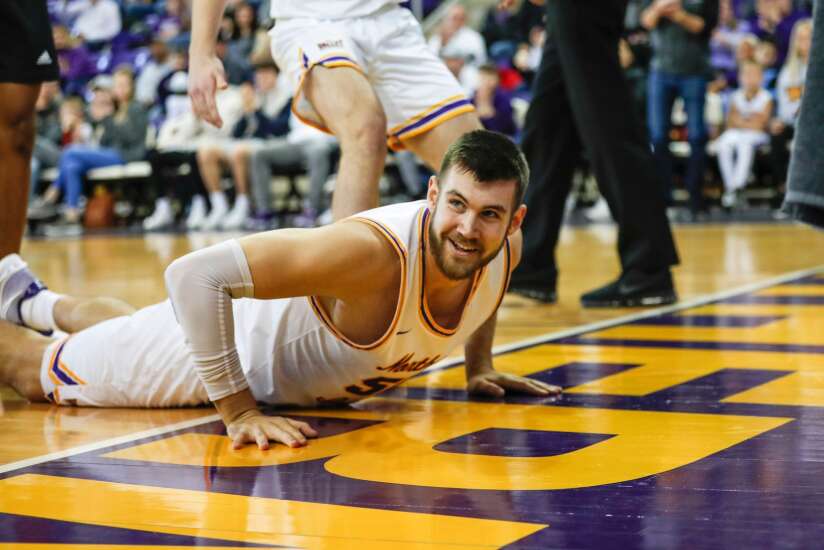 CEDAR FALLS — Northern Iowa recaptured first place in the Missouri Valley Conference standings Sunday, producing a season-high in points in a 95-75 win over Missouri State.
In one of their best overall performances of the season, five Panthers scored in double figures while the Bears' likely MVC Player of the Year, Isiaih Mosley, was held to six points on 2-of-7 shooting.
"Having had a chance to play (Mosley) once and now a bunch of games in between, so you get some more film on it," UNI Coach Ben Jacobson said. "(Tywhon Pickford and Nate Heise) both did a good job. Then I thought we had a little more help (on him) in this game than we did in the first one."
A quick 8-0 start was followed by 13-2 and 10-2 first-half scoring runs and built a double-digit lead UNI kept intact from the 4:45 mark of the first half.
Trae Berhow was the first of the five Panthers to reach double figures, scoring 12 points in just over 12 minutes.
"We played with great pace today," Jacobson said. "We just play better when we get into (offense) before teams are able to get set (on defense). Eleven assists, one turnover to go with 38 points for those two guys (Bowen Born and AJ Green) that are handling the ball the most for us just talks about what our team is doing."
Early in the second half Missouri State center Gaige Prim drew four fouls — two on Noah Carter and two on Austin Phyfe — in a span of 1 minute and 44 seconds.
Following the fourth foul, Carter — who finished with 17 points and eight rebounds — drew a charge on Prim the following possession and followed it with two deep 3s that extended the Panthers' lead to 67-49 with 12 minutes to play.
"Gaige Prim is a very good player. Very difficult to guard. I just tried my hardest to try to wrestle down (low) and hold my ground," Carter said. "We just tried our best to maintain and do our part and do what we wanted on defense."
Carter added that the tense sequence with the senior center helped fuel him during a 12-4 run that followed.
"It's just flow of the game. I was able to get open and get those shots and I had the crowd behind me," Carter said. "It was a fun time and I was just happy the shots went in."
After the Carter outburst, the Bears got no closer than 14 points. Prim fouled out with 3:34 to play and received a technical foul for arguing.
Green led UNI with 21 points and seven assists while Born registered a season-high 19 points. Berhow finished with 15 points and Heise scored 14, his highest point total in MVC play this season.
"We talked about (how) by this time you've put a lot of the work in. A lot of the work is done now. Now, you go out there and play," Jacobson said. "When you go out you've got a great bounce in your step and go out there and have some fun playing."
UNI (16-10, 12-4 MVC) is now a half-game up on Loyola Chicago with two games remaining. The Panthers travel to Indiana State (11-16, 4-11) Wednesday for a 6 p.m. tipoff at Hulman Center (ESPN+), then host Loyola Chicago on Saturday.